Newsletter: Essential California: Helping out the 'Bu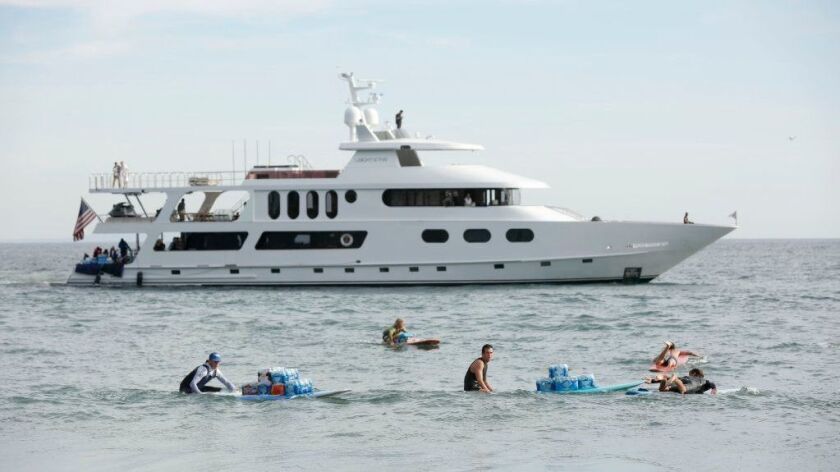 Good morning, and welcome to the Essential California newsletter. It's Wednesday, Nov. 14, and here's what's happening across California:
TOP STORIES
Ben spent his afternoon on a boat ferrying supplies up from Marina Del Rey to Malibu and came back with this report:
"Let me start by telling you that I don't care for boats. Being a city kid, I'm not much of a swimmer and often get seasick. But this vessel traveling to Malibu and stocked with supplies for stranded locals was a yacht. A 143-foot yacht with a helipad, spacious living quarters and a jacuzzi, to be exact.
"It is worth tens of millions of dollars and belongs to Howard Leight, a billionaire entrepreneur who owns the Malibu Rocky Oaks winery with his son. He spent Friday and Saturday fending off blazes at the winery and his other property in L.A. The fire destroyed much of his vineyard. 'All I could think about is that I didn't want to lose my houses,' Leight said.
"All morning, Malibu residents and friends of Leight loaded the vessel with supplies. Smaller boats were tied behind to help offload supplies when we arrived at Paradise Cove.
"The crew had just come off a diving trip and was eager to get going. While aboard, I met Jerardo Bautista and his five-person landscaping crew. Since 1985, Bautista has been doing landscaping at some of Malibu's most luxurious homes. Bautista's crew spent Friday going from home to home cutting back brush and putting out fires. "I saved Anthony Hopkins' house," Bautista said proudly. "My whole life has been here. I'm really trying to help people with their homes."
When the Leight Star neared the Paradise Cove coast, surfers and kayakers paddled out. That's when the bougiest bucket brigade began. Large pallets of bottled water went first, as surfers braved the relatively choppy waters. One surfer, Leo Harrington, a Point Dume resident, wore a visor with the logo from the TV show 'Survivor' and helped coordinate the loading of water. Along with a couple of other guys and a female surfer named Skylar Caputo — a Pepperdine student — they made at least two dozen trips to shore as the yacht hovered in the cove.
" 'What can you take?' someone aboard asked.
" 'Whatever you need. I'll keep it dry,' one tanned kayaker said.
"This procession rolled on for more than an hour as a sheriff's boat watched closely. 'If we're not letting people in by land, we're not letting them in by sea,' a deputy said.
"At one point a woman boarded a kayak and made a mad dash for land. She was cut off by law enforcement authorities and forced back on the yacht. But eventually all the supplies from the yacht made it to land. That provoked cheers and selfies as people celebrated on the yacht with beer and wine. There was finger food as well. But Bautista was nowhere to be found. He had hopped off the boat and was heading to help people with their homes." Los Angeles Times
Get the Essential California newsletter »
The politics and reality of California's fires
President Trump took to Twitter to blame bad forest management. Gov. Jerry Brown pointed to climate change. Both leaders are in a sense promoting their political agendas. But as is often with political rhetoric, reality is far more complicated. The Trump-Brown exchange ignores what many experts consider core reasons for fire's escalating toll: Humans keep sparking them, and Californians keep building in high-risk fire zones prone to the fierce winds that inevitably drive the state's most calamitous blazes. Los Angeles Times
The Chico Enterprise-Record has a message: "Want to make amends, Mr. President? We have thousands of people who are suddenly homeless in an area where it was already close to impossible to find a place to rent." Chico Enterprise-Record
The carnage
Paradise was once a place to escape to. Located in the western foothills of the Sierra, the rural enclave and the surrounding communities were getaways from the Sacramento Valley and the cities of Chico and Orville. But what drew residents to Paradise — a place to disappear amid winding roads and the hills and ravines above the Feather River and Butte Creek — has made the job of reconnecting with friends and relatives in the aftermath of the devastating Camp fire all the more challenging. Message boards put up at shelters, evacuation centers and churches listing the names of the missing are crowded with plaintive appeals, reminiscent of the postings found in Manhattan after 9/11. Meanwhile, the death toll has risen to 48. Los Angeles Times
— The stories of the victims of California's firestorms. Los Angeles Times
— A dramatic visualization of how the Woolsey fire devoured parts of Ventura County and Malibu. Los Angeles Times
— It wasn't just rich people who lost their homes in Malibu. Los Angeles Times
— A stunning loss: 83% of federal parkland in the Santa Monica Mountains has burned. Los Angeles Times
— The grim discovery as searchers reach a burned-out mobile home park in Paradise. Sacramento Bee
— "It was so windy it was hard to stand up," says the man who first spotted the Camp fire. Mercury News
A story of survivors
In the week since the shooting at the Borderline Bar and Grill in Thousand Oaks, a group of survivors has stuck together — moving in a loose band between memorials and one another's homes, holding impromptu ceremonies and visiting the relatives of the friends they lost. Los Angeles Times
L.A. STORIES
A stunner: The L.A. County sheriff's race remained too close to call after the latest vote count Tuesday, with challenger Alex Villanueva widening a lead over incumbent Jim McDonnell that remains too narrow to confirm a result. Los Angeles Times
One step closer: A proposal for a $1.2-billion subsidized development that would add hundreds of hotel rooms at L.A. Live and substantially enlarge the Los Angeles Convention Center was moved forward Tuesday by a City Council committee. Los Angeles Times
Another election on the way: Voters could have 17 candidates to choose from in a special election to fill a Los Angeles school board seat that has been vacant for nearly four months. The winner of the March election will have an important role to play on a Board of Education that has been split on some important votes. Los Angeles Times
CALIFORNIA POLITICS
The "blue wave" rolls: California Republicans lost a fourth seat in the House on Tuesday as Democrat Josh Harder gained enough votes to oust GOP Rep. Jeff Denham in the San Joaquin Valley. Denham's loss, projected by the Associated Press, came amid signs that two other Republican seats are also in growing jeopardy. Los Angeles Times
In Sacramento: California Democrats have cemented supermajorities in both houses of the Legislature, giving Gov.-elect Gavin Newsom more partisan allies in the state Senate and Assembly when he takes office in January. Los Angeles Times
Circling the wagons: House Democratic leader Nancy Pelosi is deep in the campaign to be speaker. Politico
CALIFORNIA CULTURE
The man, the myth, the legend: "Everything that Stan Lee did was super-sized. Where other writers created worlds, he created a universe populated by heroes blessed, or cursed, with special powers," writes The Times' Mary McNamara. "Their conflicts, internal and external, played out across skylines and time warps, rearranged cities, destroyed planets. Their success created franchises available on multiple platforms, everything aimed at becoming more eyeball-battering, eardrum-splattering, boundary-breaking than whatever came before." Los Angeles Times
So cool: Drawing L.A. while waiting around. The New Yorker
Sasquatch's makeover: Bigfoot Rapids, the white-water raft ride at Knott's Berry Farm, will undergo a name change and overhaul that will include new wildlife and human animatronics and interactive water effects. Los Angeles Times
CALIFORNIA ALMANAC
Los Angeles area: sunny, 78, Wednesday; partly cloudy, 78, Thursday. San Diego: partly cloudy, 76, Wednesday; partly cloudy, 75, Thursday. San Francisco area: sunny, 67, Wednesday; sunny, 66, Thursday. San Jose: sunny, 71, Wednesday and Thursday. Sacramento: sunny, 69, Wednesday and Thursday. More weather is here.
AND FINALLY
Today's California Memory comes from Vance Kinney:
"In the late '50s and early '60s, I grew up in East L.A. We lived closed to Sears at Olympic and Soto. The L.A. River is where my young friends and I would ride our Stingrays all the way to the beach. We never had any problems, and I was a white kid in a predominantly Hispanic neighborhood and I had lots of friends. I would take food to the homeless and listen to their stories about World War II and life on the rails. We never worried about getting hurt or kidnapped. We would ride to Dodger Stadium the same way. Things were so much simpler then, and it's funny to think about all the dreams and ideas we had and would share on our long rides in that river."
If you have a memory or story about the Golden State, share it with us. Send us an email to let us know what you love or fondly remember about our state. (Please keep your story to 100 words.)
Please let us know what we can do to make this newsletter more useful to you. Send comments, complaints and ideas to Benjamin Oreskes and Shelby Grad. Also follow them on Twitter @boreskes and @shelbygrad.
---