Newsletter: Essential California: When the fire is coming fast and help is not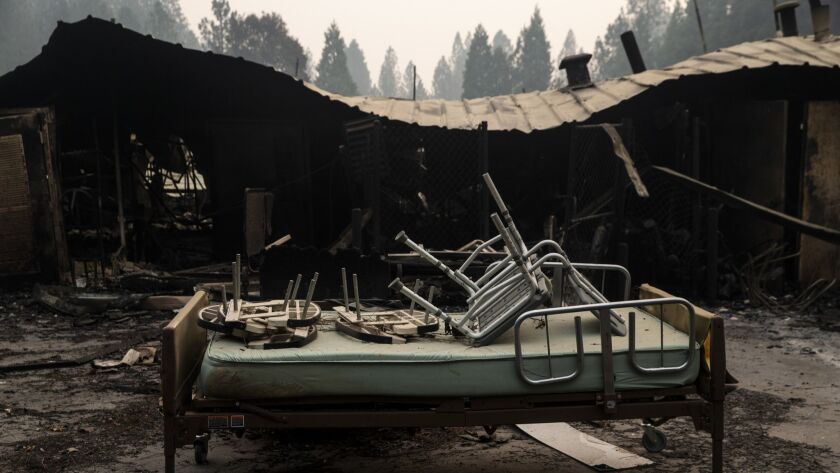 Good morning, and welcome to the Essential California newsletter. It is Saturday, Nov. 17. Here's what you don't want to miss this weekend:
CALIFORNIA'S FIRES
How do you evacuate a nursing home when the deadliest wildfire in California history is bearing down and you have 91 men and women to get to safety? Most can't power themselves, some have dementia, a few weigh more than 300 pounds. The fire is coming. If you stay, you are dead. An unbelievable tale from Paradise. Los Angeles Times
-- The death toll from the Camp fire has risen to more than 70, with more than 1,000 people unaccounted for. The relentless rise in the number of dead and missing comes as President Trump plans to visit Northern and Southern California today to tour burn areas. Los Angeles Times
-- The worst wildfires in recorded California history promise to reshape the state's utilities as Pacific Gas & Electric and Southern California Edison face billions of dollars in potential liabilities and growing calls to overhaul their systems to better prevent wildfires. Los Angeles Times
-- California's top energy regulator says he's not too worried about a PG&E bankruptcy but says the state faces a bigger question. Sacramento Bee
-- The mystery over the "second start" of the Paradise fire. Chico Enterprise-Record
-- Parts of Northern California had the worst air of anywhere in the world on Friday. Los Angeles Times
-- Before and after the smoke: The day San Francisco went black and white. SF Gate
-- The Big Game between Stanford and Cal has been postponed for the first time in 55 years because of the poor air quality. San Francisco Chronicle
-- How the smoke is spreading. New York Times
-- In Chico, some evacuees don't have access to showers and clean towels. So they came to this salon. Los Angeles Times
-- For those looking to rebuild, it's going to be difficult. Construction workers are in short supply and the costs of some materials are rising. Los Angeles Times
--Is more logging the answer for California? Wall Street Journal
AROUND THE STATE
GOP, RIP? California, the home of Ronald Reagan and other national GOP figures, may see its Republican representation fall to as few as eight seats in Congress. At the state level, the GOP faces impotence against a Democratic supermajority in the Legislature in Sacramento. Some worry about the effects of one-party rule in the nation's most populous and important state. Los Angeles Times
What happened? Some Republicans are asking how they lost it all in Orange County. A theory: It wasn't because of Trump, but rather money, organization and demographics. Washington Examiner
Working for it: In her bid to become the speaker of the House again, Rep. Nancy Pelosi keeps trying to mend fences. Politico
Upset brewing: In the election for Los Angeles County sheriff, Alex Villanueva has widened his lead over incumbent Jim McDonnell. The challenger says he's won. Los Angeles Times
On the border: Tensions are rising in Tijuana as more Central American migrants arrive. San Diego Union-Tribune
Crosstown rivals: The usual high jinks before today's big UCLA-USC football showdown. Los Angeles Times
Worth it? An iconic L.A. painting by David Hockney fetched $90.3 million at Christie's, easily breaking the record for a work by a living artist sold at auction. It has a symbolism for gay history, the L.A. lifestyle and arts. Los Angeles Times
Get the Essential California newsletter »
THIS WEEK'S MOST POPULAR STORIES IN ESSENTIAL CALIFORNIA
1. Here's what one street in Malibu looks like after a wildfire ripped through. Desert Sun
2. Martin Sheen is found by a news crew after son Charlie reports him missing in the Malibu fire. Hollywood Reporter
3. Despite fire after fire, Paradise continued to boom — until California's worst wildfire hit. Los Angeles Times
4. In-N-Out really isn't all it's cracked up to be. Alta magazine
5. How to deal with an insurer after your home is burned down. Los Angeles Times
ICYMI, HERE ARE THIS WEEK'S GREAT READS
A Hollywood master: "Nobody knows anything." That was legendary screenwriter William Goldman's mantra, and it influenced as well as inspired many generations of Hollywood figures. The author of "Butch Cassidy and the Sundance Kid," "All the President's Men," "The Princess Bride" as well as perhaps the most famous book about screenwriting has died at age 87. Los Angeles Times
What a coincidence: When a reporter interviewed the French street artist Invader, who has spent years making mosaics featuring Space Invaders video game characters, she discovered one of his works right outside her front door in L.A. Los Angeles Times
Time to say it? Is what we're seeing from the White House these days propaganda? Los Angeles Times
Like, totally: The quirky Valley Relics Museum, that ode to L.A. suburbia, is ready to reopen. Los Angeles Daily News
Silly, but with a purpose: The Pasadena Doo Dah Parade used to be all about fun. Now there is a social justice element. LAist
Please let us know what we can do to make this newsletter more useful to you. Send comments, complaints and ideas to Benjamin Oreskes and Shelby Grad. Also follow them on Twitter @boreskes and @shelbygrad.
Please let us know what we can do to make this newsletter more useful to you. Send comments, complaints and ideas to Benjamin Oreskes and Shelby Grad. Also follow them on Twitter @boreskes and @shelbygrad.
---