Newsletter: Essential California: Goodbye to the old O.C. GOP
Good morning, and welcome to the Essential California newsletter. It's Tuesday, Dec. 11, and here's what's happening across California:
TOP STORIES
As longtime Orange County Congressman Dana Rohrabacher spends his final weeks in office, his defeat in the midterm election represents the apparent end of a particular brand of hard-right politicians in the region: the extreme anti-communist whose fears of Soviet domination and anger at American cultural change conjured a litany of bogeymen — gays, liberals, feminists, Latinos, African Americans, Jews and Muslims. Los Angeles Times
Allegations of 'dumping' vulnerable people
Stafford Taylor was his usual self, vigorous and sharp-minded, when he left a friend's party late on the Fourth of July. But sometime after, the 64-year-old Malibu artist and master carpenter was attacked and left wandering the Pacific Coast Highway. He didn't receive medical attention for hours, his family says, because the sheriff's deputies who picked him up left him at a day laborer's center. Nearly half a year later, he is still suffering from brain damage and has difficulty speaking. His family is convinced that deputies thought he was homeless. Los Angeles Times
Rolling back the Clean Water Act
The Trump administration is poised to roll back Clean Water Act protections on millions of acres of streams and wetlands, including up to two-thirds of California's inland streams, following through on a promise to agriculture interests and real estate developers to rewrite an Obama-era rule limiting pollution. The administration's plan for a vastly scaled-down Clean Water Rule is expected to be released as soon as Tuesday. Los Angeles Times
Plus: Gleaning energy from ocean wind would seem to be a California ideal. But engineering challenges, regulatory hurdles and concerns about the turbines' impact on wildlife have, until recently, mucked any forward progress. A deal this week between Morro Bay and a wind developer, however, shows that at least some players in the wind game are gambling the energy source is going to take off along the California coast, and have started building alliances with local governments and jockeying for position. Los Angeles Times
Get the Essential California newsletter »
L.A. STORIES
Disrupted: L.A. Mayor Eric Garcetti was forced to halt a speech Monday at USC after demonstrators began shouting at him and criticizing his approach to the city's homelessness crisis, the Los Angeles Police Department's policies toward homeless people and other issues. Los Angeles Times
Plus: Is Garcetti tackling climate change like he really means it? Los Angeles Times
Watch out below! Rocks and dirt, likely loosened by last week's rain, slid onto Topanga Canyon Boulevard early Monday, prompting officials to close the road between the San Fernando Valley and Malibu's coast. Los Angeles Times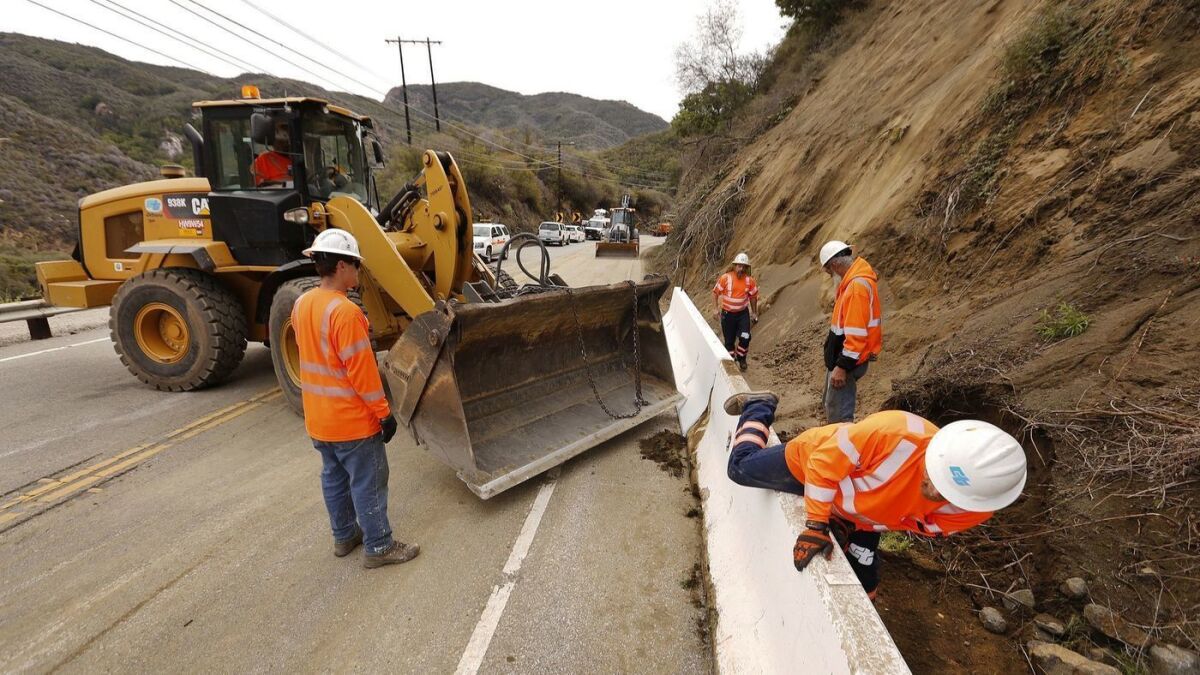 And: A stretch of the 101 Freeway damaged in the Woolsey fire will be closed overnight this week. Los Angeles Times
IMMIGRATION AND THE BORDER
On the rise: Pressing its case for restrictions to limit asylum claims, the Trump administration reported Monday that the number of migrants filing such claims at the southern U.S. border has risen sharply this year. Los Angeles Times
More on the border situation: Shelter is increasingly scarce for migrants released in San Diego County by ICE. Los Angeles Times
That was fast: The U.S. this week will begin withdrawing many of the active-duty troops sent to the border with Mexico by President Trump just before the midterm election in response to a caravan of Central American migrants. Associated Press
In pictures: Migrants in Tijuana trickling over and under the wall. Associated Press
POLITICS AND GOVERNMENT
The fight over a mural: The L.A. school district has decided to paint over a mural of Ava Gardner at the school on the site of the old Ambassador Hotel because community members, many Korean, felt that it had an offensive element. The mural includes images connected to the Coconut Grove nightclub, but those who wanted it gone say the rays radiating off Gardner's profile were reminiscent of the Japanese imperial war flag. Los Angeles Times
Questions about "vacation rentals": The latest tweak to proposed L.A. rules on Airbnb-type rentals is alarming tenant activists. Los Angeles Times
One perspective: There's a quick way to help prevent wildfires: Shut off the power grid. Los Angeles Times
Hindsight is … : State utility regulators delayed implementing a 2016 law aimed at preventing wildfires. San Diego Union-Tribune
Reuniting families: "They have become known as the Angels of Paradise. But there is nothing ethereal about them. They are online sleuths who know how to find people, and they have been putting their skills to use in the aftermath of California's catastrophic wildfire." Associated Press
CRIME AND COURTS
An unusual tack: If the government prevails in a racketeering case in Orange County against the leadership of the Mongols motorcycle club, prosecutors plan to seek a court order to seize control of the club's coveted, trademarked insignia, which its members wear emblazoned on the back of their biker jackets. Trademark experts said it was unclear what loss of the trademark would mean for the club's existence. Los Angeles Times
In the line of duty: A Tulare police officer was injured and his canine partner, Bane, was fatally shot following a pursuit Sunday night. Los Angeles Times
Inmate deaths: The recent deaths of two inmates on California's death row came amid an increase in drug overdoses at San Quentin State Prison. KQED
THE ENVIRONMENT
Wild story: A botanist criticized Tejon Ranch. So he got kicked out — along with 10,000 of his friends. Los Angeles Times
Rudolph? Where to see reindeer in the wild — and in Southern California. Los Angeles Times
Amassing vineyards: "Making a bet on climate change, Harvard University's $39 billion endowment has been snapping up farmland and the related water rights." Wall Street Journal
CALIFORNIA CULTURE
Hollywood battle royale: At 102, actress Olivia de Havilland won't give up her fight with FX over her portrayal on screen. Will the Supreme Court hear her case? Los Angeles Times
Tattletales! Your apps know where you were last night, and they're not keeping it secret. New York Times
It's good food: The real-life diet of Boban Marjanovic, the Los Angeles Clippers "ripped, soup-loving giant." GQ
#longread: Kelly Slater is the best surfer in history, and he made a machine that creates perfect conditions on demand. Will his invention democratize surfing or despoil it? The New Yorker
Scooter backlash: "Why do people keep throwing electric scooters into rivers and lakes — and what should companies like Bird and Lime do to stop them?" Slate
CALIFORNIA ALMANAC
Los Angeles area: Sunny, 67, Tuesday. Sunny, 66, Wednesday. San Diego: Partly cloudy, 64, Tuesday. Sunny, 65, Wednesday. San Francisco area: Partly cloudy, 59, Tuesday and Wednesday. San Jose: Partly cloudy, 60, Tuesday. Partly cloudy, 61, Wednesday. Sacramento: Partly cloudy, 55, Tuesday. Partly cloudy, 61, Wednesday. More weather is here.
AND FINALLY
Today's California memory comes from Wyn Coates:
"I was born a month to the day after Pearl Harbor in City of Angels Hospital (remember the day well – my mom had a hard night). My dad worked at the Northrop Aircraft plant in Hawthorne (we lived in Inglewood); during the war dad carpooled, but when he had to work late, mom would use scarce rationed gas to pick him up, and would take me along. I remembered the camouflage-netting over the plant, but years later when I happened to mention it to them, they said, no, there wasn't anything like that. Well, years later I saw an old news photo of the plant, circa 1944, and sure enough, the plant had camouflage-netting over it."
If you have a memory or story about the Golden State, share it with us. Send us an email to let us know what you love or fondly remember about our state. (Please keep your story to 100 words.)
Please let us know what we can do to make this newsletter more useful to you. Send comments, complaints and ideas to Benjamin Oreskes and Shelby Grad. Also follow them on Twitter @boreskes and @shelbygrad.
---