Newsletter: Essential California: With crime up, some want to roll back justice reforms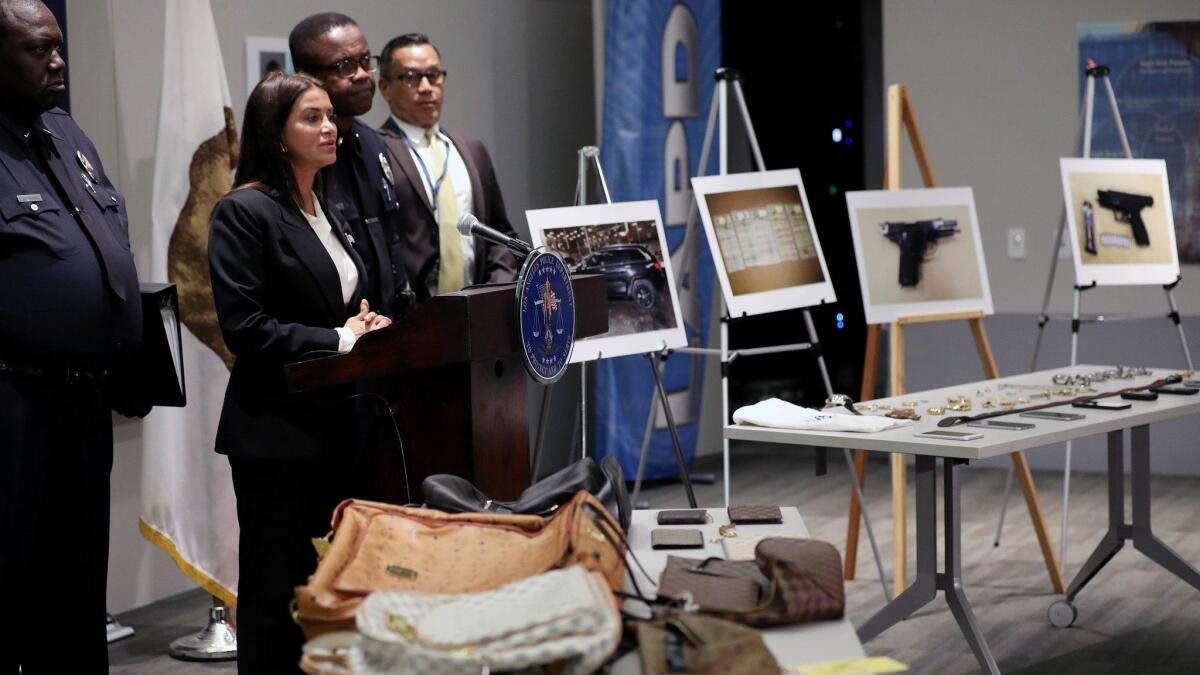 Good morning, and welcome to the Essential California newsletter. It's Friday, Dec. 21, and here's what's happening across California:
TOP STORIES
Over the last decade, California has led the nation in reducing its prison population. The state has shortened sentences and diverted some offenders to the counties for incarceration and supervision, transforming California's criminal justice system into what supporters hope will become a humane model around the country. But amid the changes, crime has increased in recent years, sparking debate about the causes and giving ammunition to those leading a new effort to roll back some of the reforms. An analysis by the Marshall Project and the Los Angeles Times found that California's crime rates remain near historic lows, but overall crime spiked in both 2012 and 2015, the years that immediately followed two major statewide measures aimed at decreasing the number of people in prison. Those jumps were mainly driven by increases in property crimes, particularly thefts from motor vehicles. Los Angeles Times
Plus: How a poor, crime-plagued county became a criminal justice model in California. Los Angeles Times
Hacked
Two hackers associated with China's chief security service have been charged with stealing troves of confidential digital information from the Navy, NASA's Jet Propulsion Laboratory in La Cañada Flintridge, the Energy Department's Lawrence Berkeley National Laboratory and dozens of U.S. companies, as well as U.S allies overseas, the Justice Department announced Thursday. Among other targets, the hackers allegedly infiltrated Pentagon networks and stole personal data, including dates of birth and Social Security numbers of more than 100,000 sailors and other Navy personnel. It was the latest indictment aimed at alleged Chinese economic and military espionage. Los Angeles Times
Out and about on Rodeo
Beverly Hills, its streets lined with palm trees and pricey celebrity mansions, has long encouraged selfie-snapping tourists to stroll into its swanky shops and restaurants. But when it comes to letting smoke-belching tour buses disgorge visitors among high-end retailers such as Louis Vuitton, Jimmy Choo and Versace, the town hasn't been so welcoming. "At peak tour times, my patients remark that the city of Beverly Hills is becoming a theme park, with tour buses much like Universal Studios," psychologist Robert Morris complained in a recent letter to the city's Parking and Traffic Commission. Los Angeles Times
Get the Essential California newsletter »
L.A. STORIES
Sifting through the ashes: Chumash firefighters search for signs of a Native American past in the Woolsey fire burn scar. Los Angeles Times
Good question: Is Elon Musk's tunnel vision the right way to fix traffic in Southern California? Los Angeles Times
Technology! This Zillow-like platform helps find apartments for homeless people. Fast Company
A history lesson: When Nat King Cole moved into Hancock Park, a racist policy was put to the test. Curbed LA
IMMIGRATION AND THE BORDER
Busy day in D.C.: The United States and Mexico announced that migrants seeking asylum will be forced to wait in Mexico while their cases are processed in the United States, a sweeping change to U.S. policy that will alter life for tens of thousands of Central Americans stuck on the border. Los Angeles Times
Summing up a great series: "We lived on the Texas-Mexico border for four months, next to residents, smugglers and Border Patrol. This is why we went." Los Angeles Times
POLITICS AND GOVERNMENT
Legacy making: When Gov. Jerry Brown retires to his ranch with the elk and rattlesnakes, what will he miss? Los Angeles Times
Plus: Colusa County makes way for a new neighbor — the governor they "never voted for." CalMatters
The next one: Gov.-elect Gavin Newsom announced he will place his ownership interest in the collection of wineries, hotels, restaurants and other investments that made him a millionaire into a blind trust, a step he said "goes beyond anything required by law." Los Angeles Times
New job: California Rep. Jeff Denham, a Republican who lost his bid for reelection, has spoken with White House officials about being nominated as Interior secretary. Los Angeles Times
On the defensive: San Francisco Mayor London Breed said she stands by her decision to ask outgoing Gov. Brown to free her imprisoned brother, while acknowledging she had served as an alibi witness at her brother's trial before he was convicted in the 2000 death of a woman on the Golden Gate Bridge. San Francisco Chronicle
CRIME AND COURTS
Weinstein case moves forward: A judge in New York City on Thursday rejected a motion to dismiss charges of sexual assault against former Hollywood titan Harvey Weinstein. Los Angeles Times
More Trojan controversy: Former USC assistant coach Tony Bland has agreed to a plea deal in the big college basketball bribery case. Los Angeles Times
Scandal: Two former labor and delivery nurses at Huntington Memorial Hospital filed wrongful-termination lawsuits this month against the Pasadena hospital, alleging that they were targeted because of their race and ultimately fired amid widespread discrimination. Los Angeles Times
Following up: "This couple was accused of child abuse. They said they had 'limited resources.' The charges were dropped." Desert Sun
THE ENVIRONMENT
The water wars: Among the changes ahead when Democrats take control of the House in January, add this one: The switch will upend the balance of power in California's water wars. Los Angeles Times
CALIFORNIA CULTURE
From Scientology to "Second Act": Best friends Jennifer Lopez and Leah Remini stick together. Los Angeles Times
They oughta (otter?) know better: After a brief moment of internet glory, a sea otter at Monterey Bay Aquarium has become the poster child for cultural appropriation. Los Angeles Times
Ruffling feathers: A motorist ran afoul of the law this week when he used a sticker from a pound of teriyaki chicken wings he had purchased at Safeway to cover his license plate to avoid paying a freeway toll in Marin County, according to the California Highway Patrol. Los Angeles Times
Auctions, protests and controversial patrons: The three big ways art and money clashed in 2018. Los Angeles Times
Hollywood moves: Jeffrey Katzenberg takes a risky bet on mobile video. Bloomberg Businessweek
For your reading list: A magnificent noir novel, written in verse, about a soldier who ends up in Los Angeles after World War II. The Economist
CALIFORNIA ALMANAC
Los Angeles area: partly cloudy, 69, Friday; partly cloudy, 70, Saturday. San Diego: partly cloudy, 64, Friday; partly cloudy, 66, Saturday. San Francisco area: partly cloudy, 57, Friday; partly cloudy, 56, Saturday. San Jose: partly cloudy, 59, Friday and Saturday. Sacramento: partly cloudy, 58, Friday; partly cloudy, 55, Saturday. More weather is here.
AND FINALLY
Today's California memory comes from Shane VerPlanck:
"I am a California native who was born in Compton in the '40s. I lived there with my family until I was 11, when we moved to a ranch in Morro Bay. While living in Compton, I had an idyllic life; horseback riding, kite flying, bike riding and swimming, swimming, swimming! We had a wonderful neighbor named Mr. Ellerman who was probably in his early 70s when I knew him. White-haired and active, he lived in a little ramshackle house with bamboo all around, a lovely long lawn and a porch with two sofas and parakeets singing in their cages. We would go over to his house and play with the agility games he made for us out of cans attached to string made into stilts, leather and metal brain teasers he fashioned for us. As a young girl, I loved to sing, and he was my favorite listener, as I sang all the latest top 10 hits for him! Mr. Ellerman had a sweet little Scottish wife and a lovely daughter who was a survivor of polio. He loved her so much, and I remember the tragic day she died of pneumonia. He was bereft, and so were we. Upon his death, Mr. Ellerman left his home and property to the city of Compton with the express purpose it be made into a park for children … and there it is today, in the Richland Farms area of Compton. I'm sure his kind spirit hovers over the place enjoying the joy of the children at play!"
If you have a memory or story about the Golden State, share it with us. Send us an email to let us know what you love or fondly remember about our state. (Please keep your story to 100 words.)
Please let us know what we can do to make this newsletter more useful to you. Send comments, complaints and ideas to Benjamin Oreskes and Shelby Grad. Also follow them on Twitter @boreskes and @shelbygrad.
Sign up for Essential California for news, features and recommendations from the L.A. Times and beyond in your inbox six days a week.
You may occasionally receive promotional content from the Los Angeles Times.