Newsletter: Essential California: The wider net of a federal investigation in L.A.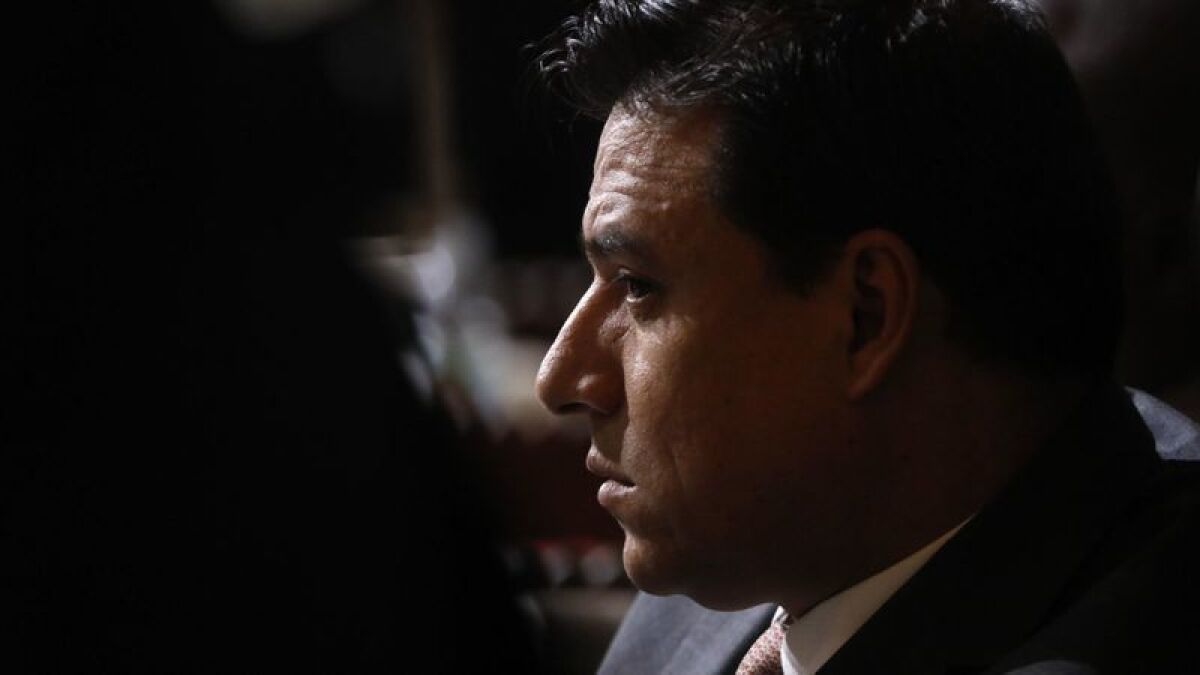 Good morning, and welcome to the Essential California newsletter. It's Monday, Jan. 14, and here's what's happening across California:
TOP STORIES
An ongoing FBI corruption investigation at Los Angeles City Hall is much bigger than originally believed. It involves not only Los Angeles City Councilman Jose Huizar but also other top officials. Agents are seeking possible evidence involving Councilman Curren Price and a senior aide to Council President Herb Wesson, as well as several other city officials and business figures, according to a federal search warrant. They are seeking evidence related an array of potential crimes, including bribery, kickbacks, extortion, and money laundering involving 13 people. The warrant does not say the FBI has gathered evidence of criminal activity by any of the people named in the document. Los Angeles Times
-- Chinese investment, which has helped fueled a new crop of skyscrapers in downtown L.A., is a part of the FBI probe. Los Angeles Times
-- Inside the Huizar investigation. Los Angeles Times
Is Tehran spying on Southern California?
They seemed an unlikely pair of spies. The older man, Majid Ghorbani, worked at a posh Persian restaurant in Santa Ana's South Coast Village Plaza. At 59, he wore a thick gray mustache and the weary expression of a man who had served up countless plates of rice and kebab. The younger man was known as "Chubby." Inside the FBI case to crack a Persian spy ring. Los Angeles Times
Reality check
Remember when VR was the future of tech? Well, think again. Funding for virtual and augmented reality firms in Los Angeles and Orange counties dropped 81% in 2018 compared with a year earlier, as investors have pulled back in the face of lackluster headset sales. Los Angeles Times
LAUSD STRIKE GUIDE
Barring a last-minute reprieve, L.A. teachers will go on strike today for the first time in three decades.
Logistics: Campus administrators have no idea how many students will show up. And parents must decide whether it's worth sending their children to school at all — and, if they don't, what to do with them as they juggle jobs and other responsibilities. Los Angeles Times
Money: A deep dive into the financial disputes at the heart of the strike. How bad are the LAUSD's finances? Los Angeles Times
Plans: What to do with your kids if you don't take them to school? Los Angeles Times
Perspective: The strike would only hurt L.A.'s kids. Los Angeles Times
Video: The Times' Sonali Kohli answers your questions. Facebook
Here are 10 things to know:
1. Schools will be open. Kind of.
L.A. Unified has said that all schools will be open during the strike, if there is one, and that students will receive instruction. But staffing will be thin. About 400 substitutes and 2,000 credentialed district staff will be spread out to fill in for around 30,000 members of the teachers union.
2. Here's the game plan.
The district will bring in substitute teachers, but regular substitutes also belong to the union. So don't expect familiar faces in the classroom, even among the subs. If the district does not find enough substitutes, classes could be combined into larger groups. Schools also are likely to rely more on online programs — with substitute teachers assigning students to do coursework on their own on computers.
3. It probably won't just be teachers who are absent.
If teachers strike, they are likely to be joined by nurses and psychiatric social workers whose help is vital to many students, particularly in underserved areas, but who also are members of United Teachers Los Angeles.
4. Many parents plans to send their kids to school — and see how it goes.
Parents who said they intended to send their children to school listed a number of reasons. Some work full time. Some think their children should be present to be part of history. Quite a few parents said they would send their children to school for the first days but gauge their safety and the amount of education they were getting to decide how to proceed.
5. For the poorest students, it's going to be hard to be away from school.
The vast majority of LAUSD students it serves are low-income. More than 80% of its students get free or reduced-price lunches.
6. Expect a lot of substitute teachers.
In October, the Los Angeles Board of Education authorized $3 million to hire thousands of outside substitutes, including teachers, campus aides, special education assistants, nurses and teachers aides, to replace absent union members. The district's current plans would put schools at about 8% of regular staffing by teachers union members.
7. The district plans bare-bones lesson plans during strike.
The district promises that students will receive instruction. But with the regular teachers gone and substitute staffing thin, it's hard to know what that instruction will look like.
8. School security will become complicated.
The only non-teaching members of employee unions certain not to participate in a sympathy strike are school police, who are legally barred from doing so. A Los Angeles School Police Department officer will be present on every middle and high school campus, and two city police officers will be stationed at each of the elementary schools within city boundaries, authorities said. In areas of the district outside the city limits, school police are including sheriff's deputies and other law enforcement agencies in the planning.
9. Some parks and community centers near schools might get crowded.
Some students — especially older ones — may be sent to school but then decide not to cross the picket line. Public places such as parks might be busier than usual as a result. The mayor has acknowledged as much, saying that city libraries and recreation centers will be ready.
10. Prep sports will come to a crashing halt.
You can expect the high school sports season to come to a halt. Teacher/coaches are not going to cross picket lines even if they know their teams will be adversely affected.
Get the Essential California newsletter »
CRIME AND COURTS
Blocked: A federal judge in California on Sunday blocked Trump administration rules that would allow more employers to opt out of providing women with no-cost birth control from taking effect in 13 states and Washington, D.C. Associated Press
In Ontario: "A 'rape fantasy' plot sent her to jail. Now she's fighting back." BuzzFeed News
More details emerge: The troubling backstory of the gunman who killed a Davis rookie cop. Sacramento Bee
POLITICS AND GOVERNMENT
The road ahead: Gov. Gavin Newsom's first state budget takes a new approach to the otherwise strict rules governing California's cash reserves, one that could not only stock away more cash but also make it easier to grab that cash in years to come. Los Angeles Times
A utility's woes: PG&E said Monday it will file for bankruptcy in California after the cost of wildfires left it with potential liabilities of $30 billion or more. Bloomberg
Plus: Its chief executive officer is stepping down. Los Angeles Times
Hmmm: Some lawmakers were on a Hawaii utility junket as California wildfires raged. San Diego Union-Tribune
2020 presidential watch: Sen. Kamala Harris has gained prominence by grilling Trump officials, but her prosecutor past could become a issue. San Francisco Chronicle
Plus, on her book tour: "It was a broad, biography-heavy message — not a rigid ideological mantra." New York Times
Would you like a …? The new California enemy: Paper receipts. Wall Street Journal
CALIFORNIA CULTURE
Remember #MeToo? "Every year we gape at the lack of women in positions of power in Hollywood and wonder why, despite all the studies and advocacy groups and mentorship programs, it does not appear to be improving. Well, the fact that John Lasseter just got another job less than a year after being forced out of his old one is one very good, terribly bad reason." — Critic Mary McNamara on the odd return of a onetime Hollywood golden boy. Los Angeles Times
Festival insider: 20 years of Coachella and how it changed music. Los Angeles Times
Devastating: The East Bay Express laid off nearly its entire editorial staff in a blow to the alternative weekly, which was celebrated for its investigative and accountability journalism. Another blow for the once booming alt media. Los Angeles Times
Three little words: Sandra Oh, her parents and the question: Can Asian Americans say, "I love you"? New York Times
They're back: The Rams will get another shot at the New Orleans Saints but this time a trip to the Super Bowl is on the line. Los Angeles Times
Meow: In Silicon Valley, these cats show how high rents really are. Mercury News
A tribute song to the SUV: Straight out of Hawthorne. The New Yorker
CALIFORNIA ALMANAC
Los Angeles area: Rainy, 56, Monday. Rainy, 58, Tuesday. San Diego: Rainy, 60, Monday. Mostly cloudy, 64, Tuesday. San Francisco area: Rainy, 55, Monday. Rainy, 56, Tuesday. San Jose: Rainy, 57, Monday and Tuesday. Sacramento: Rainy, 54, Monday and Tuesday. More weather is here.
AND FINALLY
This week's birthdays for those who made a mark in California: Actress Betty White (Jan. 17, 1922) and astronaut Buzz Aldrin (Jan. 20, 1930).
If you have a memory or story about the Golden State, share it with us. Send us an email to let us know what you love or fondly remember about our state. (Please keep your story to 100 words.)
Please let us know what we can do to make this newsletter more useful to you. Send comments, complaints and ideas to Benjamin Oreskes and Shelby Grad. Also follow them on Twitter @boreskes and @shelbygrad.
---