Newsletter: Essential California: State lawsuit against Huntington Beach may be just the first over housing barriers
Good morning, and welcome to the Essential California newsletter. It is Saturday, Jan. 26. Here's what you don't want to miss this weekend:
TOP STORIES
California is facing a housing crisis, and there are growing signs Sacramento is beginning to treat it like a real crisis. The state sued the city of Huntington Beach on Friday and accused it of failing to allow enough new homebuilding to accommodate a growing population. The legal action is part of a push by new Gov. Gavin Newsom to flex the state's muscles over homebuilding, an issue that has long been the domain of local government. Los Angeles Times
— Earlier: A Times investigation showed how easy it is for cities to ignore affordable-housing requirements. Los Angeles Times
— Some pushback in O.C. Daily Pilot
— Gov. Newsom begins a housing war. CALmatters
The citizenship question: Trump administration lawyers have urged the Supreme Court to intervene in a dispute over the 2020 census and uphold their plans to ask everyone about their citizenship. The move sets the stage for a high-stakes legal fight over the population count, one that could cost California billions in federal funds. Los Angeles Times
From Park City, Utah: How Michael Jackson and horrible accusations of abuse roiled the Sundance Film Festival. Los Angeles Times
— The King of Pop and molestation allegations: A breakdown. Los Angeles Times
In Sacramento: Did a cop in California give violent white supremacists a pass? The Guardian
Sunshine suit: The Los Angeles Times and the Sacramento Bee have sued the Sacramento County Sheriff's Department for documents about misconduct or significant force by deputies, marking the latest case in what has become a statewide legal battle over the disclosure of law enforcement personnel records. Los Angeles Times
The partial government shutdown ends: Did Speaker of the House Nancy Pelosi beat President Trump in the shutdown battle? Many in Washington think so. CNN
Put the phone down: Steve Jobs would not approve of our obsession with his iPhones. New York Times
History lesson: A look at the early rise of female filmmakers. Los Angeles Times
The past and future: The LGBTQ media were once a thriving part of the culture, and a source of important journalism. They're now struggling to survive. BuzzFeed
On the right track: Picking San Francisco's best Muni lines. San Francisco Chronicle
Caveat emptor: Is Facebook getting kids into debt with games? Mercury News
Shell game: A biologist yearns to discover the secrets of Watts Towers' shells. Los Angeles Times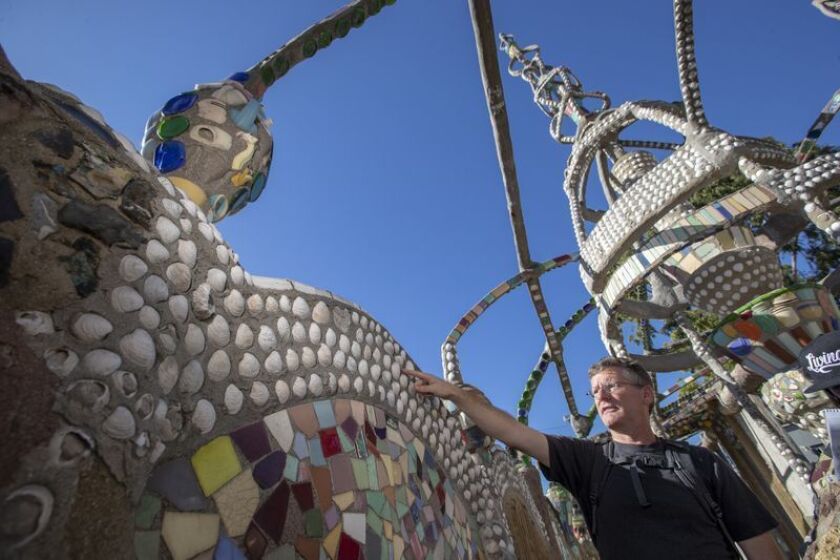 Get the Essential California newsletter »
THIS WEEK'S MOST POPULAR STORIES IN ESSENTIAL CALIFORNIA
1. "You're a true Californian only if you've eaten 20/28 of these foods." BuzzFeed
2. Five things to know about Sen. Kamala Harris. KQED
3. The drug that saved the people who overdosed in Chico. Los Angeles Times
4. The most powerful person in Silicon Valley. Fast Company
5. What's in the deal to end the LAUSD teachers' strike? A look at the details. Los Angeles Times
THE RETURN OF COLUMN ONE
Since its debut in 1968, Column One was one of the Los Angeles Times' most enduring features. In a sea of news, it was a different kind of story that celebrated the offbeat, the unusual and sometimes the painful. It did so in-depth, often with narrative writing. Column One quietly disappeared in 2014, but now it's back. Here is a reintroduction. Los Angeles Times
— The first story of the Column One revival follows a Bay Area doctor who travels to perform abortions in Texas, part of a new underground railroad. Los Angeles Times
— Read the Column One archive. Los Angeles Times
— And the series of Column Ones about the California drought that won the Pulitzer Prize. Los Angeles Times
Please let us know what we can do to make this newsletter more useful to you. Send comments, complaints and ideas to Benjamin Oreskes and Shelby Grad. Also follow them on Twitter @boreskes and @shelbygrad.
---