Newsletter: Essential California: With Fox, Disney will have an even bigger footprint in Hollywood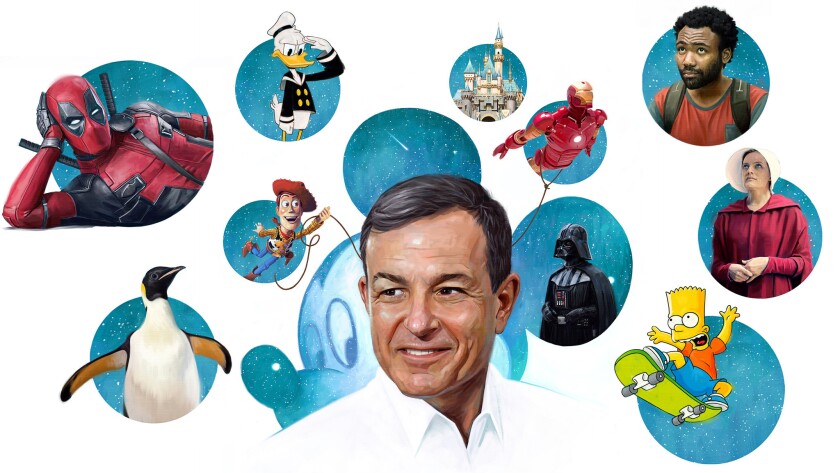 Good morning, and welcome to the Essential California newsletter. It is Saturday, March 9. Here's what you don't want to miss this weekend:
TOP STORIES
Walt Disney Co.'s entertainment kingdom is about to get a whole lot bigger thanks to its pending purchase of 21st Century Fox assets, which is slated to close in the coming days, and the rest of Hollywood has only just begun to grapple with the consequences of the company's increasing power. The long-anticipated $71.3-billion acquisition will put the X-Men, Homer Simpson, the Avengers, Buzz Lightyear, Kylo Ren and the gang from "Avatar" under the same roof, giving the Burbank company an unprecedented share of film and television franchises. Los Angeles Times
Plus: Twentieth Century Fox was once known as Hollywood's dream factory. Soon, it will be a part of history. Check out this oral history of a studio that brought you some of the highest-grossing films of all time and enduring classics. Los Angeles Times
And: What Disney's acquisition of Fox could mean for Marvel's superheroes. Los Angeles Times
Top cop problems
Few California Democrats have garnered more praise from the party's various constituencies than state Atty. Gen. Xavier Becerra, who has led the charge against the administration of President Trump with 47 lawsuits on issues including immigration and healthcare. But in recent months, Becerra has come under criticism from progressives and civil rights leaders for his reluctance to support legislative checks on police use of force. That blowback could have ramifications for an ambitious politician who seemed primed for ever-higher offices. Los Angeles Times
Marine mammals in peril
The deep blue waters and crashing waves along the coast of California provide a picturesque backdrop to the state's shores, but the sight has been marred of late. As winter rains have poured down, trash has flowed onto area beaches. And amid the detritus has been an even more troubling discovery: scores of sickened or dead marine mammals. Worse yet, the sick animals seem to be concentrated locally. Los Angeles Times
AROUND CALIFORNIA
Border separations: A San Diego federal judge has expanded his authority and will now oversee the cases of potentially thousands of more children who were separated from their families at the border during the Trump administration. Los Angeles Times
Mystery continues: The Los Angeles County coroner's office took a step Friday toward unraveling the mystery surrounding a dead girl when it completed an autopsy of the child, whose bent body was stuffed into a duffel bag and dumped near an equestrian trail. Los Angeles Times
"Nothing out of the ordinary": A firm hired to assess the presence of fleas at Los Angeles City Hall said it found no evidence of the disease-carrying pests inside the building or in other government structures nearby, according to a report issued to the City Council. Los Angeles Times
In Newport Beach: A 27-year-old man charged in the killings of his parents and their housekeeper had been living in their home with the dead bodies for days before he drove his father's new BMW to a hospital and summoned police, according to investigators. Los Angeles Times
Hot trend: Co-living is one the newest trends in urban housing, and it has prompted a New York operator to join with a Los Angeles developer to create $100 million of shared, furnished apartments to help meet a projected deep demand in Southern California. Los Angeles Times
Columnist Michael Hiltzik on L.A.'s traffic: To beat congestion, L.A. needs to charge drivers more. But how can it be done right? Los Angeles Times
Wow in Sacramento: "The California Legislature racked up more than $1.8 million in legal costs from sexual harassment investigations during 2018 and the first month of this year when at least nine current or former lawmakers faced allegations of misconduct." Associated Press
Dismissed: The lawsuit that porn actress Stormy Daniels filed against President Trump to void her nondisclosure agreement over their alleged affair has been dismissed by a federal judge in Los Angeles. Los Angeles Times
Plus: Eagan Avenatti, the longtime firm of lawyer Michael Avenatti, has filed for federal bankruptcy protection. It's the second time in two years that it has sought court protection from its creditors. Los Angeles Times
Window dressing: An Old Town Monrovia restaurant waged an 18-month battle to keep its window decals — and lost. San Gabriel Valley-Tribune
Interesting proposal: There's another bill proposing year-round daylight saving time, saying it will improve business and health. Desert Sun
Watching and waiting: Beto O'Rourke's fans in California say the Democratic field needs him. San Francisco Chronicle
Not great numbers: California added only 3,000 net jobs in the first month of the year as the unemployment rate ticked slightly upward. Los Angeles Times
In Santa Monica: The city looks to revamp the Third Street Promenade. Urbanize LA
Get the Essential California newsletter »
THIS WEEK'S MOST POPULAR STORIES IN ESSENTIAL CALIFORNIA
1. As pigs await slaughter at Farmer John, strangers offer water, love and comfort to the doomed. Los Angeles Times
2. Waves of rain transform a unique Northern California spillway into a "mesmerizing" sight. Los Angeles Times
3. L.A. County deputies claim abuse by an East L.A. sheriff's station "gang." Los Angeles Times
4. How Jeff Bezos went to Hollywood and lost control. New York Times
5. A massive aquifer lies beneath the Mojave Desert. Could it help solve California's water problem? Washington Post
ICYMI, HERE ARE THIS WEEK'S GREAT READS
A memoir unlike any you've read: A young woman's inspiring struggle with her invisible killer. Los Angeles Times
New MLS season: LAFC's fervent fans show the honeymoon with their team isn't over. Los Angeles Times
A morbid one: The coffin business is booming in Central America because of gang violence. Businessweek
A poem for the weekend: Defend the Eastside. Zocalo Public Square
Please let us know what we can do to make this newsletter more useful to you. Send comments, complaints and ideas to Benjamin Oreskes and Shelby Grad. Also follow them on Twitter @boreskes and @shelbygrad.
---