Newsletter: Essential California: Charter schools' mixed report card
Good morning, and welcome to the Essential California newsletter. It's Monday, March 11, and here's what's happening across California:
TOP STORIES
Are charter schools ruthless disruptors or a godsend for those without means? Columnist Steve Lopez says maybe both. Although charters were being vilified during the strike for creating so many problems, they came into being to solve problems — namely, as laboratories in the search for new models to reverse years of low performance in traditional public schools. Los Angeles Times
-- L.A. appears poised to get a powerful new voice to fight charters. Los Angeles Times
-- Gov. Gavin Newsom is pushing for more accountability from charters. Sacramento Bee
-- Charting the growth of charters in California. Cal Matters
Hope amid the ashes
Months after California's most devastating wildfire killed 85 people and leveled the town of Paradise, many former residents find the thought of returning unbearable. But others, whose homes escaped destruction, have come back to a life of surreal contrasts. Los Angeles Times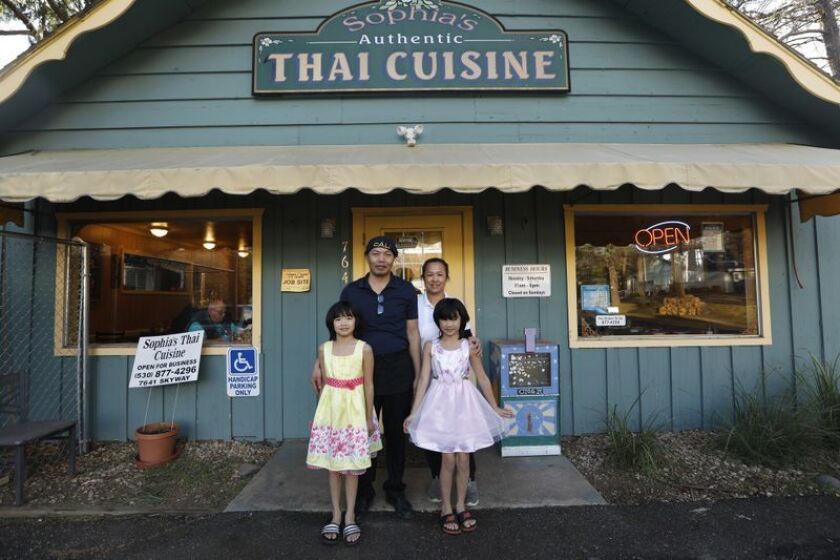 Plus: No state had it worse with wildfires last year than California. More than 1.8 million acres of California were burned by wildland fires in 2018, surpassing the previous year's total of 1.3 million. Los Angeles Times
Get the Essential California newsletter »
L.A. STORIES
Girl identified: A young girl found dead inside a duffel bag last week near a trail in Hacienda Heights has been identified as Trinity Love Jones, according to the Los Angeles County Sheriff's Department. Authorities are still trying to determine who killed the 9-year-old and the circumstances of her death. Los Angeles Times
Off-campus shooting: A USC student who is the son of an Oakland city councilwoman was shot and killed in an apparent robbery attempt about a mile from the campus early Sunday. The killing left the campus stunned and is likely to reignite debate over public safety issues. Victor McElhaney was studying at USC's Thornton School of Music. Los Angeles Times
An icon falls: A toppled Moreton Bay fig at El Pueblo de Los Angeles marked the end of an era in Los Angeles. The tree was 140 years old and played a big role in L.A. history. Los Angeles Times
Meet Christina M. Francis: The woman Magic Johnson has called upon to grow his business empire. Los Angeles Times
Old school: Koreatown retail signage — where old is better than new, minimalism is highly overrated, and loyalty still counts. L.A. Taco
Mystery at the track: Trying to understand why so many horses have died at Santa Anita. L.A. Daily News
CRIME AND COURTS
Is it legal? Confirmation that the U.S. government has compiled dossiers on human rights activists, journalists and lawyers interacting with the migrant caravan in Mexico has reignited an age-old clash between civil liberties and government authority. San Diego Union-Tribune
Backlash: Growing criticism about how Sacramento police dealt with Stephon Clark protesters. Sacramento Bee
In depth: The backstory of the suspect in the Linda O'Keefe cold case murder arrest. Orange County Register
GOVERNMENT AND POLITICS
Hope for the GOP: California's redistricting process will offer a rare chance for the dwindling ranks of Republicans to get equal billing with Democrats. When complete, the maps will offer the GOP its best — perhaps only — chance at launching an electoral comeback. Los Angeles Times
A study in contrasts: Sen. Dianne Feinstein and Sen. Kamala Harris show how the Democratic Party is dividing along generational lines. San Francisco Chronicle
We'll take that over the alternative: The yearbooks of California pols — more dorky than scandalous. Mercury News
CALIFORNIA CULTURE
Ticktock: If the switch to daylight saving time every March leaves you grumpy, you're not alone: There's a growing global movement to end this pointless tradition. California is leading movement. Los Angeles Times
Coffee, please: How San Francisco became the land of java, from artists to robots. San Francisco Chronicle
Oh boy: San Jose wants to build a massive monument to Silicon Valley that would rival the Eiffel Tower and Statue of Liberty. Insert joke here. New York Times
VC land: New signs the center of gravity is shifting from the Valley to San Francisco. Wall Street Journal
The quiet media crisis: A former newspaper editor talks about what happens to communities when the reporters disappear. Associated Press
CALIFORNIA ALMANAC
Los Angeles area: Cloudy, 67, Monday. Partly cloudy, 72, Tuesday. San Diego: Scattered showers, 61, Monday. Partly cloudy, 65, Tuesday. San Francisco area: Sunny, 59, Monday. Cloudy, 57, Tuesday. San Jose: Sunny, 63, Monday. Mostly sunny, 60, Tuesday. Sacramento: Sunny, 65, Monday. Partly cloudy, 62, Tuesday. More weather is here.
AND FINALLY
This week's birthdays for those who made a mark in California: Chef Nobu Matsuhisa (March 10, 1949), record producer Jimmy Iovine (March 11, 1953), record producer Quincy Jones (March 14, 1933) and former USC quarterback Rodney Peete (March 16, 1966).
If you have a memory or story about the Golden State, share it with us. Send us an email to let us know what you love or fondly remember about our state. (Please keep your story to 100 words.)
Please let us know what we can do to make this newsletter more useful to you. Send comments, complaints and ideas to Benjamin Oreskes and Shelby Grad. Also follow them on Twitter @boreskes and @shelbygrad.
---