Newsletter: Essential California: Inside the files on police misconduct and use of force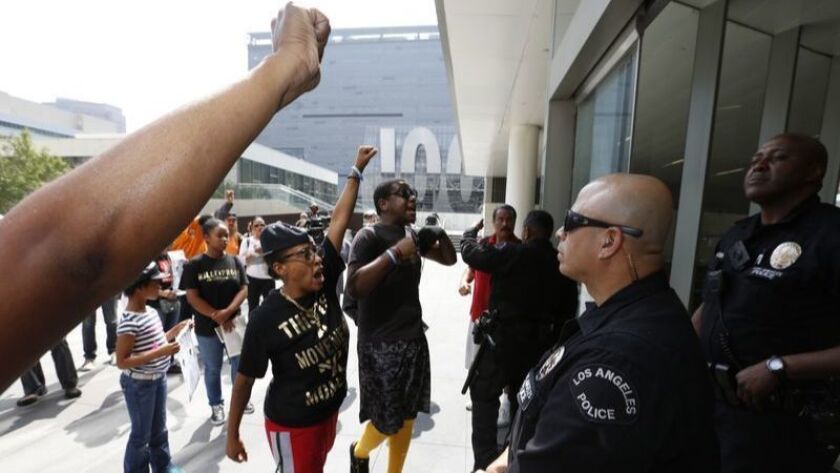 Good morning, and welcome to the Essential California newsletter. It's Wednesday, March 20, and here's what's happening across California:
TOP STORIES
South Pasadena Police Cpl. Ryan Bernal realized he was in trouble. Dazed from a night of drinking, he was jolted awake when his pickup truck smashed into a pole that fell onto the patio roof of an occupied house in Duarte, internal police records show. So the off-duty officer drove his truck around the block, walked to a nearby Walmart and slipped away in a ride-hailing service vehicle. The next morning, he showed up at a Los Angeles County sheriff's station with his mother, who falsely claimed she had been behind the wheel, investigators said. Bernal resigned in July 2017 after police moved to fire him for making false statements, committing a hit-and-run and attempting to obstruct an internal affairs inquiry. Prosecutors declined to charge him with a misdemeanor hit-and-run charge. A sheriff's investigator who handled the case said two of Bernal's department colleagues who had crucial evidence declined to cooperate with the criminal investigation. The South Pasadena incident is one of hundreds of cases being examined by the newly created California Reporting Project, a collaboration of 33 news organizations including The Times that is analyzing internal police records released under the new law. Los Angeles Times
— More revelations in Orange County. Orange County Register
— And even more from Northern California. Mercury News
— Fremont destroyed decades of records shortly before the transparency law took effect. KQED
— Four questions about policing that still need answers. Los Angeles Times
— How the project got started and spread among newsrooms. LAist
Campaign trail trivia
Sen. Kamala Harris has been known to break the ice with voters by proclaiming the freshman-year campaign in which she won a seat on the Liberal Arts Student Council at Howard University her toughest political race. Those who were with her at the school are not so sure she is kidding. It was at Howard that the senator's political identity began to take shape. Thirty-three years after she graduated in 1986, the university in the nation's capital, one of the country's most prominent historically black institutions, also serves as a touchstone in a campaign in which political opponents have questioned the authenticity of her black identity. Los Angeles Times
Splits in the United Methodist Church
Like so many gay Methodists, Tim Baudler now feels betrayed by the United Methodist Church, which is fighting a civil war over homosexuality so acrimonious that it could split the denomination. At a gathering last month in St. Louis, the General Conference, the church's top policymaking body, voted to tighten its ban on gay clergy and same-sex marriage and to increase the punishment for violations. Comprising some 800 clergy and laypeople from around the world, the General Conference voted 53% to 47% to affirm current church policy declaring "the practice of homosexuality is incompatible with Christian teaching." The decision laid bare stark regional differences in the increasingly global denomination and served as a blow to more socially liberal churches, particularly on the West Coast, that have been pushing for full inclusion of LGBTQ people. Los Angeles Times
Get the Essential California newsletter »
L.A. STORIES
No. 41's story: Prosecutors say a student who didn't have competitive soccer experience got a spot on the elite UCLA women's soccer team as part of the college admissions scandal. Los Angeles Times
Let's make a deal? Federal prosecutors are seeking potential deals with some of the wealthy parents charged in the admissions scheme as investigators continue to broaden the case, according to multiple sources with knowledge of the situation. Los Angeles Times
On hold: As the fallout from the scandal enters its second week, USC officials have started investigating students who may be linked. Los Angeles Times
Hitting it out of the park: The Angels and star center fielder Mike Trout on Tuesday were finalizing a 12-year, $430-million extension that would be the largest contract in professional sports history. Los Angeles Times
Slick streets: How much more dangerous is it to drive in L.A. when it rains? Crosstown LA
IMMIGRATION AND THE BORDER
In D.C.: The Supreme Court on Tuesday upheld the Trump administration's power to arrest and hold legal immigrants indefinitely if they had past crimes on their records that could trigger deportation, even if they served their time years ago or were convicted of minor drug offenses. Los Angeles Times
Plus: President Trump is expected to nominate a Washington attorney, Christopher Landau, to be the next United States ambassador to Mexico, the White House said in a statement. Los Angeles Times
POLITICS AND GOVERNMENT
From the Bay Area with love: California's governor and the head of the Legislature's housing committees are from the Bay Area. The most ambitious housing policies are coming from Bay Area lawmakers. Will that work for the rest of the state? Los Angeles Times
Worrying: "How PG&E ignored California fire risks in favor of profits." New York Times
CRIME AND COURTS
Key ruling: On Tuesday, the Los Angeles Police Commission ruled that the last round fired by each officer in the fatal shooting of Grechario Mack at the Baldwin Hills Crenshaw shopping mall on April 10, 2018, violated department policy to use deadly force only when protecting oneself or others from imminent injury or death. Los Angeles Times
See you in court: A West Hills man running for a spot on the Los Angeles City Council is suing the city to remove one of his opponents from the ballot, claiming that she is legally barred from running under "revolving door" rules. Los Angeles Times
A year later: Where has former Sacramento Mayor Kevin Johnson been on the Stephon Clark shooting? On Monday, Johnson spoke out. Sacramento Bee
THE ENVIRONMENT
Useful: Where to find the super blooms in Southern California. Los Angeles Times
CALIFORNIA CULTURE
The new Disney: Walt Disney Co. Chief Executive Bob Iger has scaled the mountain. Through a series of surefooted moves, Iger has worked tirelessly to position Disney as the world's preeminent entertainment company. Now he is closer to realizing his vision after the Burbank giant completed its $71.3-billion purchase of much of Rupert Murdoch's 21st Century Fox. Los Angeles Times
The new Fox: Rupert Murdoch's 21st Century Fox has spun off various television assets — including the Fox News Channel and Fox broadcast network — to form a new company that will be known simply as Fox Corp. Los Angeles Times
Location, location, location: The Fox studio lot is one asset Rupert Murdoch wouldn't sell to Disney — with good reason. Los Angeles Times
Online and active: Netflix, drawn to talent, has boosted production in Mexico with 50 films and series. Los Angeles Times
Exclusive: In Palm Springs, Amazon founder Jeff Bezos is hosting his super-nerdy Mars conference again, complete with flying robots and a Blue Origin engine. CNBC
CALIFORNIA ALMANAC
Los Angeles area: showers, 64, Wednesday; partly cloudy, 63, Thursday. San Diego: showers, 64, Wednesday; showers, 61, Thursday. San Francisco area: showers, 57, Wednesday; partly cloudy, 57, Thursday. San Jose: showers, 59, Wednesday; partly cloudy, 62, Thursday. Sacramento: showers, 60, Wednesday; partly cloudy, 64, Thursday. More weather is here.
AND FINALLY
Today's California memory comes from Maribeth Condon:
"I live in Michigan now but spend winters in Ventura County (I grew up in Santa Barbara County, hola Carpinteria), and don't know that I'll be able to afford to return there. I can visit, though, and that's good enough for me. I first went kayaking at about 8 years old in the little harbor at Morro Bay. My mom, my sister and I were all so excited because we thought that we saw a sea otter. Even if we didn't, there was a boat that shared my name. And that's always good luck."
If you have a memory or story about the Golden State, share it with us. Send us an email to let us know what you love or fondly remember about our state. (Please keep your story to 100 words.)
Please let us know what we can do to make this newsletter more useful to you. Send comments, complaints and ideas to Benjamin Oreskes and Shelby Grad. Also follow them on Twitter @boreskes and @shelbygrad.
---