Newsletter: Essential California: In Little Saigon, this newspaper has been giving a community a voice for 40 years
Good morning, and welcome to the Essential California newsletter. It is Saturday, March 23. Here's what you don't want to miss this weekend:
TOP STORIES
The stories, spread in front of him in hot metal type, told of families stranded at sea, of sturdy ships rescuing rickety boats, of the hundreds drowned — all in the desperate struggle to get to America. The articles brought news of people driven from Indochina by decades of war, and as he read them, his hands began to ink in accent marks over the words that needed them, so that their emotions burst forth, forming the narrative for the pages of his refugee newspaper. The year was 1978, when typewriters offered only English-language fonts. Yen Ngoc Do, sporting thick glasses, pored over each line, wanting to make sure the Vietnamese printed correctly. Nguoi Viet Daily News appeared once a week, those early issues splashed in red and black ink and selling for $6 for a three-month subscription. This is not just the story of a newspaper's close ties to a community but a father's relationship with his daughter. Los Angeles Times
No bribes needed here
On the mantel in a South Los Angeles home, the lovingly arranged keepsakes reflect a family's pride. Damion Lester Jr. smiles broadly in his senior class portrait, decked out in the blue cap and gown of nearby George Washington Preparatory High School. His certificate of high honors for his A grades is nestled near his football awards and homecoming king crown. The achievements have impressed colleges, and the first offers of admission have come in: UC Davis and the University of Nevada, Las Vegas so far, with word from his top choices, UCLA and USC, still to come. Damion, 18, is getting into college without the advantages of privilege or wealth. Los Angeles Times
— William "Rick" Singer's scheme spawned disgust, disbelief and outrage. But defining exactly what his crime was posed a test for prosecutors. Los Angeles Times
— The legal way the rich get their kids into elite colleges: huge donations for years. Los Angeles Times
— The next move in the college admissions scandal will unfold in a Boston federal courtroom April 3, when Felicity Huffman, Lori Loughlin and other defendants are set to appear in court. Los Angeles Times
— Donna Heinel was a supposed stickler for the rules. She's now at the center of a USC scandal. New York Times
AROUND CALIFORNIA
Oy vey: Millions of disaster victims — including thousands of those hit by California wildfires — had personally identifiable information compromised when they applied for housing relief with the Federal Emergency Management Agency, authorities said Friday. Los Angeles Times
Throwback: Notorious Hollywood fixer Anthony Pellicano has been released from prison. Los Angeles Times
Owning the libs: This psychologist claims Google search results unfairly steer voters to the left. Conservatives love him. Los Angeles Times
Campaign stop: Sen. Bernie Sanders, rallying in San Diego, called for the Robert S. Mueller III report to be made public. Los Angeles Times
New income streams: More than one-third of millennial buyers say it's very important that their new home offer some way of generating income, according to Zillow. Los Angeles Times
From the border: Customs and Border Protection officers have not consistently followed policies intended to protect Central American asylum seekers who are likely to be harmed in Mexico from returning there under the Remain in Mexico program. San Diego Union-Tribune
At the port: Dockworkers are battling a plan to bring driverless trucks to the Port of Los Angeles. Los Angeles Times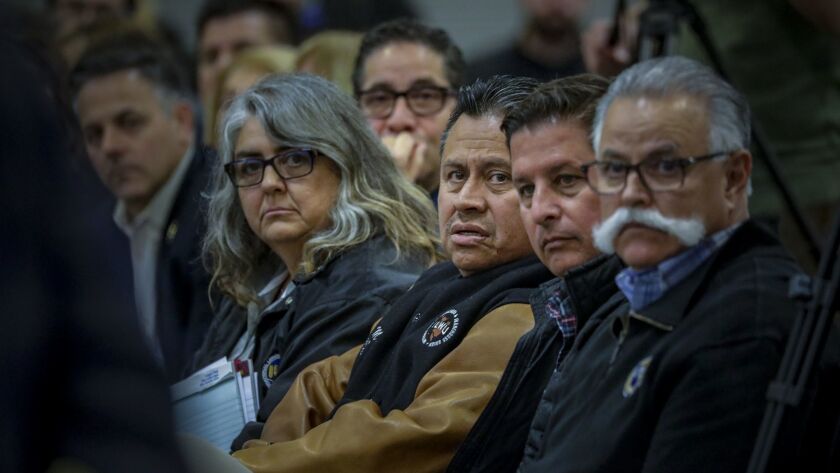 Must-watch: Police shooting records are now public in California — and cops are fighting it. Vice News Tonight
Big debate: A 100-bed homeless shelter is proposed near a wealthy Sacramento neighborhood. Sacramento Bee
Yum: Gorgeous roast pigeon headlines the menu at this Egyptian restaurant in Anaheim. Eater Los Angeles
Yum II: A new food stand in Compton hopes to elevate menudo to homemade level. Los Angeles Times
Wanted: The Los Angeles Police Department is asking for help finding a robbery crew it says has been targeting Latino construction and landscaping workers in the San Fernando Valley since January. Los Angeles Times
Jobs, jobs, jobs but ...: "California has the jobs but not enough homes." Wall Street Journal
Clearing the brush: Gov. Gavin Newsom declared a state of emergency in California on Friday and waived environmental regulations to expedite nearly three dozen forest management projects to protect communities from deadly wildfires. Los Angeles Times
Hero status: A Dodgers hitting coach revitalized J.D. Martinez's swing despite a lack of MLB credentials. Los Angeles Times
Get the Essential California newsletter »
THIS WEEK'S MOST POPULAR STORIES IN ESSENTIAL CALIFORNIA
1. A prominent La Jolla family is linked to the massive college admissions scandal. Who are the Kimmels? San Diego Union-Tribune
2. California's Real ID driver's license? Still confusing. What you need to know now. Los Angeles Times
3. This photo shows why a border wall won't stop the immigration surge. Washington Post
4. Living on pennies with a million-dollar view: how car campers survive in beach parking lots. San Diego Union-Tribune
5. California news agencies join forces to obtain previously secret records from hundreds of police agencies. Orange County Register
ICYMI, HERE ARE THIS WEEK'S GREAT READS
Such great news: By February, the snow made many neighborhoods in Mammoth feel subterranean. Twenty-foot walls of white, corniced by the wind, leaned over the plowed roads. Residents worked feverishly to keep the snow from swallowing their homes. They dug tunnels and narrow passageways to the street, opened portals to get light through second-story windows, shoveled dangerous weight off their roofs. Unoccupied homes were so buried that a child might unknowingly sled down one. On still nights, when the wind stopped and the plows had passed, the silence was absolute. Only the streetlights and spirals of smoke from unseen chimneys suggested human life. This year's record-setting February and continued storms have reconnected residents to a historic rite of passage in California's highest town, a place that largely came to be because of its monumental snowfall. Los Angeles Times
Amazing story: Serious youth crime has fallen off drastically since the 1990s, leaving juvenile halls emptied. So why is California still spending so much? San Francisco Chronicle
Plus: Three San Francisco supervisors are pledging to close juvenile hall after the Chronicle report. San Francisco Chronicle
Amazing story, Part 2: "They were a farming family, a young hothead, and an aspiring engineer with nothing in common — except a weapon that reached the San Francisco streets through unlicensed gun dealing." CNN
Oooof: "Roseanne Barr just can't shut up." Washington Post
Glory days: "For hair bands and rock stars, the Sunset Strip in the 1970s and '80s was nothin' but a good time." Curbed LA
Bring snacks: A veteran runner shares his 26.2 secrets for conquering the L.A. Marathon. Los Angeles Times
New report: California's patchwork of care for the undocumented: Where you live matters. Capital Public Radio
Please let us know what we can do to make this newsletter more useful to you. Send comments, complaints and ideas to Benjamin Oreskes and Shelby Grad. Also follow them on Twitter @boreskes and @shelbygrad.
---