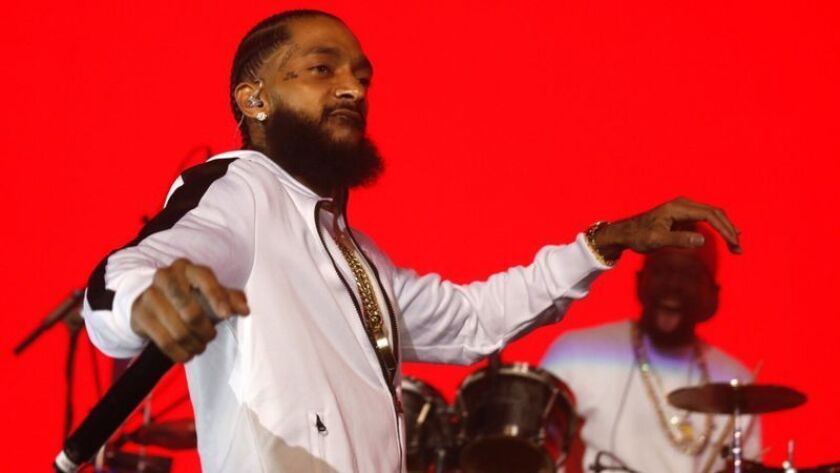 Good morning, and welcome to the Essential California newsletter. It's Monday, April 1, and here's what's happening across California:
TOP STORIES
Grammy-nominated rapper Nipsey Hussle was killed Sunday afternoon, shot in broad daylight outside his clothing store in South Los Angeles in a burst of gunfire that left two other people wounded, police said. The shooting came in the same neighborhood where he was known as much for his civic work as he was for his hip-hop music — and a day before Hussle, 33, was scheduled to meet with LAPD Chief Michel Moore and Police Commissioner Steve Soboroff "to talk about ways he could help stop gang violence and help us help kids," the commissioner said. Hussle made no secret of his early life in a street gang, but as he found success, he served as a pillar in his South L.A. community. Los Angeles Times
-- As police investigated the fatal shooting, hundreds converged on the site to pay their respects. "He did so much for our neighborhood," one person said. "That's why I'm here today. This has to stop." Los Angeles Times
-- Actress Issa Rae, Lakers star LeBron James and more from the worlds of entertainment and sports expressed their shock and condolences. Los Angeles Times
-- From the archives: With a newly opened STEM center and a revolutionary marketing strategy, Hussle is music's biggest disruptor. Los Angeles Times
The L.A. dad who exposed the admissions scandal
Morrie Tobin was in Boston to cut the deal of his life. It was early April last year. A few weeks before, federal agents had descended on the multimillion-dollar home Tobin shares with his wife and some of their six children in Hancock Park, a moneyed Los Angeles enclave. Warrant in hand, the agents searched the French chateau-style mansion for financial records and other evidence to nail Tobin, the suspected ringleader of a stock scam that defrauded investors of millions of dollars. The raid imploded Tobin's very comfortable life. Faced with the prospect of years in prison and a seven-figure fine, the businessman flew to Boston to meet with the federal prosecutors handling the case. He was looking for mercy. Los Angeles Times
Plus: A group of USC faculty members is demanding more transparency and accountability after the college admissions scandal that drew national headlines, the latest in a series of scandals to rock the private university in recent years. Los Angeles Times
The politics of race in a supposedly 'post-racial' world
Cory Booker talks frankly about racism as he campaigns, pointing out how the "dark spirit of bigotry" was part of the nation's founding and urging crowds to speak the truth about prejudice. Kamala Harris bluntly tells supporters that racism is a potent force in society, saying that Americans have for too long avoided confronting the "awful, shameless history on race in this country." In 2019, more than a decade after the nation made history by electing its first black president, and halfway through the term of a president whose words and actions have drawn accusations of racism, the two Democrats are redefining the idea of what it means to be a black presidential candidate. Los Angeles Times
Plus: At a gay rights gala in L.A., Harris and Booker stand for equality. Los Angeles Times
Get the Essential California newsletter »
L.A. STORIES
Big fight brewing: The divide between Hollywood writers and their agents deepened Sunday when members of the Writers Guild of America voted overwhelmingly in favor of a new code of conduct that would curb the use of packaging fees and other unpopular industry practices. Los Angeles Times
Curious move: In gentrifying Echo Park, the Department of Veterans Affairs is forcing these homeless veterans to leave. Los Angeles Times
Some blowback: With drivers fuming over their low pay, Mayor Eric Garcetti takes heat for celebrating with Lyft. Los Angeles Times
IMMIGRATION AND THE BORDER
Paying for the wall: President Trump's plan to pull funding from military construction projects to pay for a wall along the U.S.-Mexico border could delay more than $139 million in critical infrastructure funding for U.S. Naval Weapons Station Seal Beach in Orange County. Los Angeles Times
POLITICS AND GOVERNMENT
Bridge problems: California increased its gas tax for road repairs, yet the number of bridges rated as "poor" has multiplied, data show. Los Angeles Times
Lots to do: California has one year before a crucial census count. Money and clout are at stake. Los Angeles Times
In San Diego: A Navy SEAL charged with killing an injured Islamic State fighter in Iraq was released from a military brig and restricted to the base Saturday night, the SEAL's attorney said. It was the same day President Trump moved to intervene in his case. San Diego Union-Tribune
Cringe: Latino outreach or Google Translate? Some 2020 Dems bungle Spanish-language websites. Politico
CRIME AND COURTS
$40 million?! The longtime manager of the CBS Employees Federal Credit Union has been charged with stealing more than $40 million, which he allegedly spent on gambling, private jets and expensive cars, authorities said Friday. Los Angeles Times
High stakes: Michael Avenatti's biggest case yet is his own. New York Times
How to keep that promise: Gov. Gavin Newsom promised to empty California's private prisons. Can he do it? San Francisco Chronicle
Plus: When inmates take up music, a big concert breaks out. Sacramento Bee
CALIFORNIA CULTURE
Another horse dies: A 23rd horse fatality has occurred at Santa Anita since Dec. 26, when Arms Runner fell on the dirt crossover portion of the hillside turf course Sunday and was euthanized. La Sardane, who was behind Arms Runner, couldn't avoid the fallen horse, tripped and went to the ground, but got right back up. Los Angeles Times
The "Vietnamese James Bond": Ly Tong, an anti-communist folk hero, is nearing death. Los Angeles Times
Up in the air: The $69-million Coliseum naming-rights deal between USC and United is in limbo. Los Angeles Times
Exciting! "Veep" returns for its final season, as cynical as ever, but the real world has caught up to it. Los Angeles Times
A literary bad boy returns: "Bret Easton Ellis has calmed down. He thinks you should, too." New York Times
Caveat emptor: California has a long history of being a sunny haven for health and wellness fads. Washington Post
CALIFORNIA ALMANAC
Los Angeles area: Partly cloudy, 83, Monday. Partly cloudy, 70, Tuesday. San Diego: Partly cloudy, 75, Monday. Partly cloudy, 66, Tuesday. San Francisco area: Cloudy 64, Monday. Rainy 59, Tuesday. San Jose: Cloudy, 69, Monday. Showers, 64, Tuesday. Sacramento: Showers, 68, Monday. Showers, 64, Tuesday. More weather is here.
AND FINALLY
This week's birthdays for those who made a mark in California: L.A. City Councilman Paul Koretz (April 3, 1955), former Gov. Jerry Brown (April 7, 1938), director Francis Ford Coppola (April 7, 1939).
If you have a memory or story about the Golden State, share it with us. Send us an email to let us know what you love or fondly remember about our state. (Please keep your story to 100 words.)
Please let us know what we can do to make this newsletter more useful to you. Send comments, complaints and ideas to Benjamin Oreskes and Shelby Grad. Also follow them on Twitter @boreskes and @shelbygrad.
---