Good morning, and welcome to the Essential California newsletter. It's Friday, May 3, and I'm writing from Los Angeles.
Carey McWilliams, a writer and social critic known for distilling the essence of California more expertly than almost anyone else before or after him, once wrote that "every city has had its boom, but the history of Los Angeles is the history of booms." And the same could just as easily be said for the state as a whole.
Every state has had its booms, but the history of California has been the history of booms.
"I think you could say it's been a series of booms, without any real busts," Ethan Sharygin, a demographer with the California Department of Finance, said of the state's population growth. Or at least it has been, up until very recently.
State demographers released new data earlier this week showing that California's population growth has nearly stalled out, to the slowest rate in recorded state history.
So, what does that mean for a state whose character has been continually forged by an engine of propulsive growth? And what, exactly, is California, if not a culture defined by frenzied rebirth?
First, let's backtrack. In 1848, when a carpenter from New Jersey discovered gold at Sutter's Mill, there were​ a mere 14,000 ​​non-indigenous Californians living in the state. By 1850, that figure had more than sextupled, as a torrent of people poured into California in pursuit of the Mother Lode. After that, they just kept coming.
For nearly a century and a half, the state buoyed a growth rate that essentially doubled its population every two decades, according to migration historian James N. Gregory.
To briefly summarize what drew that human tide would read somewhere between a litany and a CliffsNotes version of California history: railroads, endless boosterism, agriculture, the sprouting of industries, an exodus from the Dust Bowl, immigrant migrations and postwar suburbanization, to oversimplify greatly. The clearest through-line was some ineradicable (and often unmet) promise of a better life.
That unstoppable, rocket-ship rhythm of growth helped define California's progressive spirit and culture of innovation. Waves of successive arrivals created a state in perpetual repopulation, unbound by history or traditions of before. For better or worse, you could do things differently here. The constant churn of people accounted for, as McWilliams put it, "the tempo of social change, the foreshortening of economic processes, the speed of development."
That propulsive growth rate began to slow in the 1990s and continued to stagnate into the new millennium. "It hasn't been above 1% since 2005," Sharygin said. But demographers don't see that as a crisis anymore. It's simply the new normal.
"I think California has always been made up of people who kind of came here to do something new," the demographer explained. "Maybe with a slower growth rate, that's changing a little bit."
And now, here's what's happening across California:
TOP STORIES
Facebook has banned a number of controversial far-right figures, including Alex Jones, Milo Yiannopoulos and Laura Loomer, for violating the social-media company's policies on hate speech and promoting violence. Religious leader Louis Farrakhan, who is known for sharing anti-Semitic views, was also barred from the platform. The move signals that social media giants are perhaps finally feeling the heat for allowing their platforms to amplify the voices of extremists. Los Angeles Times
It's not just you. Soaring deductibles and medical bills are pushing millions of American families to the breaking point. That's one of the key findings of a Los Angeles Times examination of job-based health insurance — the most common form of coverage for working-age Americans. Los Angeles Times
Your support helps us deliver the news that matters most. Subscribe to the Los Angeles Times.
L.A. STORIES
Rustic Canyon's rumored "Nazi ranch" has long been the subject of speculation. Ace local historian Hadley Meares lays out the true story behind the ruins in Pacific Palisades. Curbed LA
What was going on in Boyle Heights? Police said two dozen people who wore black clothes and red masks were arrested Wednesday night as they blocked streets amid the area's art spaces, galleries and industrial buildings. The Eastsider
IMMIGRATION AND THE BORDER
The ACLU is suing the Department of Homeland Security and Immigration and Customs Enforcement to halt the transfer of immigrant detainees currently held in two Orange County jails to locations out of the state. Los Angeles Times
POLITICS AND GOVERNMENT
The California Film Commission's executive director is out amid a shakeup after 15 years at the helm of the state agency. The Hollywood Reporter
CRIME AND COURTS
In a victory for labor activists, a federal appeals court ruled that an international franchisor could be forced to treat its California janitors as employees rather than independent contractors. Los Angeles Times
(FYI: The California Legislature is considering a law that would codify the principles of this court decision, making it harder for companies to classify their workers as independent contractors. We spoke to labor reporter Margot Roosevelt about this legislation in yesterday's Essential California.)
In more news from the Great College Admissions Scandal of 2019, the mother of a former Stanford student acknowledged that she paid $6.5 million to scam mastermind William "Rick Singer," but said she was tricked into believing the seven-figure sum would go toward scholarships. Los Angeles Times
Meanwhile, another Chinese family caught in the scandal is making a similar argument. Los Angeles Times
THE ENVIRONMENT
When it comes to one of California's water woes, Gov. Gavin Newsom might be onto something. The governor's latest action could seem fanciful, but it has logic and conceivably could work, writes columnist George Skelton. Los Angeles Times
Plus: Good news for California's water supply after wet winter. Los Angeles Times
CALIFORNIA CULTURE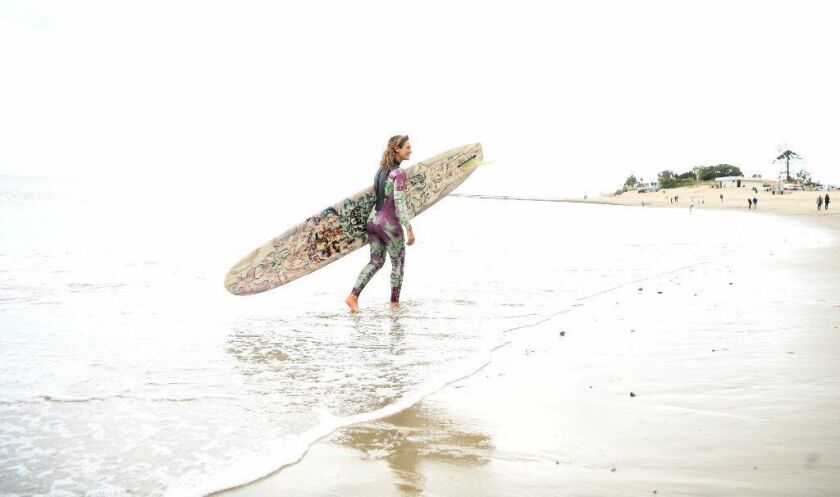 Amid a wider reckoning in the world of women's surfing (female pros just won equal pay), Kassia Meador — one of the best longboarders in the world — is also changing women's surfing gear. Los Angeles Times
After a black homeless couple moved into a home in a wealthy white community, neighbors started calling the police. "My officers are very familiar with who's living in that house and what (the homeowner's) trying to do," Piedmont police Capt. Chris Monahan told a journalist. "When people have called, we've not even responded. We've called them and said, 'Oh no, those are the people that live in the house.' " SF Gate
And on that note, here are the Bay Area's least affordable communities. Mercury News
As Ramadan approaches, many members of Southern California's Muslim community are taking extra security measures. Daily News
Disneyland began accepting online reservation requests to visit the $1-billion Star Wars expansion for four-hour periods at 10 a.m. Those reservations were filled by noon, according to theme park officials. Los Angeles Times
After the battle over free speech at a Stockton high school newspaper, a school district returns a win for free press. Sacramento Bee
Get the Essential California newsletter »
CALIFORNIA ALMANAC
Los Angeles: partly cloudy, 72. San Diego: partly cloudy, 69. San Francisco: partly cloudy, 65. San Jose: partly cloudy, 77. Sacramento: partly cloudy, 84. More weather is here.
AND FINALLY
There is no culture here in California, only trash.
author Philip K. Dick, in a letter to fellow writer Stanislaw Lem, September 1973
If you have a memory or story about the Golden State, share it with us. (Please keep your story to 100 words.)
Please let us know what we can do to make this newsletter more useful to you. Send comments, complaints, ideas and unrelated book recommendations to Julia Wick. Follow her on Twitter @Sherlyholmes.
---