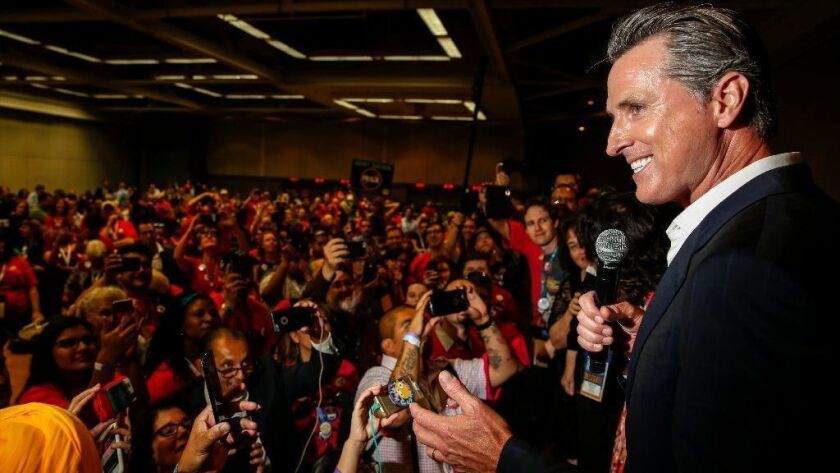 Good morning, and welcome to the Essential California newsletter. It's Friday, May 31, and I'm writing from Los Angeles.
Just about everyone who matters in the California Democratic Party will descend on San Francisco this weekend to fraternize, strategize and pick a new party leader after the last chairman resigned in disgrace. Welcome to the annual California Democratic Party convention.
But this year's state party convention will be about more than just California politics: Nearly every major Democratic 2020 presidential candidate (save for Joe Biden) will be among those rubbing elbows at the Moscone Convention Center.
Los Angeles Times politics reporters Melanie Mason, Christine Mai-Duc and Mark Z. Barabak will all be in attendance, reporting on the Shakespearean machinations, presidential candidate favor-currying and future of the state party.
I sat down with Melanie Mason, who's covering the 2020 presidential campaign, for a preview of what's to come.
What will people be watching for this year?
First, we have half of the Democratic presidential field coming in to get face time with these state party leaders and activists. The convention has particular significance because there's an assumption that California now has more influence in the primary process, after moving the primary up from June to March. You're going to have this cattle call of presidential candidates coming in, talking about how much they love California, sort of trying to ingratiate themselves with the most die-hard Democratic activists in the state.
The second theme will be the chair's race going on for the leadership of the state party. [More on that a little further down.]
Who are the biggest power brokers at the convention? How will they shape the weekend?
It's sort of like a Russian nesting doll of powerful entities. There's the big convention floor that will be open to all of the delegates. But there's all of these caucuses, which are various affinity groups, such as the rural caucus or the Latino caucus or the labor caucus. These are fairly influential groups within the party, and we'll see politicians coming by. While a lot of action is on the main floor, I find it more interesting to go to some of these caucus meetings, because you get to see more one-on-one interactions with key constituency groups. You can get a sense of where politicians are trying to shore up their support.
Some of the biggest, most influential players in the state Capitol also tend to throw big parties. The parties will be a who's who in the progressive universe. It's a way to say, "Look how much we matter, look at how we can get some of the buzziest electeds to show up."
[See also: "As the California Democratic Party regroups after scandal, Newsom distances himself" by Christine Mai-Duc and Phil Willon]
Will Sen. Kamala Harris have a home-state advantage at the convention?
It's hard to have a home-state advantage in a place as massive as California. Unless you've been a political figure in the state for decades, like Jerry Brown or Dianne Feinstein, it's difficult. Harris has actually been polling behind Joe Biden and Bernie Sanders among California voters. But Biden and Sanders have been on presidential tickets in either a primary or a general election in the state, so there's a deep familiarity for voters. We'll probably see something of a favored daughter status for Harris this weekend, with her prime speaking slot at the convention and parties featuring her. Questions remain about how Harris will be received among activists who aren't the traditional party leaders. Will there be a sense that she's a Californian and she's our gal? Or are they still shopping around because they have so many options to choose from?
Fourteen presidential candidates will be there, but not Biden. Why?
It's an interesting decision. He is going to be in San Francisco later next week for a fundraising jaunt. So, the calculus may be why make yourself one of 14, and potentially not get the warmest reception, when you could come back and build those California relationships in other ways.
Obviously, there are a lot of headlines now about Biden skipping the convention. But the truth is that this may not really be Biden's crowd. The state party is pretty lefty. There's a sizable contingent of Sanders supporters. I think if Biden has been trying to carve out a more centrist lane within the Democratic primary field, the audience of the state Democratic convention may not give him the warmest reception.
Plus, Phil Willon chimed in to give a quick rundown on the race for a new party chairperson.
The California Democratic Party is electing a new chairperson this weekend. What does that mean for the party?
The state party is striving to restore its credibility after a sexual harassment scandal led to the resignation of Chairman Eric Bauman in November. It's a critical moment for a party that had so much success in the November election, when Democrats scored a substantial victory by gaining seven congressional seats in California and control of the House of Representatives.
The next chair not only must address the internal workplace culture and operations, but also must prepare for an earlier-than-usual March presidential primary and defend Democrats who narrowly won seats in Congress and the Legislature in 2018.
[See also: "California Democratic Party to pick new leader after year of tumult and lawsuits" by Christine Mai-Duc]
The front-runners for state party chair are Los Angeles County Federation of Labor President Rusty Hicks, party Vice Chairman Daraka Larimore-Hall and Bay Area activist Kimberly Ellis, who narrowly lost to Bauman in 2017. Hicks led one of the most influential labor organizations in California. In her last campaign, Ellis became the favorite of Democratic activists who supported Sanders in the 2016 presidential race.
And now, here's what's happening across California:
TOP STORIES
The Trump administration's drive to add a citizenship question to the 2020 census began as a plan to bolster Republicans and to undercut Democrats in state legislatures and Congress, according to newly revealed documents. A census undercount could dramatically affect California. Los Angeles Times
Get the Essential California newsletter »
L.A. STORIES
Rats and other vermin infest LAPD's downtown Central Division station, sparking anger among officers. Los Angeles Times
A look at the very unlikely friendship between "Family Guy's" Seth MacFarlane and the president of the Parents Television Council — a conservative TV watchdog group that had long attacked MacFarlane. Los Angeles Times
These two men shared cubicles at Disney but weren't close friends. Until one gave the other a life-saving kidney. Los Angeles Times
New York's beloved Russ & Daughters deli will pop up in Venice for one day in June. Bagel-loving Angelenos who live east of Vermont are surely wondering what's a more inconvenient trek — Manhattan, or the far Westside? Eater LA
The passionate life and inconceivable death of Gary Stewart, a beloved and influential music industry leader who died by suicide earlier this year. Los Angeles Times
Disney may ditch Georgia over abortion law, Bob Iger says. Is Hollywood's reticence on the matter over? Los Angeles Times
Your support helps us deliver the news that matters most. Subscribe to the Los Angeles Times.
IMMIGRATION AND THE BORDER
President Trump announced plans to put a 5% tariff on all Mexican imports. The president made the surprise announcement via Twitter, where he said the tariff was in response to the surge of migrants at the border. Los Angeles Times
POLITICS AND GOVERNMENT
A "gig work" bill that could drastically alter California's employment landscape passed the state Assembly. The bill, which would limit the use of contractor status, still has to pass the state Senate. San Francisco Chronicle
Tenants just scored a rare state Capitol victory. But why don't renters have more political power? CalMatters
The Southern California mountain town of Idyllwild has a dog for mayor. And yes, you can request a meeting with him. Travel + Leisure
CRIME AND COURTS
After a recent spike in gun violence, Stockton's police chief has sought help from state and federal law enforcement officials. Stockton Record
THE ENVIRONMENT
Silicon Valley's main water agency might buy a Central Valley farm. Here's why neighboring farmers are nervous about it. Merced Sun-Star
CALIFORNIA CULTURE
In California's rural school districts, poverty and isolation drive high rates of chronic absenteeism. EdSource
The Fresno Grizzlies have lost a big-name sponsorship because of their Memorial Day AOC video debacle. Sun-Maid, a raisin company with deep roots in the central San Joaquin Valley, ended its partnership with the team. Fresno Bee
Uber announced plans to deactivate riders with "significantly below average" ratings. The Verge
How West Oakland financed its own grocery store through a process known as a direct public offering. Next City
Star Wars: Galaxy's Edge could pump $14 billion into the Southern California economy over the next 40 years. Orange County Register
This exhibit spotlights lesbian artists as central players in California's queer history. Hyperallergic
CALIFORNIA ALMANAC
Los Angeles: partly sunny, 71. San Diego: partly sunny, 67. San Francisco: partly sunny, 64. San Jose: sunny, 79. Sacramento: sunny, 89. More weather is here.
AND FINALLY
Southern California, where the American Dream came too true.
Lawrence Ferlinghetti
If you have a memory or story about the Golden State, share it with us. (Please keep your story to 100 words.)
Please let us know what we can do to make this newsletter more useful to you. Send comments, complaints, ideas and unrelated book recommendations to Julia Wick. Follow her on Twitter @Sherlyholmes.
---