Newsletter: Essential California: The untold aftermath of smoke pollution from the Camp fire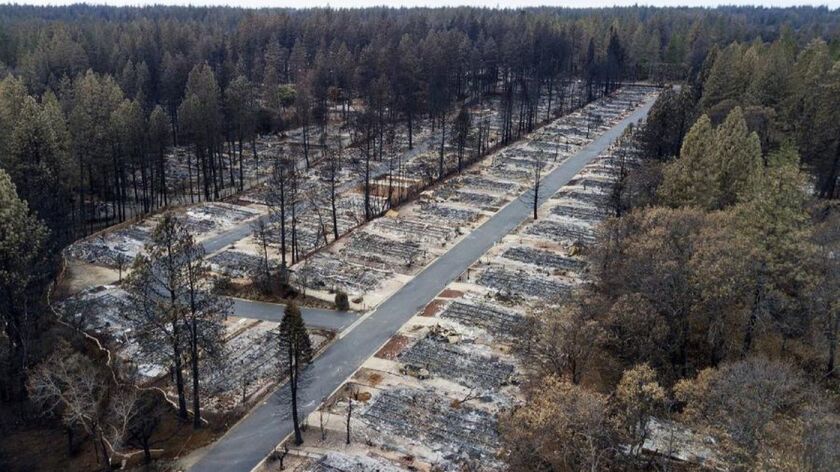 Good morning, and welcome to the Essential California newsletter. It's Friday, July 12, and I'm writing from Los Angeles.
For most Californians, the 2018 Camp fire was a deeply horrific but discrete event.
In downstate California, we are all too aware that 85 people lost their lives in the deadliest fire in state history, and that the recovery continues. But we also largely conceive of the devastation in the past tense. It happened, it was terrible, and now it is done.
It's a very different story up in Butte, a county 90 miles north of the state Capitol, bordered by the Sierra Nevada Mountains to the east and the Sacramento River to the west.
Butte County is home to fire-decimated Paradise and neighboring Chico, where an influx of more than 15,000 Camp fire survivors has created a "new normal," with the college town deeply strained by a 20% increase in its population nearly overnight.
Butte County residents also live with a tragedy whose reaches have yet to unfold — the long-term health effects of the wildfire smoke. That toxic smoke cloaked much of Northern California for weeks, but in Chico it was a "hellscape."
The small staff of the Chico Enterprise-Record (which was a 2019 Pulitzer Prize finalist for breaking news reporting) has valiantly and extensively covered the fire and its aftermath, even as they and their loved ones were personally affected.
Along with her full-time job covering daily stories, Chico Enterprise-Record reporter Robin Epley has spent much of the past year examining the health effects of wildfire smoke for a five-part series and podcast called "Inhaled." (Installments one and two have already been released, and the next one comes out on Sunday.)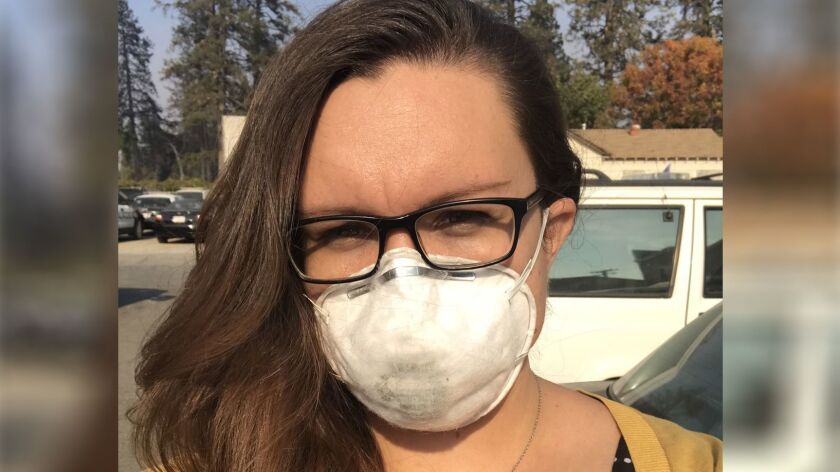 I spoke with Epley about her coverage and how changing development patterns will affect future fires. Here's some of what she told me, lightly edited and condensed for clarity.
Much of your series focuses on the breadth of what we don't yet know about the potential long-term effects of this smoke. What are the biggest things that we don't know here?
We don't know how fires in the wildland-urban interface are going to affect large swaths of population. We don't know what was in the air that day in Paradise and Chico because of equipment failure. We don't know how many people were affected because the nature of smoke is ephemeral. And we are never going to know how many people are experiencing morbidity and mortality because of this fire. That's something that's just not quantifiable.
Can you tell us about the wildland-urban interface, and why it matters?
That's something I talk about in the first episode, because it was something that kept coming up amongst all the researchers and scientists I was speaking with. It's sort of a designation that has been given to urban sprawl — you can think of it that way — into rural areas.
So, if you've never been to Paradise before the fire, you can really think of it as sort of the stereotypical mountain town. There's trees everywhere. There's bushes everywhere. The houses are not stacked on top of each other like they are in subdivisions, there are these wide spaces between them. But that is exactly the type of housing that is in the wildland-urban interface. You can hear it in the name: It's wildland and it's urban.
What happens in the wildland-urban interface during a fire?
There is more and more of that type of urban development into what used to be just wildland, where if it burned, it burned. [But if] you suddenly have housing in the middle of that, or an elementary school or a gas station, or all of the above, well, [a wildfire] suddenly becomes a big deal. Because not only are those people displaced, and then there's huge trauma and a giant social event, but you also get that smoke. And that's exactly what the point of this podcast is. How do we look at these new types of wildfires? And what are we doing to mitigate the health effects? Because, again, we just don't know. We haven't had enough time with these types of events to be able to study them.
[Read and listen to parts one and two of "Inhaled"]
And now, here's what's happening across California:
TOP STORIES
President Trump backed down Thursday from his fight to add a question about citizenship to the 2020 census, denouncing Democrats and "extremely unfriendly" courts while essentially conceding defeat on a priority issue for his administration and reelection campaign. Los Angeles Times
The FBI is now investigating a secret society of tattooed sheriff's deputies in East Los Angeles as well as similar gang-like groups elsewhere within the Los Angeles County Sheriff's Department. The federal probe follows allegations of beatings and harassment by members of the Banditos, a group of deputies assigned to the Sheriff's East L.A. station who brand themselves with matching tattoos of a skeleton outfitted in a sombrero, bandolier and pistol. The clique's members are accused by other deputies of using gang-like tactics to recruit young Latino deputies into their fold and retaliating against those who rebuff them. Los Angeles Times
Get the Essential California newsletter »
L.A. STORIES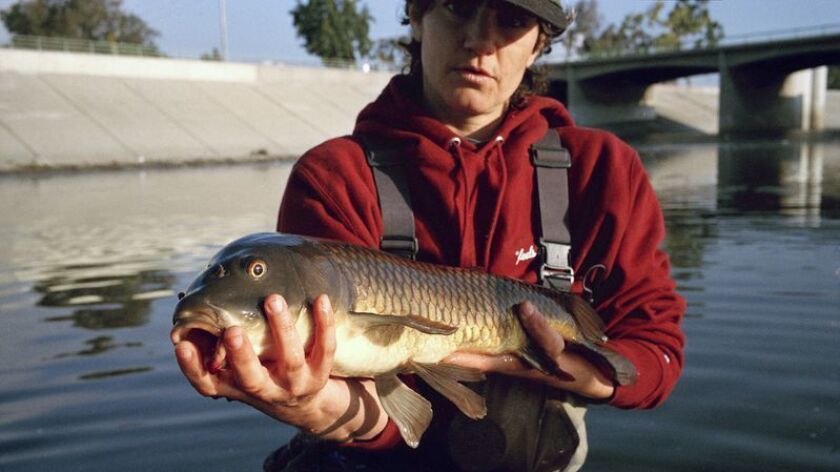 Learning to fish the Los Angeles River with a former pro skateboarder and a fish whisperer. And yes, you can eat that "sewer salmon." Los Angeles Times
There's a new breakfast food court in Ladera Heights. The Instagram-centric chefs behind Bleu Kitchen, All Flavor No Grease and Taco Mel are joining forces for the project. KCRW
Dior Men's new ad campaign features the art of Raymond Pettibon, a California punk pioneer. Women's Wear Daily
A statue of Brandi Chastain was unveiled at Pasadena's Rose Bowl. The statue re-creates the image of Chastain removing her shirt and celebrating at the 1999 United States Women's World Cup. Pasadena Star-News
Your support helps us deliver the news that matters most. Subscribe to the Los Angeles Times.
IMMIGRATION AND THE BORDER
Ahead of coming raids, hundreds of people are planning to protest against immigrant detention centers on Friday in Southern California. Events are planned in L.A., Orange, San Bernardino and Riverside counties, along with vigils and rallies across the nation. Los Angeles Daily News
Thousands of workers who live in Mexicali legally enter the U.S. through the port of entry in the middle of the night and wait in downtown Calexico for rides to work in the fields of Southern California and Arizona. Here's a snapshot of 12 overnight hours in the life of a 24-hour Calexico doughnut shop that has become a way station for the workers who commute across the border daily. Desert Sun
POLITICS AND GOVERNMENT
Gov. Gavin Newsom is expected to sign legislation Friday to overhaul how the state pays for utility wildfire damage — a complex bill the governor championed and moved swiftly through the California Legislature this week at Wall Street's urging. Utility customers will be required to pay $10.5 billion to the so-called wildfire fund through a 15-year extension of an existing charge on monthly bills, one that was originally expected to expire by 2021. Los Angeles Times
CRIME AND COURTS
The family of Hannah Williams, the teen who died on the 91 Freeway in Anaheim, has hired a lawyer specializing in police brutality to get "answers" in her death. She was fatally shot by an on-duty Fullerton police officer. Los Angeles Times
San Luis Obispo's police chief issued a public apology after she left her gun in an El Pollo Loco bathroom. The gun is still missing. San Luis Obispo Tribune
The Eureka Police Department is investigating an apparent militaristic white supremacist group that has been posting recruitment fliers around the Humboldt Bay area. The Humboldt County sheriff told a local alt-weekly that neo-Nazi and white supremacist ideologies have been present on the North Coast for years. North Coast Journal
HEALTH AND THE ENVIRONMENT
There have been no reports of missing adventurers in the Mojave Desert after last week's earthquakes. San Bernardino Sun
CALIFORNIA CULTURE
The supremacy of Fresno's farmers markets should come as no surprise, given the city's location in the heart of the Central Valley. Here's where to go and what to look for at area farmers markets. Fresno Bee
CALIFORNIA ALMANAC
Los Angeles: sunny, 84. San Diego: partly sunny, 75. San Francisco: partly sunny, 69. San Jose: sunny, 82. Sacramento: sunny, 97. More weather is here.
AND FINALLY
California's like an artificial limb the rest of the country doesn't really need. You can quote me.
— Saul Bellow
If you have a memory or story about the Golden State, share it with us. (Please keep your story to 100 words.)
Please let us know what we can do to make this newsletter more useful to you. Send comments, complaints, ideas and unrelated book recommendations to Julia Wick. Follow her on Twitter @Sherlyholmes.
---