Newsletter: Today: President Trump, Who You Gonna Call?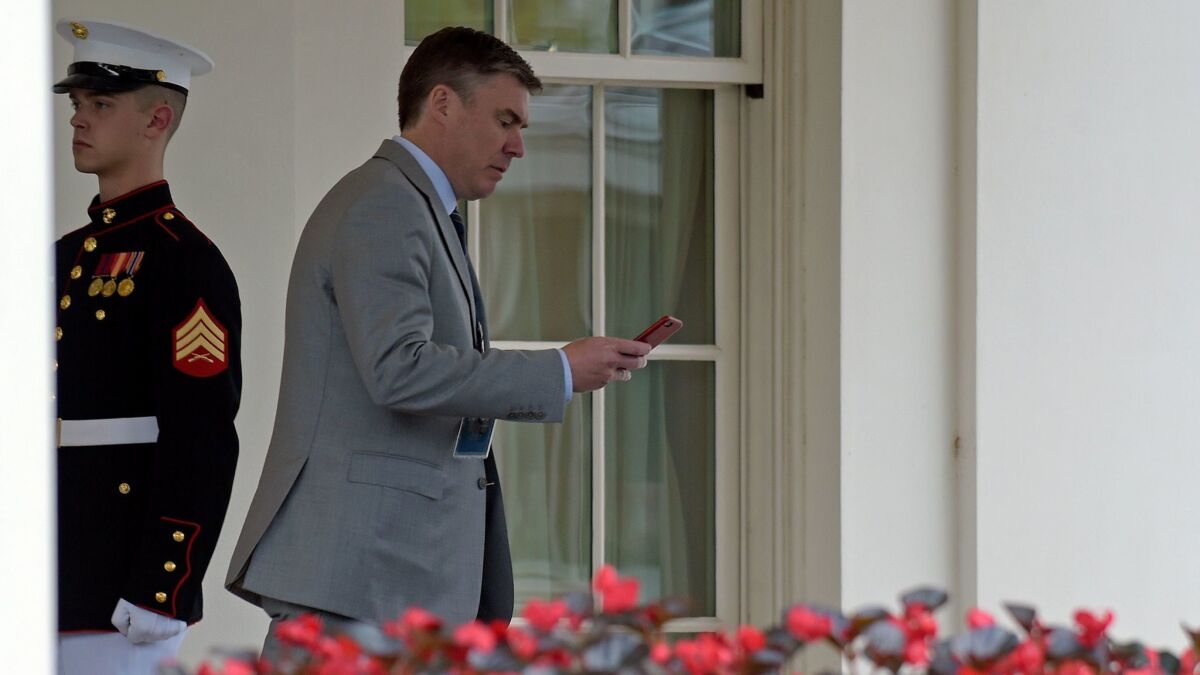 President Trump is looking to call in some new help for the White House. I'm Davan Maharaj, editor-in-chief of the Los Angeles Times. Here are some story lines I don't want you to miss today.
TOP STORIES
President Trump, Who You Gonna Call?
That rumbling from the White House? It could be President Trump's cellphone set on vibrate, considering how he's reportedly been handing out his number to world leaders and urging them to call him directly. It could be that mysterious word "covfefe." More likely it's the rumors of a staff shake-up, as the president's approval numbers remain low and the Russia investigations deepen. Communications director Mike Dubke is out, with speculation others could follow. Potentially coming in: a war room including former campaign manager Corey Lewandowski to, um, push back more aggressively against negative coverage.
Adam Schiff's Short, Strange Trip to the White House
Rep. Adam Schiff is staying mum about the contents of the documents Trump invited him to see at the White House in March, but he's talking about the trip itself. The congressman from Burbank says he ran into trouble soon after arriving at 1600 Pennsylvania Ave., with lawyers wanting to shut out his staff director. Then, the president beckoned. "He said, 'Are you getting everything you need?' and I said, 'Well, no, actually I'm not.' " And in Schiff's telling, that's not the only thing that got weird.
For Republicans and Democrats, It's No Party in the USA
Fill in the blanks: The Republican Party stands for _______, while the Democratic Party stands for _______. Not so easy, is it? At least that's how strategists from different parts of the political spectrum see it. Given what happened at two key party gatherings in California over the last couple of weeks, both parties seem adrift. As Times political analyst Cathleen Decker writes, "part of the reason is the magnetic power of Trump, who has attracted Republicans and repelled Democrats with such force that the parties often seem to be defined solely in relation to him, for or against."
More Politics
-- This graphic offers a guide to every Russia investigation happening right now.
-- A man investigating working conditions at a Chinese company that produces Ivanka Trump-brand shoes has reportedly been arrested and two others are missing.
-- "Even the 'good hombres' are not safe": A federal judge slammed Trump's policies, while lamenting he could not stop the deportation of a successful businessman.
Rest Easy After That Missile Defense Test? Hmmm
Protecting the United States from a limited nuclear attack by a rogue nation such as North Korea isn't easy. It's been likened to hitting one speeding bullet with another. Previous trials of the system designed to do so showed it to be less than dependable, despite a price tag topping $40 billion. But U.S. officials are hailing yesterday's test of a tweaked system as "an incredible accomplishment,'' after a rocket launched from California destroyed a target warhead fired into space from across the Pacific. Here's what to make of it.
A 30,000-Square-Foot Cliffhanger in Bel-Air
Developer Mohamed Hadid's daughters are supermodels; his fiancée stars on a reality TV show; and his Instagram account describes him as "Creator of my own Dream World." For some neighbors of his unfinished project in the hills of Bel-Air, the dream is more like a nightmare — a 30,000-square-foot mega-mansion looming above, sparking worries that it could come crashing down. Hadid pleaded no contest to misdemeanor charges brought by the city of L.A. over complaints that the home was not properly permitted. But the structure's fate is far from certain.
MUST-WATCH VIDEO
-- See an interceptor missile launch in a test at Vandenberg Air Force Base.
-- Why a single mother dropped out of the workforce.
-- Galaxy forward Gyasi Zardes continues to give back to his community.
CALIFORNIA
-- The Inglewood police officers who fatally shot a young couple, firing 20 bullets into them as they appeared to be unconscious in a parked car, are no longer officers in the city.
-- A man suspected of raping and killing two women in Lincoln Heights and dumping their bodies by freeways six years ago has been arrested.
-- Bruce Nickerson, nicknamed the "toilet lawyer," has spent decades fighting for gay rights and against his critics.
HOLLYWOOD AND THE ARTS
-- A photo featuring Kathy Griffin holding a gory replica of President Trump's decapitated head is creating outrage on both sides of the political aisle. She has apologized.
-- Hollywood's summer has flopped so far, but "Wonder Woman" is coming to the rescue. Plus, director Patty Jenkins explains why the world needs Wonder Woman.
-- Ariana Grande will return to Manchester, England, for a show this Sunday to benefit bombing victims and their families.
-- Scott Pelley is leaving the anchor desk of the "CBS Evening News" in a major shake-up at the storied broadcast network.
CLASSIC HOLLYWOOD
Actor, Oscar-winning director-producer and onetime mayor of Carmel-by-the-Sea Clint Eastwood has had one of Hollywood's most-storied portfolios. He turns 87 today. Here is a look at his career in pictures.
NATION-WORLD
-- Cleveland has fired the police officer who shot and killed 12-year-old Tamir Rice in November 2014 and suspended another officer.
-- The Supreme Court made it harder to sue police for barging into a home and provoking a shooting, setting aside a $4-million verdict against two Los Angeles County deputies.
-- The Afghan interior ministry says scores of people were killed and hundreds wounded in a massive car bombing in Kabul.
-- The United Arab Emirates has the world's tallest building, biggest shopping mall and largest man-made island. Now it wants to colonize Mars.
-- A study shows being transgender in America may be hazardous to one's health.
BUSINESS
-- Uber has fired Anthony Levandowski, the star engineer at the center of the company's fight with self-driving rival Waymo.
-- Columnist Michael Hiltzik says the looming shutdown of Three Mile Island is another sign of the end of nuclear power.
SPORTS
-- The Angels' Albert Pujols is nearing a historic home run mark: 600.
-- A man who threw a dead catfish onto the ice during the Stanley Cup Finals in Pittsburgh has been charged with three crimes.
OPINION
-- Jails exist for punishment or public safety, not for locking people up who can't afford bail.
-- The real crisis isn't the intelligence we leak, it's what we don't share.
WHAT OUR EDITORS ARE READING
-- He said he had a premonition about 9/11 and that George W. Bush's electoral victory was proof of God's existence. Catch up on the life and times of Dana Rohrabacher. (OC Weekly)
-- If you write a letter to Hillary Clinton, who reads and responds? Here's the guy. (BuzzFeed News)
-- A Marine Corps veteran says those with mental-health injuries deserve Purple Hearts. (Washington Post)
ONLY IN CALIFORNIA
What happens when you drive a DeLorean 88 mph? As any "Back to the Future" fan can tell you, that's the magic speed that propelled Marty McFly into the future. For Spencer LaGrand White of the Santa Clarita Valley, it meant a $400 speeding ticket. At least the CHP officer asked if it had a flux capacitor.
Please send comments and ideas to Davan Maharaj.
If you like this newsletter, please share it with friends.
Must-read stories from the L.A. Times
Get the day's top news with our Today's Headlines newsletter, sent every weekday morning.
You may occasionally receive promotional content from the Los Angeles Times.