Newsletter: Today: Trump Wants to Move Forward on Russia, but Russia Comes to Trump Tower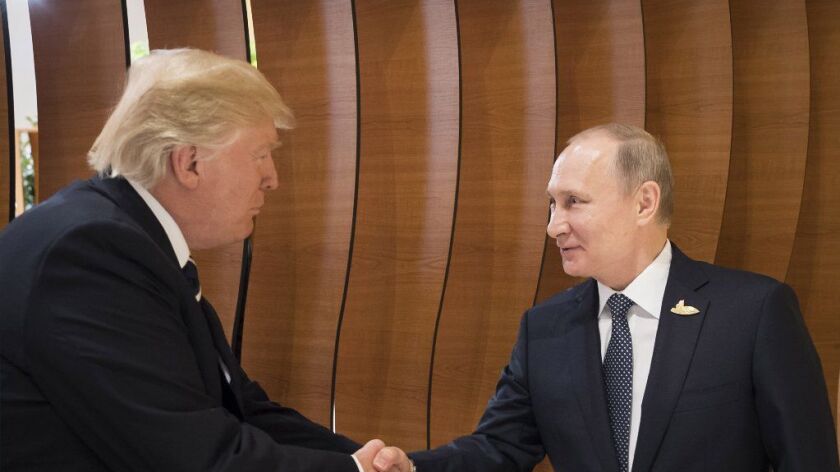 President Trump is back in Washington after the G-20 summit, with more questions about Russia brewing. I'm Davan Maharaj, editor-in-chief of the Los Angeles Times. Here are some story lines I don't want you to miss today.
TOP STORIES
Trump Wants to Move Forward on Russia, but Russia Comes to Trump Tower
President Trump says it's time to move forward on Russia and on healthcare, but the questions keep mounting on both. Senate Republicans are at an impasse over repealing and replacing Obamacare, and many wonder: "Now what?" As for Russia, we've seen the back and forth over what was said at Trump's two-hour meeting with Vladimir Putin, including the U.S. president tweeting about a discussion to form "an impenetrable Cyber Security unit" with Moscow that drew "fox-guarding-the-henhouse" ridicule even from some GOP leaders, until Trump appeared to back away. Now, there are fresh questions about a meeting involving Donald Trump Jr. and a Kremlin-linked lawyer in June 2016.
More Politics
-- Coming out of Trump's meeting with Putin, the U.S. and Russia have declared another cease-fire in part of Syria. But will it stop the fighting?
-- Trump seems pleased with how the G-20 summit went, but his "America first" approach received a cold reception.
-- A former Ohio official who accidentally released voters' Social Security numbers is on Trump's voter fraud panel.
In Mosul, the Battle Winds Down — and Gears Up
In the fight to retake Mosul, Iraqi forces are on the cusp of defeating Islamic State militants. On Sunday, Iraq's prime minister traveled to the city to give his congratulations. But even as he did so, fighting raged only a few miles away, and as special correspondent Nabih Bulos reports from the front lines, many soldiers say the real challenge will be keeping the militants out of the city for good.
More Heat Than Light (or A/C)
Two things you don't want to have happen during a record-setting heat wave are wildfires and a massive power outage. We had both over the weekend. High temperatures and changing winds have complicated the fight against fires that are raging across several California counties. Meanwhile, an explosion at an L.A. Department of Water and Power plant in Northridge caused a blackout for 140,000 customers in the sweltering San Fernando Valley — and a black eye for the DWP.
A Sign of the Times on Immigration
You know the signs: The black silhouettes of a father, mother and girl in pigtails are shown running against a yellow background, with the word "caution" stenciled above. For nearly three decades they have served as a warning to motorists to avoid hitting immigrants fleeing into the U.S. — and as a symbol upon which all sides of the immigration debate have seized. John Hood designed them for Caltrans, based on photos taken by then-L.A. Times photographer Don Bartletti. Now, only one of the signs remains — and when it's gone, it won't be replaced, given the drop in illegal crossings.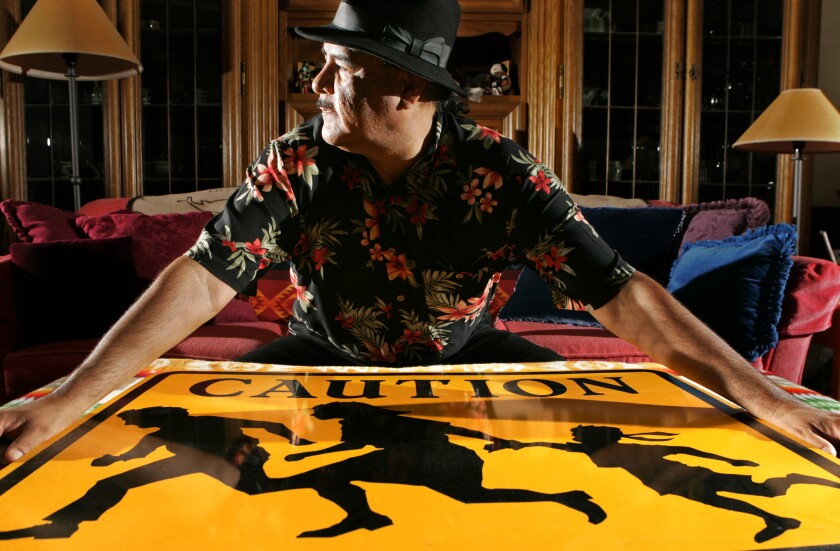 The Plight of Chinatown's Swap Meets
The swap meets in L.A.'s Chinatown have a soundtrack: Vietnamese pop music, Cambodian talk shows, Chinese-language news. The sound of customers, though, is becoming ever more faint. Tourism to the area has dropped; the rise of online shopping hasn't helped, either. And now, Chinatown itself is changing rapidly, as wine bars and fancy restaurants move in and the merchants cling to what's left.
OUR MUST-READS FROM THE WEEKEND
-- Was the U.S. shoot-down of a mock enemy warhead in May "realistic"? Not exactly.
-- In Hollywood, Asian American actors get few lead roles, and when they land one, there are often pay discrepancies.
-- Columnist Michael Hiltzik says the next crisis for California will be the affordability of water.
-- Cars these days are full of technology that gets outdated quickly, so more people are leasing, not buying.
-- Cody Bellinger, the youngest Dodger to become an All-Star, has become the team's King of Swing.
MUST-WATCH VIDEO
-- Scenes of destruction from the city of Marawi in the southern Philippines, where an Islamic State affiliate is battling the government.
-- Video from a test of the United States' homeland missile defense system.
-- "Why do you still go to Disneyland?" Park guests explain.
CALIFORNIA
-- L.A. requires air filters to protect residents near freeways. Are they doing the job?
-- Aging baby boomers could change the effects of Prop. 13 on government funding.
-- Oxnard residents are fighting slag heaps, power plants and oil fields that mar the town's beaches.
-- Despite scandals and doubts, Orange County's district attorney wants another term and a shot at vindication.
HOLLYWOOD AND THE ARTS
-- "Spider-Man: Homecoming" was No. 1 at the box office, and it marks a leap forward for diversity in the Marvel Cinematic Universe and beyond.
-- Nelsan Ellis, the actor best known for his portrayal of Lafayette Reynolds on HBO's "True Blood," has died at age 39.
-- The new series "Will" imagines William Shakespeare's early days in London. (Hey, why not!)
-- Beethoven's Symphony No. 9 was played at the G-20 summit. So how did the world's leaders take in this "Ode to Joy"?
CLASSIC HOLLYWOOD
The date: July 6, 1957. The place: a church social in Liverpool, England. The meeting: John Lennon and Paul McCartney. How did they strike up what would become a great musical partnership? Read on.
NATION-WORLD
-- The town of Cheran in Mexico's crime-ridden Michoacan state threw out the mayor and the cops in search of relief from violence and illegal logging. So far, the revolt has worked.
-- A year after a deadly ambush, Dallas police are learning to cope through specialized training in mindfulness and other stress-management techniques.
-- The leader of Turkey's main opposition party drew hundreds of thousands of supporters to an Istanbul rally; he called for jailed politicians, teachers and others to be freed.
BUSINESS
-- The Wild West of banking for pot businesses means that some hide their cash and others truck it straight to a federal vault.
-- The Fed once purchased trillions in bonds in an attempt to boost economic growth. Now it wants to reduce its stock of those assets with as little disruption as possible.
SPORTS
-- Clayton Kershaw strikes again: He pitched the 25th complete game of his career and first of this season in a 5-2 victory over the Kansas City Royals.
-- Lonzo Ball's debut in a Lakers uniform had its ups and downs this weekend. Jason Kidd was impressed.
OPINION
-- Former L.A. County Supervisor Zev Yaroslavsky and Salam Al-Marayati, president of the Muslim Public Affairs Council, say Trump's travel ban is a "Muslim ban" and urge the Supreme Court to strike it down.
-- A onetime CNN chief White House correspondent says journalists need to stop taking Trump's bait.
WHAT OUR EDITORS ARE READING
-- Donald Trump Jr. ups his meme war game. (Washington Post)
-- The ultimate insider job: what it's like to be an interpreter at a summit of world leaders. (The Atlantic)
-- You know the distinctive sound of an orchestra tuning? Here's how the standard frequency, an A at 440Hz, was set. (WQXR)
ONLY IN L.A.
In the pantheon of lowrider culture, the Gypsy Rose stands at the top. Crafted by the late Jesse Valadez of East Los Angeles, the tricked-out 1964 Chevy Impala features an ornate floral motif. The car is enshrined at the Petersen Automotive Museum — and now, along with it, a full-size piñata version of the ultimate lowrider. Better to fill it with candy than gasoline.
Please send comments and ideas to Davan Maharaj.
If you like this newsletter, please share it with friends.
---