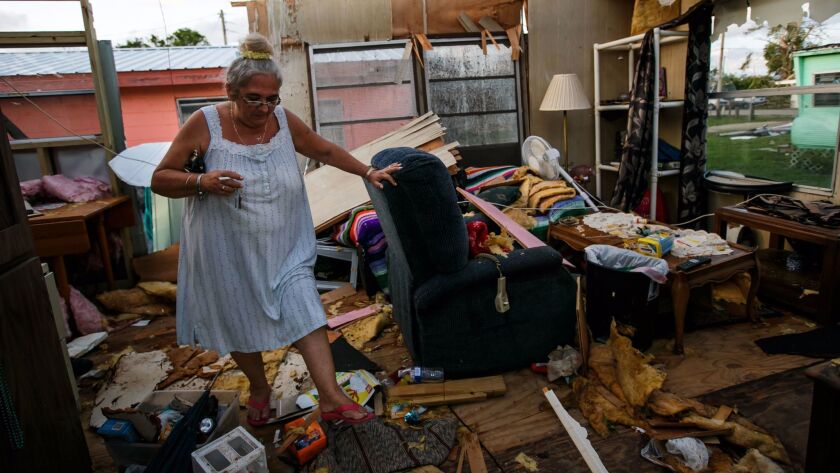 After Hurricane Irma, Florida is just getting started on the long road to recovery, often without fuel and electricity. Here are the stories you shouldn't miss today:
TOP STORIES
Out of Gas and in the Dark in Florida
Hurricane Irma is gone but not forgotten, as remnants of the storm spread across the Southeast — and as Florida, the storm's main target in the mainland U.S., struggles to get back on its feet. Millions across the state are trying to cope with power outages and a massive cleanup. Just trying to get gasoline has become an odyssey, due to a cascade of problems. In the hard-hit town of Immokalee in southwest Florida, there were no signs that help was on the way. To the north, in Jacksonville, floods raged. And in the Florida Keys, as photos show, an estimated 85% of homes suffered some kind of damage.
How Democrats Could Flip This House
Can Democrats win control of the House of Representatives next year? Though the midterm election is more than a year away, that question has already been the topic of intense discussion. But what it really comes down to are specific seats. Our politics team has put together a data-rich tracker that looks at the California congressional districts that Democrats are looking to flip and Republicans are looking to retain.
More Politics
-- The Supreme Court gave a short-term win to the Trump administration, bolstering part of its travel ban before it hears arguments on the issue next month.
-- Democrats are pushing for a vote on the Dream Act in a matter of weeks as the White House has backed off its demands to link it to border wall funding.
-- Hillary Clinton is back in the spotlight with her new memoir, and the reviews are mixed.
-- Former White House advisor Sebastian Gorka says the GOP didn't win last November, Donald Trump did.
The Face That Launched a Thousand Apps
Are you ready to unlock your phone with your face? Though "creepy" and "invasion of privacy" are the first words that come into some people's minds, Apple is betting that they'll warm up to it. The new top-of-the-line $999 iPhone X (pronounced "iPhone 10," btw) features facial recognition technology that the company says is much harder to fool than a fingerprint reader. But it also raises questions about unauthorized uses, especially by law enforcement.
Movies Bloodbath: The Director's Cut
When CEOs are replaced, it's usually to "spend more time with family." For film directors, it's over "creative differences." Whatever the euphemism, Hollywood has seen a slew of high-profile filmmakers get the boot. Though cinematic auteurs are not extinct, the churn reflects the pressures to perform when franchises, studios and lots of money are in play. Case in point: the new batch of "Star Wars" films.
The Hollywood Hills Triangle
For years, the intersection of Canyon Drive and Bronson Avenue in the Hollywood Hills has mystified drivers as they approach what is essentially a large triangle. That confusion has proved dangerous. So in 2005, the neighbors decided to do something about it: They proposed a traffic circle. Then they raised $70,000 of their own money to do it. Yet 12 years later, as columnist Steve Lopez writes, little has changed.
Party Like It's 1999? Not Quite
First, the good news: Last year, the median household income in the U.S. climbed to $59,039, finally surpassing the peak level it reached in 1999, according to the Census Bureau. That came after an even bigger increase in 2015. The bad news: Median incomes for full-time, year-round workers were essentially flat, and major disparities remain, including between urban and rural dwellers.
MUST-WATCH VIDEO
-- Director Guillermo del Toro's life lessons: "At age 52, if you don't risk it, then you're too old."
-- One was rejected by his mother, the other seized from smugglers: How two lonely tiger cubs became pals.
-- USC and Texas players recount that crazy 2006 national championship game.
CALIFORNIA
-- The city of L.A. saw a big drop in homicides this summer, falling to levels it reached in 1966 and 2014.
-- The L.A. Unified School District has announced its highest graduation rate ever, but some are questioning how it got there.
-- Former White House chief strategist Stephen K. Bannon is scheduled to speak at UC Berkeley this month at an event led by Milo Yiannopoulos.
HOLLYWOOD AND THE ARTS
-- How the "Hand in Hand" hurricane telethon turned surprisingly political.
-- Stephen Colbert rolled out the red carpet and had a few things to say about hosting the Emmys this Sunday.
-- Did you spot this egg-shaped museum cruising L.A.? It's from Guatemala, and its next stop is LACMA.
-- See the famous faces who visited the L.A. Times photo studio at the Toronto International Film Festival.
CLASSIC HOLLYWOOD
Claudette Colbert was born on this date in 1905 (or was it 1903?) and went on to act in more than 60 films, win an Oscar and be nominated for two more. She specialized in sophisticated comedy but yearned for dramatic roles, especially villains. She once told an interviewer: "I just never had the luck to play" … well, it rhymes with witches.
NATION-WORLD
-- The Justice Department won't bring charges against Baltimore police officers in the death of Freddie Gray.
-- Tijuana has become home for hundreds of U.S. veterans who were deported to Mexico.
-- Seattle Mayor Ed Murray announced his resignation after denying allegations of sexual abuse dating back decades.
BUSINESS
-- A federal safety panel found that the driver in a fatal Tesla crash relied excessively on Autopilot but that Tesla shares some blame.
-- Meanwhile, the Trump administration is encouraging automakers to develop driverless technology without getting bogged down in regulations.
-- And then there's this: The new book "World Without Mind" argues that Big Tech is leading us to our doom.
SPORTS
-- At last! The Dodgers finally ended their losing streak and clinched a playoff spot by eking out a win against the lowly San Francisco Giants.
-- Japanese baseball sensation Shohei Ohtani is seemingly everywhere in his home country, as columnist Dylan Hernandez found out. Is Ohtani headed to the U.S. major leagues?
OPINION
-- There's no "gay wedding cake" exception to anti-discrimination laws.
-- It may be way too early for the 2020 presidential race, but some are already thinking about which Republican will challenge Trump in the primaries.
WHAT OUR EDITORS ARE READING
-- Inside North Korea and the risks of a nuclear war with the U.S. (The New Yorker)
-- Is Trump ending the American era? (The Atlantic)
-- The short football career of Marion "Suge" Knight. (The Undefeated)
ONLY IN L.A.
The panda. The black-and-white. The lemon thyme pistachio. What are these? If you said "doughnuts in Los Angeles," there are obviously no holes in your culinary knowledge. We scoured the city for the best doughnuts and came up with this list of 29 shops that specialize in everything from plain glazed and buttermilk bars to hard apple cider fritters and something called the Angry Samoa.
If you like this newsletter, please share it with friends. Comments or ideas? Email us at headlines@latimes.com.
---