Newsletter: Today: Why a Santa Rosa Neighborhood Burned So Badly
More moderate weather has helped firefighters in Northern California make progress, as officials look into why the fires have proved so devastating.
TOP STORIES
Why a Santa Rosa Neighborhood Burned So Badly
The death toll from Northern California's wildfires has reached 40 people, a number expected to rise as officials make their way through the Santa Rosa neighborhoods and wine-country communities that bore the brunt of the flames. In the city's Coffey Park subdivision, hundreds of houses burned to the ground — a shock to residents but an outcome that fire scientists say was predictable, given that buildings there were exempt from regulations designed to make them more fire-resistant. But experts aren't exactly sure why Northern California is now facing catastrophic wildfires more typically seen in Southern California.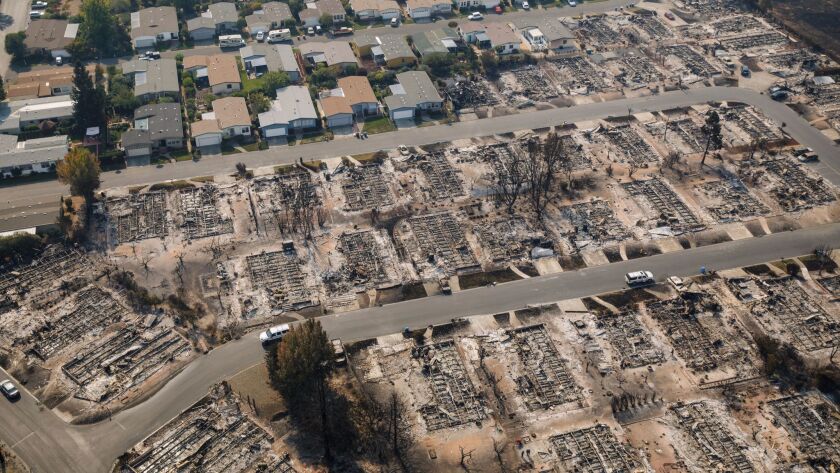 More About the Fires
-- The residents of Hemlock Street in Santa Rosa went to bed assuming the fires were miles away. By sunrise, their block of homes was gone, as this graphic shows.
-- For the wineries that still have grapes to harvest, the work continues at night.
-- How to help the victims.
Will the Center Hold for the Left or the Right?
Call it the "establishment," the "swamp" or whatever else you like: On the left and the right, the status quo is under attack. In California, state Senate leader Kevin de León will challenge fellow Democrat Dianne Feinstein for her seat in the U.S. Senate, saying the longtime incumbent isn't progressive enough. He may well be joined by billionaire Tom Steyer, a liberal activist staking out the same ground. Among Republicans nationwide, former White House advisor Stephen K. Bannon has declared "war" on GOP lawmakers who fail to back President Trump, and wealthy donors at a Koch brothers gathering expressed frustration with the lack of progress on key issues in Congress.
The Massive Bombing in Mogadishu
More than 275 people were killed and 300 injured in Somalia's deadliest single bomb attack over the weekend, prompting mourning, protests and even the donation of blood by the country's president. The Somali government blamed the bombing in a densely populated neighborhood of Mogadishu on the Al Qaeda-linked Shabab, an extremist group that — despite weathering increased U.S. drone attacks — still manages to kill on a regular basis.
Harvey Weinstein and the #MeToo Moment
The fallout from the sexual harassment and assault allegations against Harvey Weinstein is growing after his expulsion from the Academy of Motion Picture Arts and Sciences. Across social media, the hashtag #MeToo reinforced that such behavior goes far beyond one person or one industry — and, as TV critic Lorraine Ali observes, the harassment allegations against Trump also had something to do with it. Meanwhile, former Weinstein employees and his brother Bob told stories of bullying, as did actress Kate Winslet, who explained why she refused to thank Harvey Weinstein on the Oscars stage. And wouldn't you know it? Woody Allen weighed in too.
A Turner Classic at Chavez Ravine
"I still don't believe it," Justin Turner said, not long after hitting a game-winning, three-run homer with two outs in the ninth inning at Dodger Stadium. That it happened on the 29th anniversary of Kirk Gibson's walk-off blast made it all the more remarkable, writes columnist Bill Plaschke. The 4-1 victory gives the Dodgers a 2-0 lead in their best-of-seven series with the Chicago Cubs. Next stop: Wrigley Field on Tuesday.
OUR MUST-READS FROM THE WEEKEND
-- A lot of people didn't take actress Rose McGowan seriously when she said a powerful Hollywood figure had raped her. Now just about everyone is listening to her.
-- Of the more than 500 people injured in the Las Vegas shooting who were hospitalized, all but 45 have gone home. Diana Litzenberg of Orange County is part of that latter group.
-- A two-bedroom apartment in Southern California renting for $650 a month? As columnist Steve Lopez discovered, you must go east, old man.
-- The wonders of horror movies today — and why film critic Kenneth Turan cannot stomach them.
MUST-WATCH VIDEO
-- Coal country is finding little relief in Trump declaring an end to what he calls the "war on coal."
-- Justin Turner's walk-off home run gives the Dodgers a 2-0 lead over the Cubs.
-- Film critic Justin Chang calls "Professor Marston and the Wonder Women" a disarming exploration of a superhero's kinky roots.
CALIFORNIA
-- Gov. Brown has declared a state of emergency because of a hepatitis A outbreak that has killed at least 18 people. The declaration allows officials to buy more doses of the vaccine.
-- Brown also signed a bill to block the creation of any so-called Muslim registry, should Trump choose to act on a proposal he suggested during his 2016 campaign.
-- And Brown blocked an effort to force Trump and other White House hopefuls to disclose their personal income tax returns.
-- Activists marched through the streets of downtown Los Angeles to protest Trump's latest travel ban.
HOLLYWOOD AND THE ARTS
-- Art critic Christopher Knight says the censorship of a Hollywood & Highland sculpture amid the Weinstein scandal reflects "our new digital mob-ocracy."
-- L.A. native Kehinde Wiley has been commissioned to paint the official presidential portrait of President Obama.
-- What do the members of L.A. punk band X think of a Grammy Museum exhibition on their 40-year career? "Being in a museum is odd," says John Doe.
-- The horror film "Happy Death Day" topped the box office this weekend, but it didn't exactly have fierce competition.
CLASSIC HOLLYWOOD
When Angela Lansbury was 12, she knew she would be an actress — though she might not have imagined she'd go on to win five Tony Awards, six Golden Globes and an honorary Oscar. "I am not one of those people who pulls out my own life experiences and replays them for the purposes of becoming a character," she said in 2014. "I'm a great believer in ... 'Leave yourself at home!' " Lansbury turns 92 today.
NATION-WORLD
-- Has Trump tried to "publicly castrate" Secretary of State Rex Tillerson by undercutting his diplomacy? "I checked — I'm fully intact," Tillerson said.
-- Corey Long, who wielded an improvised flamethrower against white nationalists at a violent far-right rally in Charlottesville, Va., became the second black counterprotester to be arrested in two days.
-- Austria picked a new conservative leader who promised to take a hard line on refugees. At 31, Sebastian Kurz will be the youngest leader in the European Union.
-- Iran is the only country in the world that offers people a legal way to sell their kidneys, but the system doesn't always work.
BUSINESS
-- In the era of Instagram, L.A. businesses are using street art to attract customers.
-- How to divvy up your wealth when you don't agree with one offspring's life choices.
SPORTS
-- Columnist Sam Farmer says the 4-2 Rams are continually proving they are a legitimate contender this NFL season.
-- With attendance falling, high schools need to make basketball games must-see — not must-endure — events, writes columnist Eric Sondheimer.
OPINION
-- The Founding Fathers provided us with a way out of a troubled presidency: the direct, doable process of impeachment.
-- Was the fall of Rome because of pandemic disease? If so, history could repeat itself.
WHAT OUR EDITORS ARE READING
-- How an REI membership card led to an airport bomb suspect. (NPR)
-- An excerpt from the book "The Death of an Heir," about the botched kidnapping of brewery executive Adolph Coors III. (Longreads)
-- That unforgettable "Curb Your Enthusiasm" theme song wasn't written for the show. Here's how it got there. (Vulture)
ONLY IN L.A.
By now you probably know that Vasquez Rocks has been featured in movies such as "Planet of the Apes" and "Blazing Saddles" and TV shows like "Westworld" and "Star Trek." (We can still hear the Gorn's reptilian hiss.) But have you ever hiked the area? Here's how to do it in two miles.
If you like this newsletter, please share it with friends.Comments or ideas? Email us at headlines@latimes.com.
---