Column: So far, the Rams appear to be a contender
The Times' Sam Farmer, Gary Klein and Lindsey Thiry break down the Rams 27-17 victory over the Jacksonville Jaguars. The Rams improved to 4-2, the Jaguars fell to 3-3. 
Reporting from JACKSONVILLE, Fla. —
There's no hiding it from Rams players. They know it's out there. People are waiting for them to fade, waiting for the lush mirage to transform into a bone-dry sand pit.
They can't be real. They've got warning-track power. They're fake news.
But so far, with as many wins through six weeks as they had all last season, the 4-2 Rams are continually proving they are a legitimate contender.
"We found out early in the season that this is just a team of fighters," said special teams coach John Fassel, beaming after his players accounted for all but six of the visitors' points — including touchdowns on a kickoff return and blocked punt, a combination the club had never accomplished.
"If we win, we don't get complacent. If we lose, we get pissed. The team is starting to take that identity where, regardless of what happened the previous week, we've got some inspiration to come back with."
Lose by a touchdown to Washington, and the Rams respond with back-to-back road wins at San Francisco and Dallas. Fall to Seattle by six, and they climb off the canvas to smack Jacksonville in the mouth.
While everyone waits for the other cleat to fall and the Rams to be exposed as flukes, coach Sean McVay's team is quietly building a reputation for reliability. They haven't made many dumb mistakes. They have no glaring weaknesses.
And they have called on all three phases at various times, with the defense slamming the door against the 49ers and Cowboys, and the offense sealing the deal Sunday with a 12-play drive near the end that consumed 5 minutes 8 seconds and ended with a field goal that fattened the points cushion to 10.
Said Rams tackle Andrew Whitworth: "Any time you eat up that much clock, eat away a fourth quarter when a team's trying to get back in a game, not only does it demoralize them but it also demoralizes that offense that's sitting over there saying, 'Man, if we could just get a shot.'
"By the time they get on the field, you've really messed with them mentally."
After giving up a pair of touchdowns in the opening quarter, the Rams surrendered just three points the rest of the way, and those came on a short field thanks to a Robert Woods fumble. The Los Angeles defense hardened like cement.
Just because the Rams are playing well now doesn't mean they can stay at this comfortable cruising altitude. The winds of change whip through the NFL on a regular basis. Sometimes it's injuries that alter the landscape, and a constellation of stars already has fallen to those: Aaron Rodgers, J.J. Watt, Odell Beckham Jr., Josh Norman, Jameis Winston. Sometimes, teams just go wobbly, as Oakland has with four consecutive losses.
But this was a prove-it win for the Rams, and they came through. This was a paving stone on the path to respectability, a place this franchise hasn't been for a long time.
Whitworth, who spent his first 11 seasons with Cincinnati, has been part of an NFL reclamation project before. Once a punchline, maybe the league's most inept club, the Bengals made the postseason six times between 2009-16 (although they have not won a playoff game since early 1991, the longest such drought in this country's four major professional sports).
"We can't let it affect us," Whitworth said of the outside noise and the widespread expectations that the bottom will drop out on the Rams. "We can't try to convince people.
"I thought about it this week when Jacksonville had its big win at Pittsburgh last week. Because the Jaguars are actually in the same situation we are, trying to get fans to buy in. You see players tweeting, 'You really need to come out and support us!' That's the last thing you really need to be worrying about. The truth is, if you just go win, people are going to show up. You can't let it frustrate you. You've got to stay the course."
Jacksonville Jaguars quarterback Blake Bortles (5) fumbles the ball as he is tackled by Los Angeles Rams defensive end Morgan Fox during the second half.
(Stephen B. Morton / AP)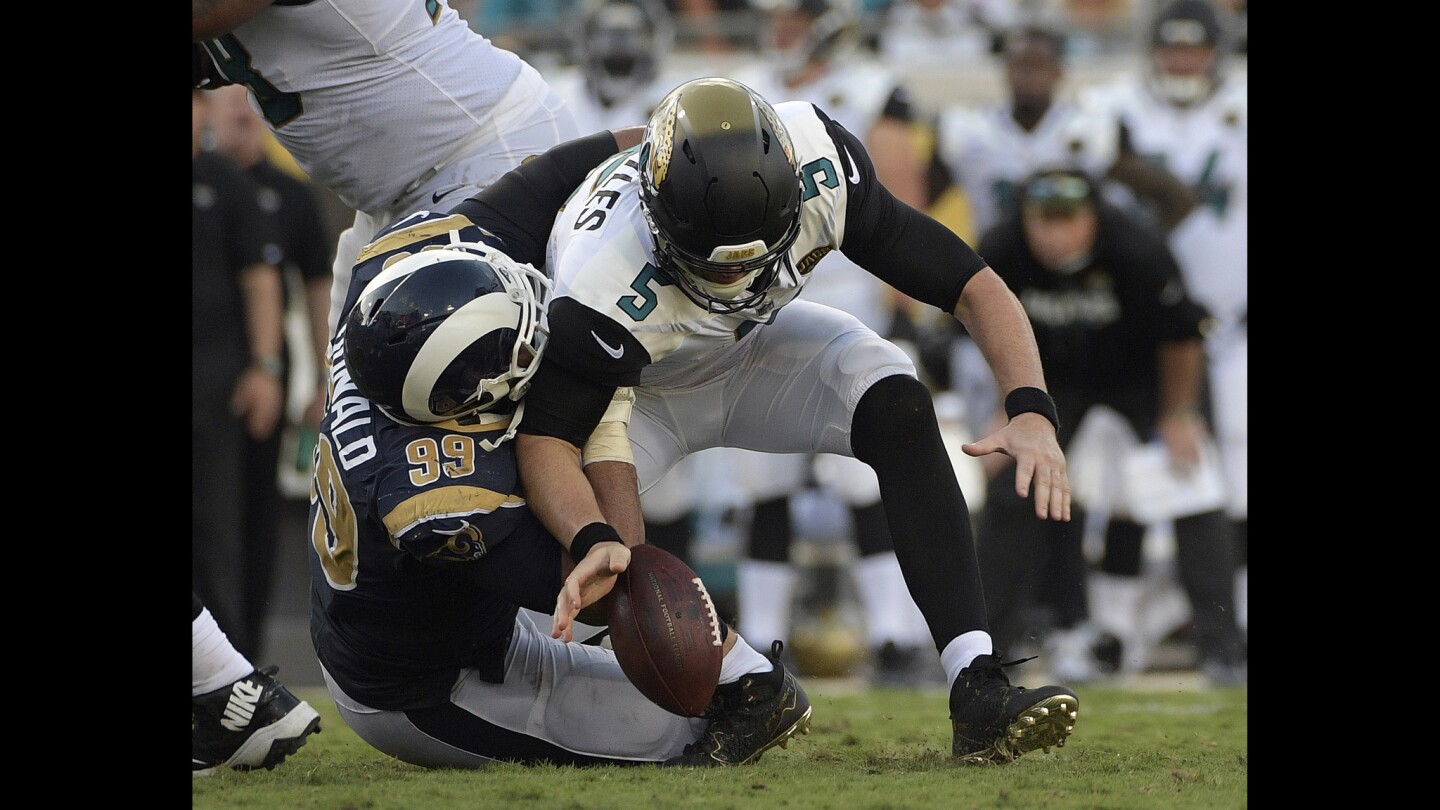 Jacksonville Jaguars quarterback Blake Bortles loses the ball as he is sacked by Rams defensive tackle Aaron Donald during the second half.
(Phelan M. Ebenhack / Associated Press)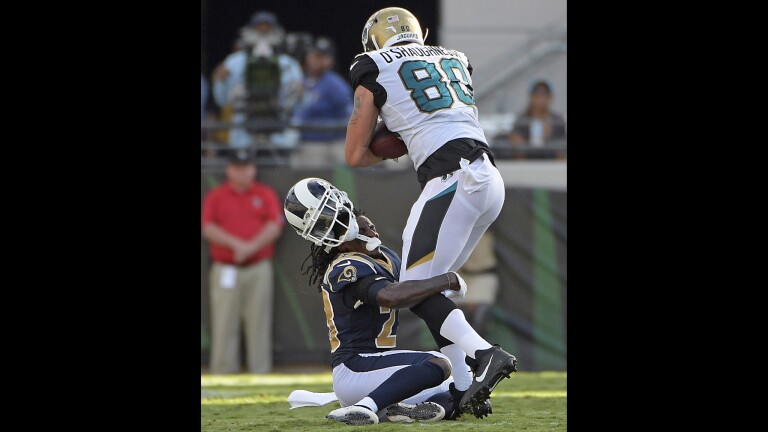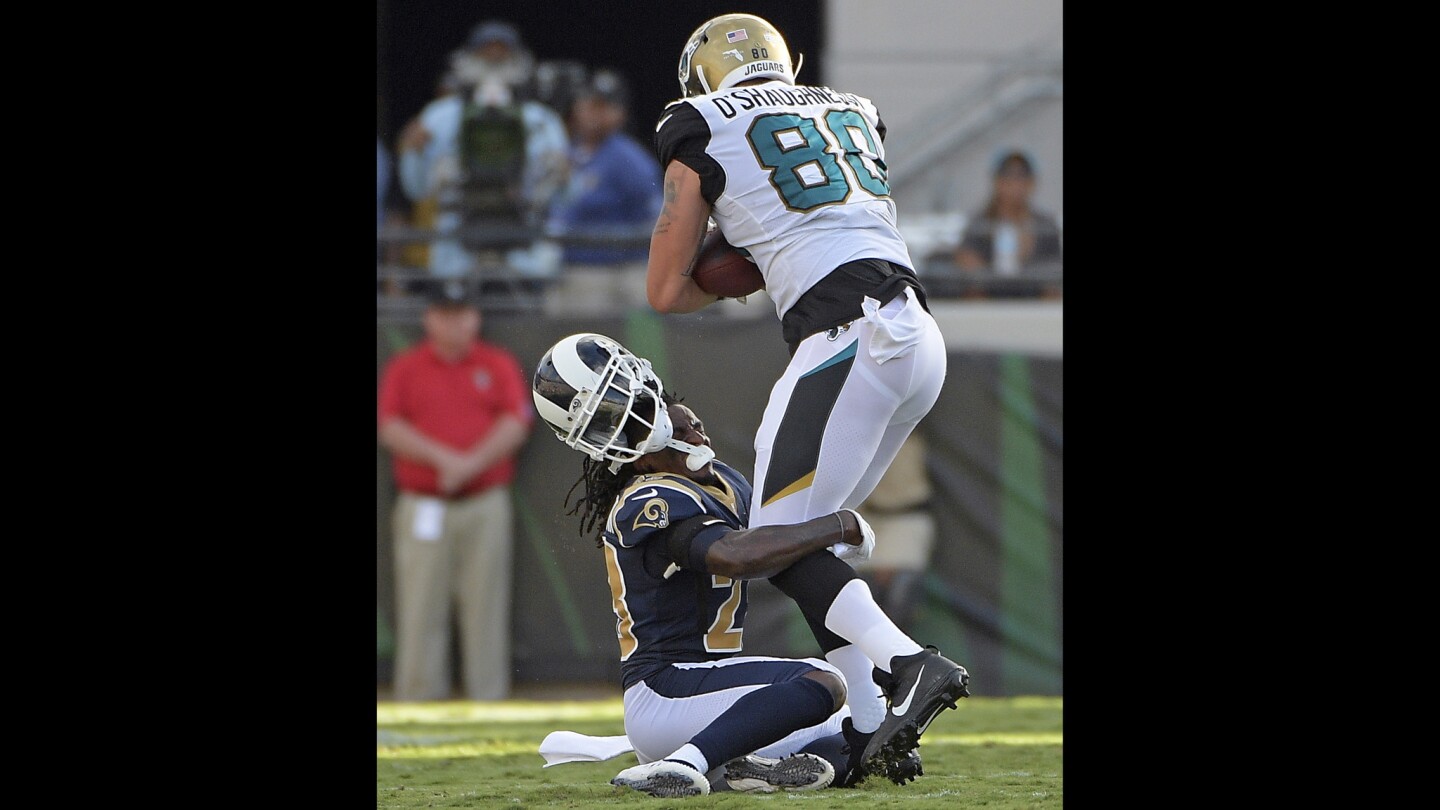 Rams defensive back Nickell Robey-Coleman loses his helmet as he tackles Jacksonville Jaguars tight end James O'Shaughnessy during the first half.
(Phelan M. Ebenhack / Associated Press)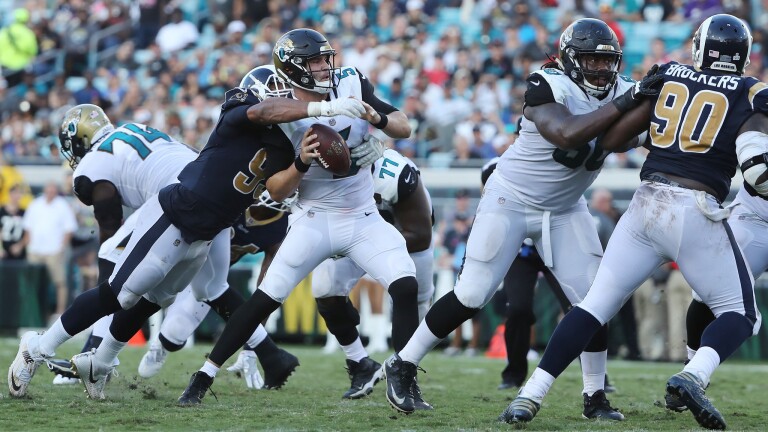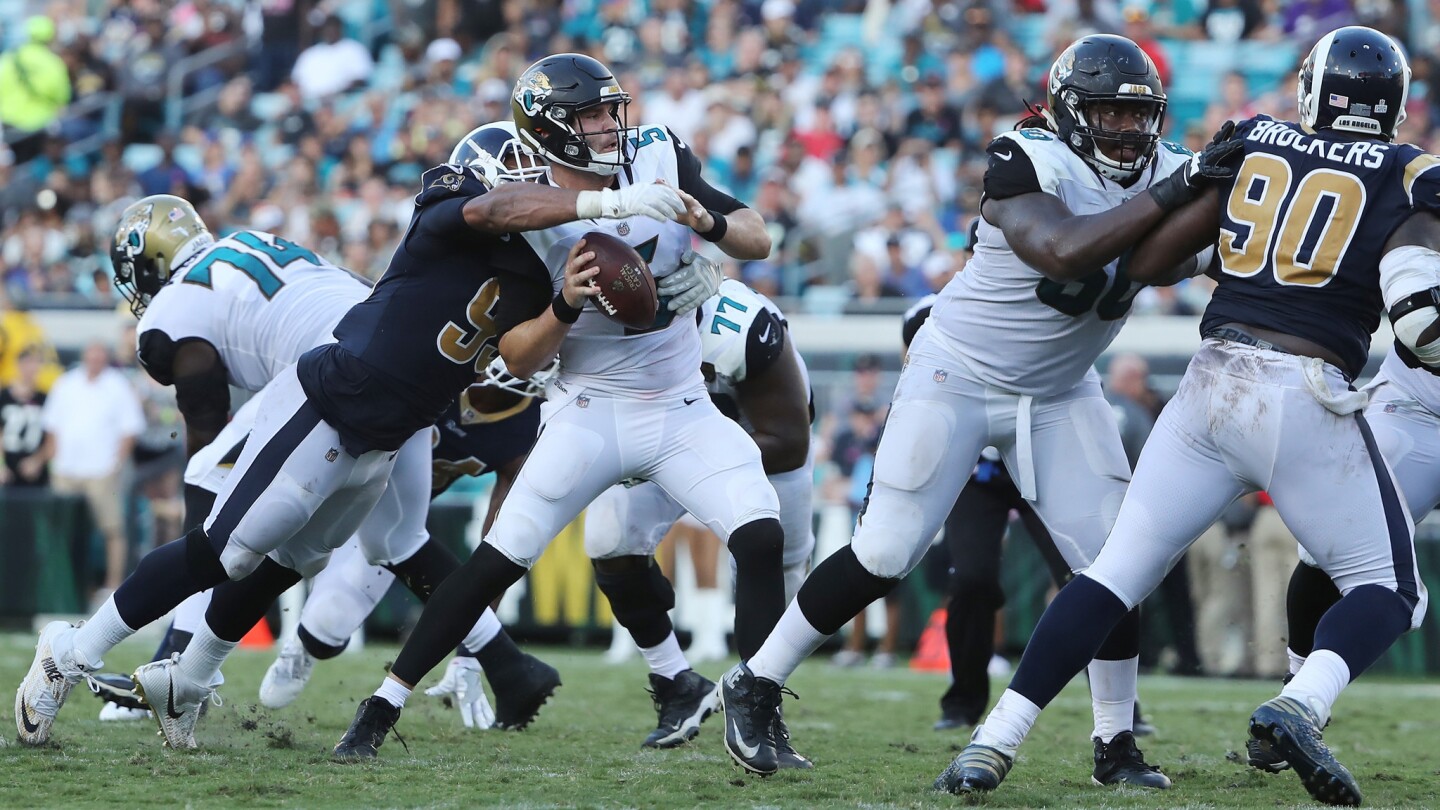 Rams' Aaron Donald sacks Jacksonville Jaguars quarterback Blake Bortles in the second half.
(Sam Greenwood / Getty Images)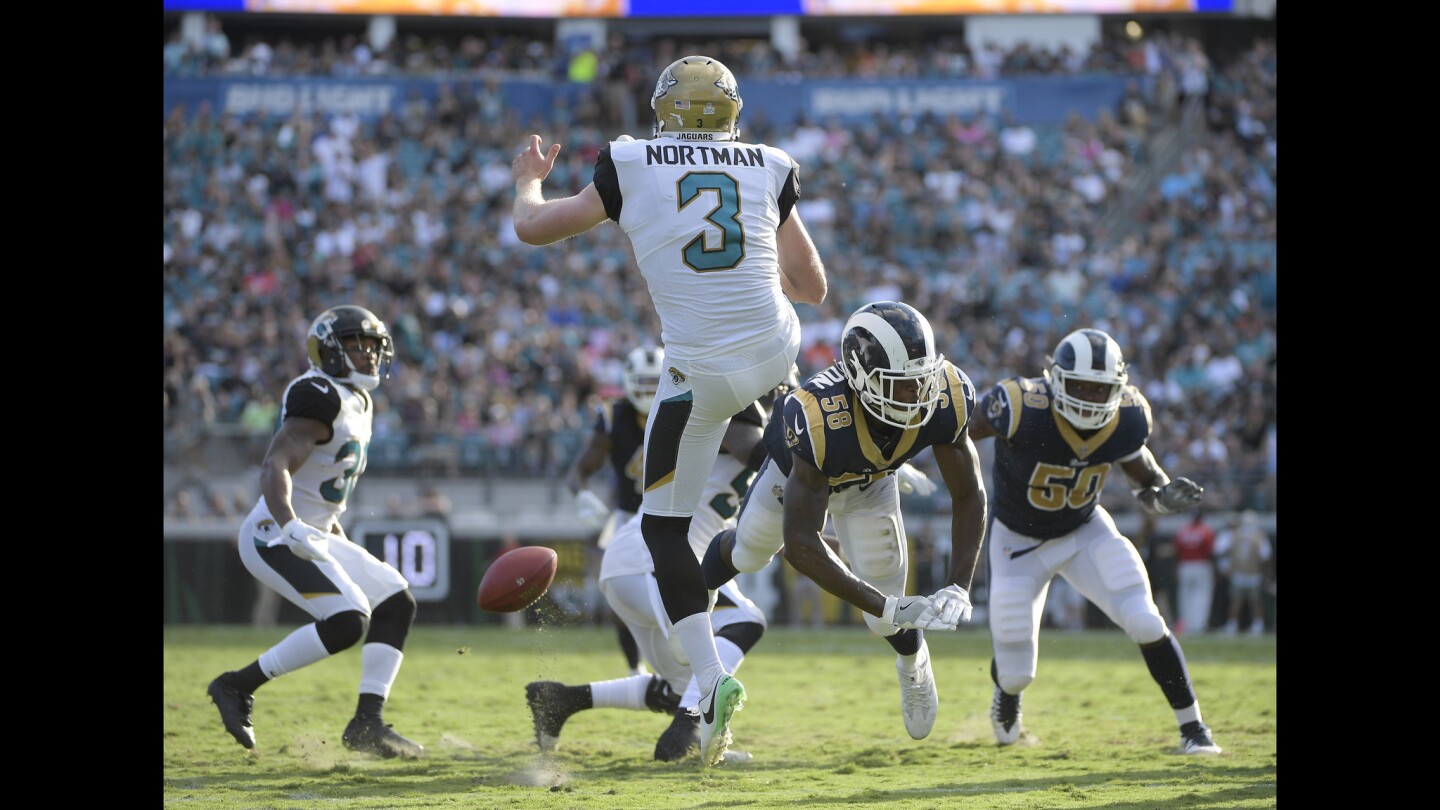 Rams outside linebacker Cory Littleton (58) blocks a punt by Jacksonville Jaguars punter Brad Nortman which was returned for a touchdown by Malcolm Brown during the first half.
(Phelan M. Ebenhack / Associated Press)
Rams running back Malcolm Brown, left, celebrates with teammates after he recovered a blocked punt and ran 8-yards for a touchdown against the Jacksonville Jaguars during the first half.
(Phelan M. Ebenhack / Associated Press)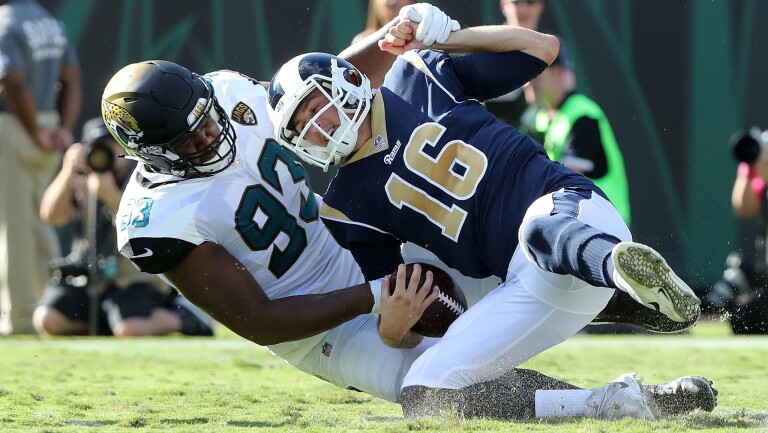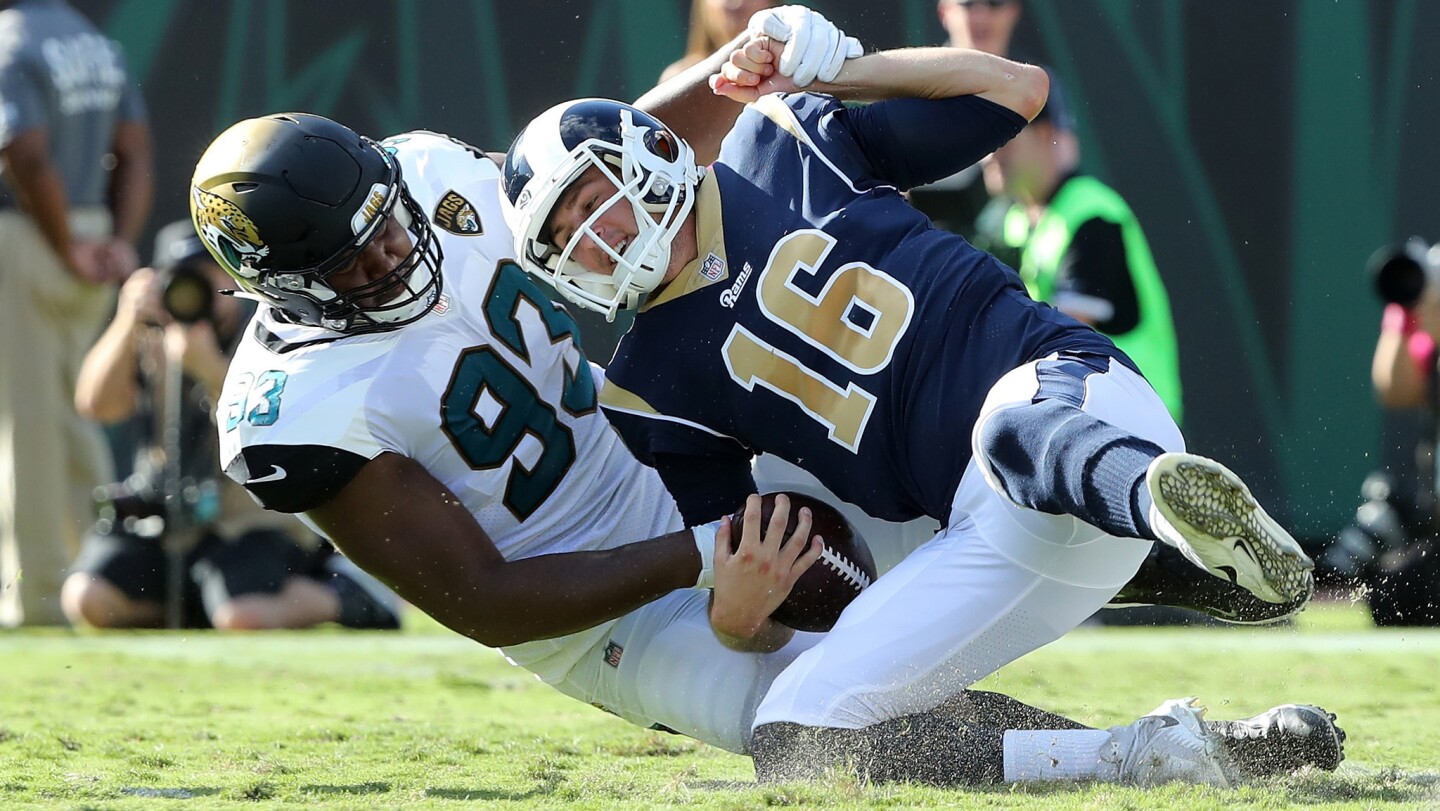 Jacksonville Jaguars' Calais Campbel (93) sacks Rams quarterback Jared Goff in the first half.
(Sam Greenwood / Getty Images)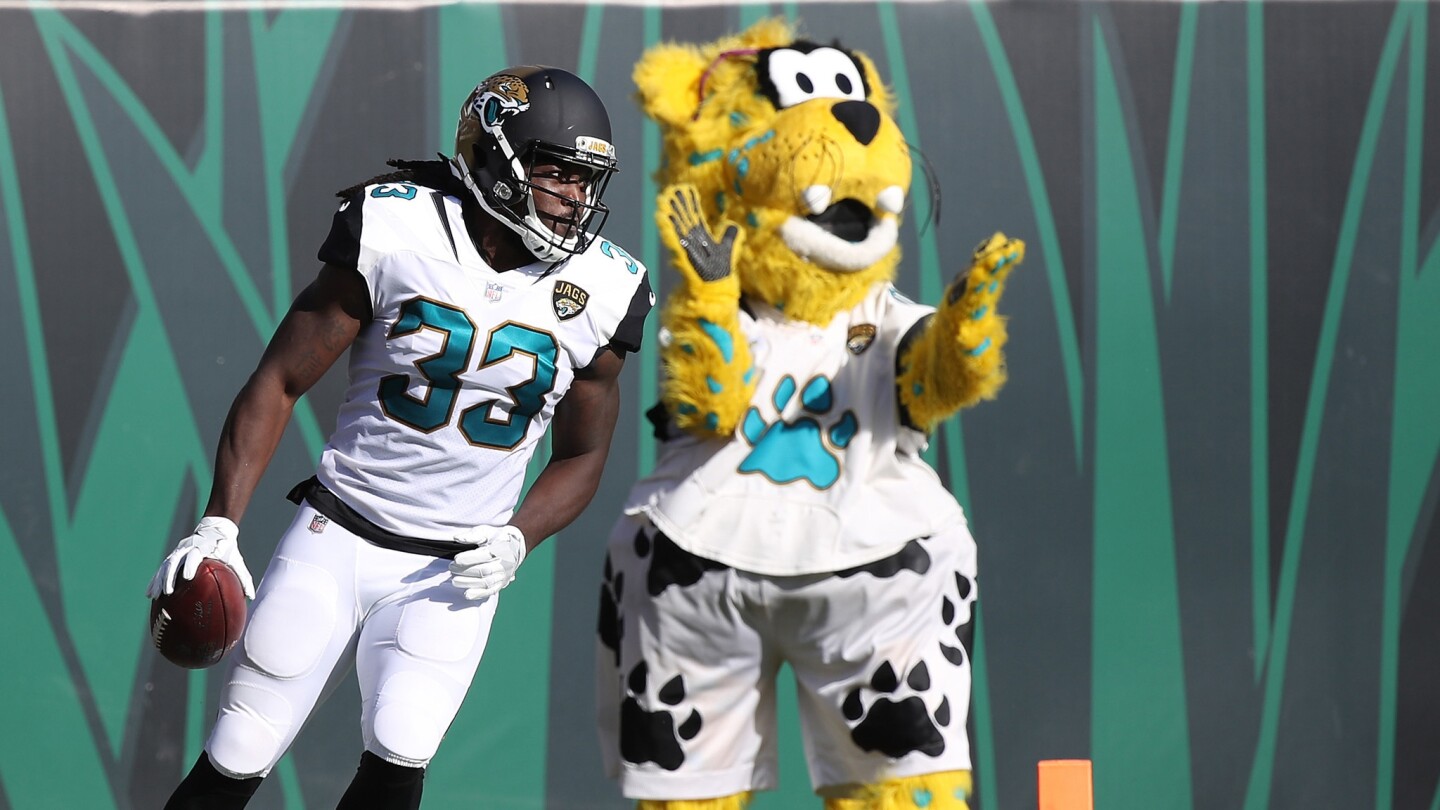 Jacksonville Jaguars mascot cheers Chris Ivory's 22-yard touchdown in the first half.
(Logan Bowles / Getty Images)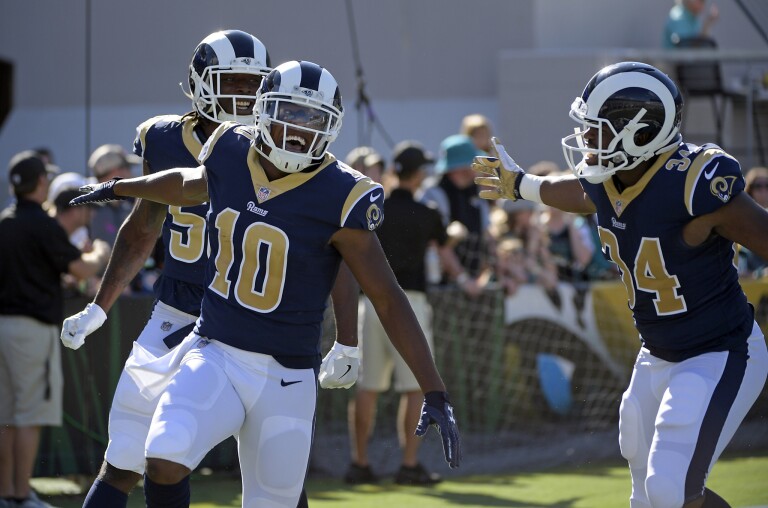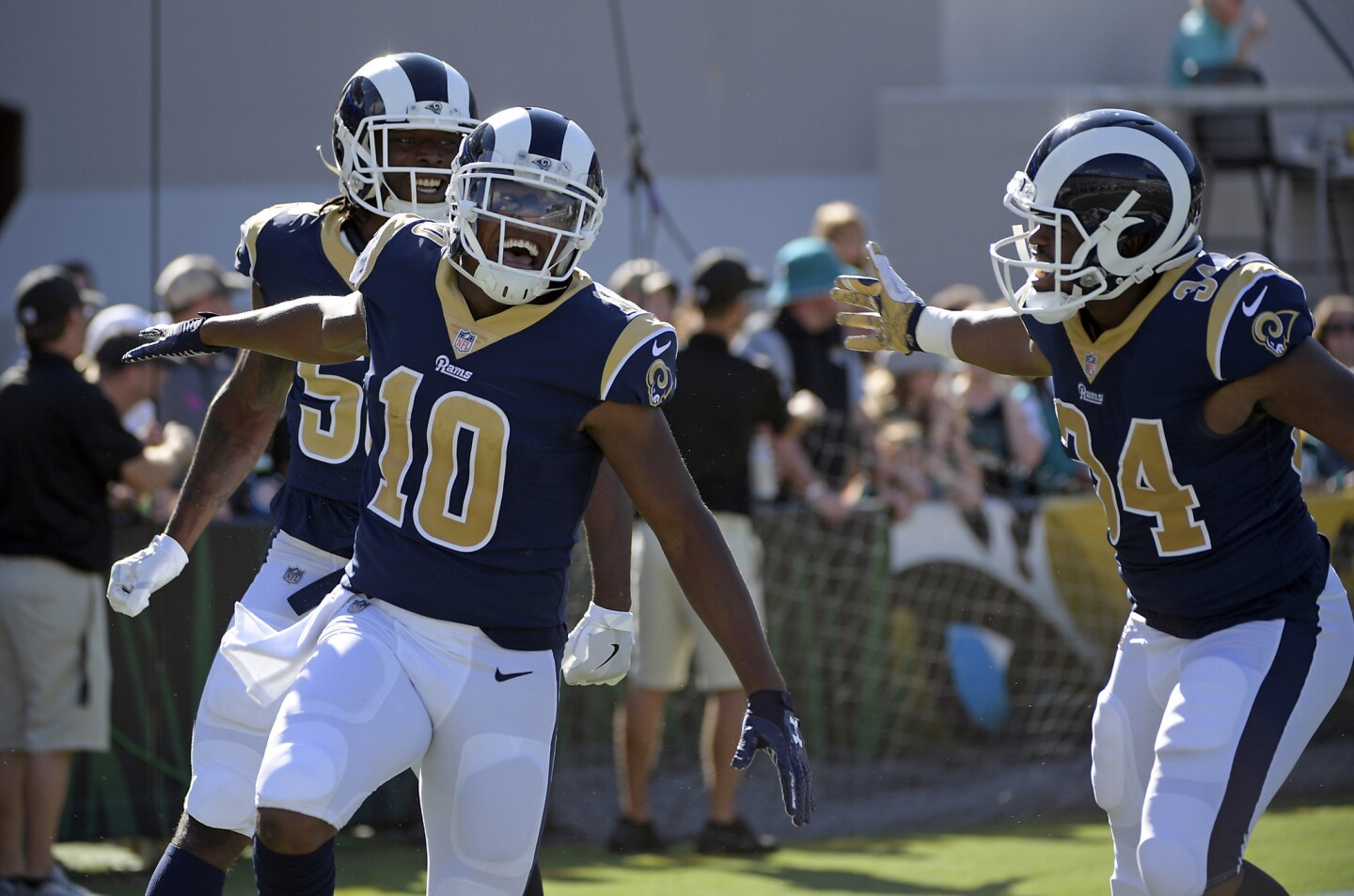 Rams' Pharoh Cooper (10) celebrates a 103-yard touchdown kickoff return against the Jacksonville Jaguars during the first half.
(Phelan M. Ebenhack / Associated Press)
Rams head coach Sean McVay watches the action on the sidelines in the second half.
(Logan Bowles / Getty Images)
The Rams still have miles to go, with weekly pitfalls to navigate, and a cavernous home stadium to fill — and populate with their own fans.
"Against Seattle, we had to go silent count on the last drive of the game," Whitworth said, voicing a home-field problem that's even more pronounced with the Chargers. "Here we are at home, in our own place, chance to win the game, and we have to go silent count like we're on the road. That's a tough thing to do for a young offense. So the mentality is going to have to be, if you just win, people will follow you."
It remains to be seen if people will follow. But at least the Rams are walking in the right direction, as opposed to off that familiar cliff.
Follow Sam Farmer on Twitter @LATimesfarmer
---
Get our high school sports newsletter
Prep Rally is devoted to the SoCal high school sports experience, bringing you scores, stories and a behind-the-scenes look at what makes prep sports so popular.
You may occasionally receive promotional content from the Los Angeles Times.