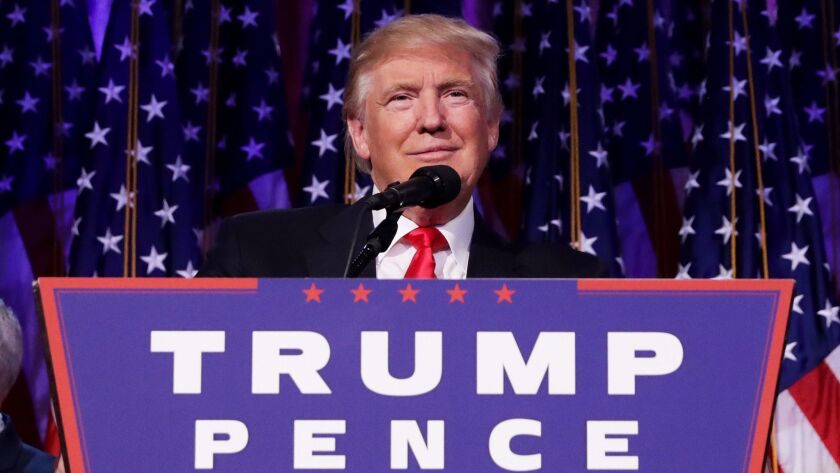 Do you remember where you were one year ago today, when Donald Trump won the presidency? His stunning upset victory reshaped yesterday's elections and promises to do so next year.
TOP STORIES
Ghosts of Elections Past, Present and Future
It's not too often that a national audience pays attention to a handful of state and local elections in a year that doesn't involve presidential or congressional candidates. But a year after Trump's victory, one that America can't put in the past, everyone is reading the tea leaves for the future. Last night's most closely monitored race, for governor of Virginia, went to a Democrat over the Republican candidate Trump had supported via numerous tweets. (Trump then backed away from him after the loss.) What does it mean for 2018's congressional races? Some Democratic strategists are hoping they can learn from last night — and pick up the independent voters who went with Trump but are feeling disenchanted with their choice.
More Politics
-- We asked voters how they're feeling since the 2016 presidential election. This graphic breaks down what they told us.
-- Billionaire Democratic donor Tom Steyer has hit a nerve with his Trump impeachment campaign, drawing the ire of the president and House Minority Leader Nancy Pelosi.
-- Commerce Secretary Wilbur Ross is facing accusations that he lied about his wealth.
-- East Coast Republicans have pushed back against their party's tax plan. Why didn't California's GOP?
The Great Stall of China?
After spending time in South Korea and almost making a secret visit to the Demilitarized Zone (darn that fog!), President Trump and the first lady have landed in Beijing, where President Xi Jinping and his wife offered tea and a tour of the Forbidden City. North Korea and trade are among the top issues the two leaders are expected to discuss, but some experts are skeptical of what will be accomplished. "The Chinese strategy will be to treat Trump with enormous respect and give him nothing," says one. Nevertheless, the pundits will be looking for any hint of a strategy on North Korea, especially after Trump called on Kim Jong Un to "come to the table and make a deal."
'My Momma and My Sisters … Got Shot'
Sixteen-year-old Haley Krueger served breakfast at the First Baptist Church of Sutherland Springs in Texas and wanted to be a nurse for gravely ill babies. Bryan Holcombe was a 60-year-old pastor who sometimes filled in. Robert Corrigan, a 51-year-old Air Force veteran, was a Renaissance man. They were among the 26 people killed in Sunday's mass shooting by a man who had once escaped a mental health facility in 2012. One little girl who survived, 9-year-old Rihanna Tristan, lost much of her family.
Take Two of These and Thank Me in the Morning
If you go to the emergency room for a broken arm, a sprained ankle or a banged-up knee, you might walk out with a prescription for a narcotic pain reliever. For a certain percentage of people, that eventually could lead to addiction. Why take the risk? A new study shows that people with acute pain in their shoulders, arms, hips or legs who consumed a combination of good old ibuprofen and acetaminophen got just as much pain relief as those who took a prescription narcotic.
The LAPD Is Serving Up a Blue Placard Special
Stealing a parking spot from a disabled person? That's bad karma. It's also an all-too-common phenomenon, as columnist Steve Lopez writes. He has this advice for scofflaws: "You might want to think twice about parking just a few feet from an undercover detail and a uniformed officer with the Los Angeles Police Department, hanging a placard, and hopping out of the vehicle in fine form to go haul lumber."
MUST-WATCH VIDEO
-- In Cambodia Town, a community moves from survival to success.
-- Renita Barbee is moving out of her South L.A. home after being notified that her rent is being raised again in December, to about $2,330 a month. She's one of the many renters who can't keep up.
-- The Marina del Rey home last owned by the late "Brady Bunch" star Florence Henderson has sold for $2.275 million.
CALIFORNIA
-- L.A. Police Chief Charlie Beck forcefully denied that his department had falsified violent crime statistics, and he dismissed the allegation by a captain that the LAPD misled the public as "not only untrue, but outrageous."
-- The Trump administration indicated it may eliminate an immigration program that shields hundreds of thousands from deportation. The limbo is disrupting the lives of many Central Americans who live in Southern California.
-- California Treasurer John Chiang wants the state to consider creating a government-owned bank that could serve cannabis businesses.
-- The Los Angeles Police Department is investigating allegations by Corey Feldman that he was sexually abused while working as a child actor in Hollywood.
HOLLYWOOD AND THE ARTS
-- The Manhattan district attorney's office is expected to begin presenting evidence to a grand jury in the coming weeks that could result in movie mogul Harvey Weinstein being indicted for sex crimes.
-- The Country Music Assn. Awards air tonight, but all eyes will be focused on whether they address mass shootings and Trump's controversial responses to them.
-- The documentary "The Final Year" takes a whirlwind look at the last 12 months of President Obama's tenure.
-- The Walt Disney Co. has reversed its decision to exclude Los Angeles Times critics from press screenings of its films.
CLASSIC HOLLYWOOD
On this date in 1962, "Mutiny on the Bounty," starring Marlon Brando, opened in theaters. While making the movie, Brando fell in love with the atoll of Tetiaroa in French Polynesia. Five years later, he bought it and settled there with Tarita Teriipia, the Tahitian actress who was his leading lady in "Mutiny."
NATION-WORLD
-- California and the European Union will discuss the possibility of creating a common carbon market to cut greenhouse gas emissions, another sign of the state assuming a global role in the fight against climate change.
-- A federal judge delayed opening statements in the trial of Nevada rancher Cliven Bundy amid defense allegations that there may be recorded video related to the 2014 standoff that the government failed to turn over.
-- When an Afghan TV network was attacked this week, a wounded anchor went back on the air with his hands bandaged.
-- A look at Black Cube, the firm of former Israeli spies that Harvey Weinstein reportedly hired to help track journalists and others.
BUSINESS
-- Does Snapchat confuse you? You're not alone. The parent company Snap is planning a redesign, and after a lackluster third quarter, its shares dropped nearly 20% in after-hours trading.
-- Senate Republicans are revisiting key provisions of the GOP House proposal, including possibly eliminating property tax deductions as well as state income tax deductions.
SPORTS
-- A federal grand jury in New York indicted USC associate head coach Tony Bland in the bribery and corruption case shaking college basketball, according to court documents.
-- UCLA freshmen basketball players LiAngelo Ball, Cody Riley and Jalen Hill were questioned by Chinese police about shoplifting before their team's game in Shanghai.
OPINION
-- It's a year after the election, and Trump's opponents still haven't figured it out. Stop the excuses and ask: "What do people want and need that we aren't offering?"
-- What's life like for thousands of incarcerated women? Imagine if Hollywood's worst predators had a key to your home.
WHAT OUR EDITORS ARE READING
-- A profile of Danica Roem, who became the first openly transgender person to be elected to Virginia's state Legislature and defeated a candidate who proposed regulating transgender bathroom use. (Washington Post)
-- Twitter has increased its limit from 140 to 280 characters, but one user found a loophole to post a 35,000-character tweet. (Gizmodo)
-- Do you hate mayonnaise? A professor explains why it is disgusting to so many. (Popular Science)
ONLY IN L.A.
If you're in downtown Los Angeles the next two Sundays and hear visitors from another world laying siege to the city, do not be alarmed. It's just the "War of the Worlds" opera at Walt Disney Concert Hall being relayed over L.A.'s World War II-era air raid sirens. But if you momentarily panic, the late Orson Welles will surely be smiling somewhere.
If you like this newsletter, please share it with friends. Comments or ideas? Email us at headlines@latimes.com.
---