Newsletter: Today: Trump's Retweets From the Fringe
Two U.S. allies are among the many rebuking President Trump for his retweeting of anti-Muslim messages.
TOP STORIES
Trump's Retweets From the Fringe
The anti-Muslim group Britain First was practically unknown in the U.S., and in its home country, its demonstrations have drawn only a few dozen participants. Then came President Trump's retweets of three inflammatory videos posted by one of its leaders, who was arrested last week on suspicion of inciting hatred and violence and was convicted last year of harassing a Muslim. Now there is an international furor over Trump's action, including a fight with British Prime Minister Theresa May and a tweet from Dutch officials disputing one of the videos and noting, "Facts do matter." White House Press Secretary Sarah Huckabee Sanders said questioning the videos' veracity was "focusing on the wrong thing." She told reporters: "The threat is real."
The Tax Bill's Fight for a 50-50 Split
All 52 Republican senators could agree on at least something related to the GOP tax overhaul: They'll open up their bill for debate. With pressure mounting to deliver a final vote by the end of the week, negotiations with the party's holdouts have been fast and furious. At least eight Republican senators have voiced concerns, whether it's over the deficit, healthcare or a number of other issues. The magic number is 50 votes, in which case Vice President Mike Pence could break the tie.
More Politics
-- North Korea's missile test this week marked a significant moment, with some analysts wondering whether it created the possibility of making the country more open to negotiations.
-- All members of Congress and their staffs will now take anti-sexual harassment training after the House voted to make it mandatory.
-- Are consumer advocates just delaying the inevitable in the fight over the Consumer Financial Protection Bureau's acting director?
Matt Lauer and the Moment of Reckoning
For two decades, millions watched Matt Lauer on NBC's "Today" show, generating a fortune for him and the network. Now they're watching the allegations against him unfold. Lauer was fired after a complaint concerning "inappropriate sexual behavior in the workplace." Since then, NBC News said, two more accusers have come forward with harassment complaints. Though Lauer had been popular with viewers, there were moments when his on-air behavior raised eyebrows. In the bigger picture throughout the morning show's history, The Times' Mary McNamara says, sexism had been hiding in plain sight.
Must-Watch Video: Directors on the Power of the Parable
Take seven directors, put them in a room, and what do you get? A wide-ranging discussion about not only filmmaking but also the power of the parable in the real world. "The reason these movies worked and are beautiful and important," says Jordan Peele, "is we all feel story is one of, if not the most important tool, weapon, we have against hatred and violence." He joined Darren Aronofsky, Sean Baker, Kathryn Bigelow, Guillermo del Toro, Greta Gerwig and Angelina Jolie for our Envelope roundtable series. Watch clips of their conversation here.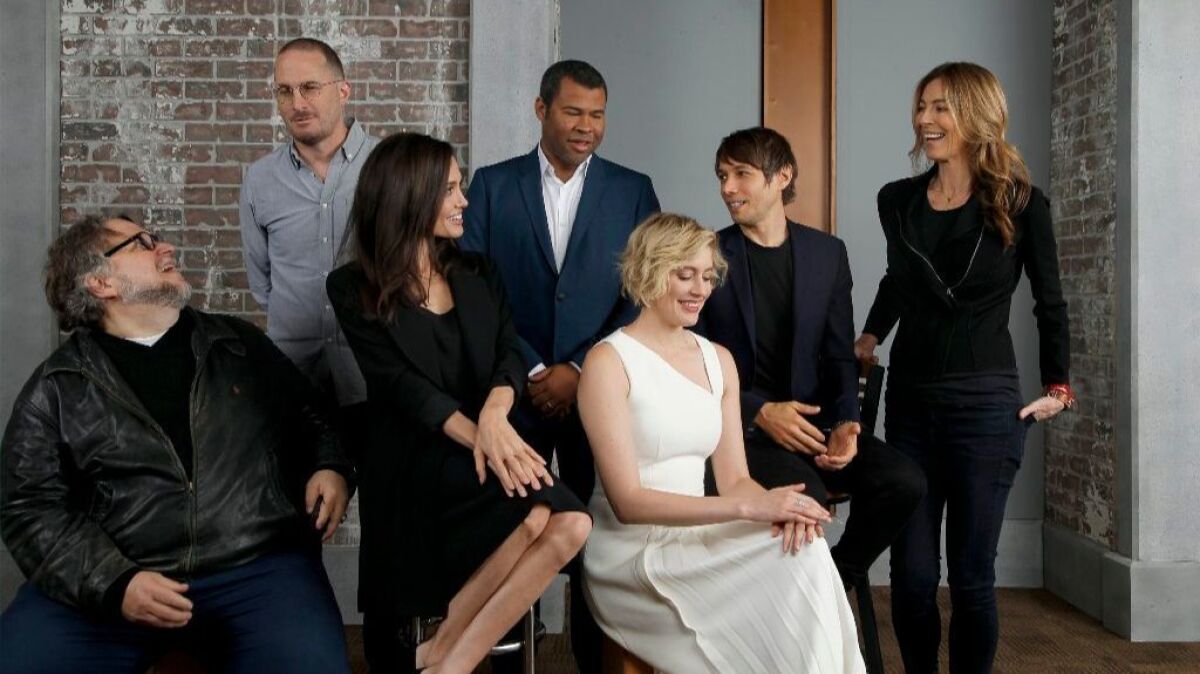 How a Landmark in Light Got Switched Off Site
In 1993, artist Sheila Klein installed 25 streetlights in a strip mall parking lot at the corner of Santa Monica Boulevard and Vermont Avenue in East Hollywood. The work was intended as a healing gesture after the 1992 riots, when parts of the neighborhood burned. For 24 years it stayed — until sometime before Thanksgiving this year. Now, the lights known as "Vermonica" have been moved two blocks east, in an apparent effort to save them. But Klein, who says she was never contacted, calls the move "outrageous."
CALIFORNIA
-- A man who was arrested by Homeland Security in a Home Depot parking lot told officials he is a U.S. citizen. It took them four days to concede their mistake and release him.
-- A woman who was attacked months ago by the Rancho Tehama gunman says, "We all knew this was going to end bad. We just didn't know how exactly and when."
-- A retired New York police detective testified that during his investigation into the disappearance of Robert Durst's wife three decades ago he had sex with a witness.
-- Nine of the LA Weekly's 13 editorial staff members lost their jobs, as Voice Media Group completed its sale of the alternative newsweekly to a newly created company.
HOLLYWOOD AND THE ARTS
-- Garrison Keillor, the former host of "A Prairie Home Companion," says he was fired by Minnesota Public Radio over allegations of improper behavior, but that it was over "a story that I think is more interesting and more complicated than the version MPR heard."
-- Amazon's new show "Marvelous Mrs. Maisel," a 1950s-era comedy drama about one woman's path to being a comedian, is a bit too whimsical but resonates with the times, TV critic Lorraine Ali says.
-- Amy Schumer and Keegan-Michael Key are lending some star power to Steve Martin's play "Meteor Shower" on Broadway, but theater critic Charles McNulty says it's still space junk.
-- Disney has enlisted Chinese actress Liu Yifei to star in the title role of its live-action version of "Mulan."
CLASSIC HOLLYWOOD
He was known as "America's oldest living teenager," one who made rock music safe for Middle America and a lot of money in the process. Dick Clark started his production company in 1957 and sold it in 2007 for $175 million. "I'm basically a businessman," he once told The Times. "I'm not in it for the glory." But Clark, who was born on this date in 1929 and died in 2012, clearly did love the spotlight.
NATION-WORLD
-- Cliven Bundy, the Nevada rancher whose standoff with federal officials made him a hero of the anti-government movement, is opting to stay in jail during his trial, even though a judge says he is free on bond.
-- The U.S. Supreme Court confronted the question of whether police can obtain a suspect's cellphone records to track his travels for four months without a search warrant. The answer appears to be: No.
-- A former Bosnian Croat military commander convicted of war crimes killed himself by drinking a bottle of poison in court after shouting, "I am not a war criminal!"
-- Mass evictions of migrant workers in Beijing have left them in the freezing cold and stirred outrage among residents in the city.
-- Australia's flu season has U.S. health officials bracing for a bad winter and wishing for a new vaccine.
BUSINESS
-- Oops? The energy companies and industry groups that successfully pushed the Trump administration to scrap Obama-era action on climate change have a new message: Don't go too far.
-- $3,660 for a four-mile ambulance ride: Patients are getting hit by surprise bills with little recourse.
SPORTS
-- Columnist Bill Plaschke says Lonzo Ball's offensive game for the Lakers isn't just a passing fancy.
-- Rams quarterback Jared Goff has gotten the message on how to attack defenses straight from the coach's mouth.
OPINION
-- Here's what makes Trump's latest anti-Muslim retweets different from other stupid tweets.
-- A former inmate at New Folsom Prison explains how a group therapy program confronting toxic masculinity changed his life.
WHAT OUR EDITORS ARE READING
-- James Winnefeld, the former vice chairman of the Joint Chiefs of Staff, writes about the heartbreak of losing his son to opioid addiction. (The Atlantic)
-- Remember when Trump's Twitter account was temporarily deactivated? Here's the contractor who says he set the wheels in motion. (TechCrunch)
-- Meghan Markle's 2015 essay on identity and being more than an "other." (Elle)
ONLY IN L.A.
Times architecture critic Christopher Hawthorne received a special request from his mother-in-law for her 80th birthday: her very own architectural tour of Los Angeles. So he decided to select one building from each decade she's been alive, starting in the 1930s. Meanwhile, his brother-in-law arranged for a van to bring along the family. See where they traveled and why — no rental van required.
If you like this newsletter, please share it with friends. Comments or ideas? Email us at headlines@latimes.com.
Must-read stories from the L.A. Times
Get the day's top news with our Today's Headlines newsletter, sent every weekday morning.
You may occasionally receive promotional content from the Los Angeles Times.