Newsletter: Today: What the Grammys Got Right and Wrong
It was a night of performances and politics at the Grammys, but not entirely what you might have expected.
TOP STORIES
What the Grammys Got Right and Wrong
This year's Grammy Awards were expected to be different: a bold embrace of the here and now in the form of hip-hop. After all, rappers Kendrick Lamar and Jay-Z headed into the ceremony with the most nominations (and in the latter's case, a Twitter jab from President Trump). Instead, the Recording Academy gave three of its top trophies to R&B/pop star Bruno Mars' escapist fare. "Well, maybe next time," is how pop music critic Mikael Wood put it. As for the #MeToo/#TimesUp movement that's been the talk of awards season and beyond, there were white roses on the red carpet, but it too was comparatively low-key — until Kesha performed "Praying," her stark piano ballad about abuse. As critic Lorraine Ali notes, it was a reminder to an industry that has yet to deal with its own demons. Of course, "Praying" didn't win an award either, losing out to Ed Sheeran's "Shape of You" about — yes, you guessed it — a woman's body.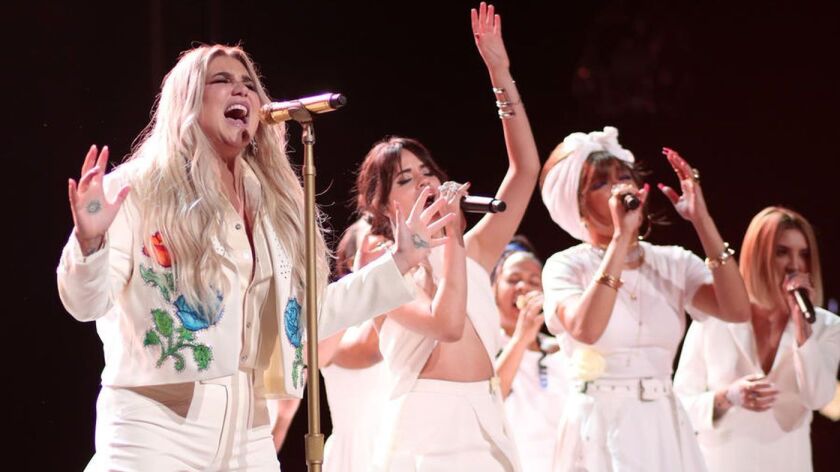 More About the Grammys
-- Celebrities read from Michael Wolff's Trump book "Fire and Fury," including a cameo by Hillary Clinton. U.N. Ambassador Nikki Haley was not amused.
-- Singer Joy Villa hit the red carpet with a hand-painted "Choose Life" purse and pure white bridal gown with a fetus surrounded by a rainbow in the shape of a womb.
-- The full list of winners and nominees.
Trump's Immigration Policy Is Felt in Canada Too
The Trump administration's decision to rescind temporary protected status for more than 260,000 Salvadorans who live in the U.S. has reverberated here, in El Salvador — and in Canada. For the Zepeda family in South L.A., the prospect of having to leave 20 months from now brings a range of emotions. "This can't be the end," says Orlando Zepeda, who with his wife, Lorena, has two American-born children. Still, they believe they will get through whatever happens. Meanwhile, the Canadian government is engaging in an outreach campaign to anyone considering moving up north because they feel unwelcome in the U.S. The message: You can come here, but you must do so legally.
More Politics
-- Despite new protestations from the White House that Trump has no plans to fire Robert S. Mueller III, two leading Republican senators called for legislation to protect the special counsel.
-- What to expect from Trump's State of the Union speech Tuesday? Start with brags about the economy and demands on immigration and infrastructure.
-- Casino mogul Steve Wynn resigned his position as finance chair of the Republican National Committee amid allegations that he sexually harassed multiple employees at his resorts.
How Does L.A. Fix Its Homelessness Problem?
Politicians have long promised to end the homeless crisis in Los Angeles. Millions of tax dollars have been spent, and many millions more will be. Yet the situation seems to only grow more dire. In the end, what can be done to help? Columnist Steve Lopez, who has spent countless hours reporting on homelessness, examines how we got here and proposes a way forward. It's the first installment of The Times' series "Without a Home."
A Player Sidelined by Voices
Titus Young was once classified among the most dangerous inmates at the Twin Towers Correctional Facility in downtown Los Angeles. Before that, he had a promising career with the NFL's Detroit Lions. In early 2017, he started keeping a diary. "A lot of the stuff I have done was out of my control during the time.... I was hearing voices." But what caused his downfall, and why does he think he can make a comeback?
Changing Times
In another dramatic shake-up at the Los Angeles Times, Chicago journalist Jim Kirk will be named editor in chief of the newspaper, replacing Lewis D'Vorkin, who will move to another position within Tronc, The Times' parent company. The move follows two weeks of turmoil, including a unionization vote by newsroom employees and hostilities between D'Vorkin and his staff.
OUR MUST-READS FROM THE WEEKEND
-- The death of a newborn baby in Altadena last year has sparked an investigation by Los Angeles County sheriff's investigators, who say they are seeking to interview the former dean of USC's medical school, Carmen Puliafito, as a possible witness or informant.
-- These twins were born four minutes apart in Canada, but only one is a U.S. citizen. The disparity is at the crux of a lawsuit filed against the State Department.
-- Jay Sekulow is one of Trump's three lawyers. He also uses his daily, hourlong talk show to rail against the Justice Department.
-- Red, white and very blue: Stormy Daniels takes her road show to a Las Vegas strip club, two miles away from the Trump Hotel.
MUST-WATCH VIDEO
-- Red-carpet rewind: A fashion recap of the Grammys.
-- How the director of "The Kindergarten Teacher" found the poetry for the movie's 5-year-old prodigy character.
CALIFORNIA
-- The 20-year-old Newport Beach man accused of killing a former high school classmate trained with a neo-Nazi group, according to a new report.
-- Santa Ana winds and low relative humidity mean the fire risk in Southern California will be high through Monday afternoon.
-- A four-year program to encourage food stamp users to stock up on fruit and vegetables is being tried out in L.A., Orange and San Diego counties.
-- UC Irvine's chancellor says students are not "snowflakes," but they need to understand free speech.
HOLLYWOOD AND THE ARTS
-- At the Sundance Film Festival, the top awards went to "The Miseducation of Cameron Post" and "Burden."
-- Behind the scenes at the "Puppy Bowl," TV's most adorable sporting event: "All we can really do is put the puppies on the field, leave some toys there and cover it with lots of camera angles."
-- The Americana band known as the Avett Brothers is getting the documentary treatment from Judd Apatow with the heartfelt "May It Last" on HBO.
CLASSIC HOLLYWOOD
"He was not only a good man to go down the river with, as Johnny Cash said, he was a great father and he was a great friend." Stevie Nicks paid tribute to Tom Petty when she and her band, Fleetwood Mac, picked up the MusiCares Person of the Year award as part of the Grammy festivities in New York.
NATION-WORLD
-- Russian opposition leader Alexei Navalny was arrested once again during anti-Kremlin protests in Moscow.
-- Jeanette Finicum, the widow of the rancher killed during the occupation of an Oregon wildlife refuge in 2016, has taken up her husband's cause and work.
-- Lake Michigan has become dramatically clearer in the last 20 years, but at a steep cost.
-- Israel is pushing back against a Polish proposal that rejects culpability for Nazi crimes committed on Polish soil.
BUSINESS
-- Ingvar Kamprad, who founded the Ikea furniture chain, has died at age 91.
-- How to get a higher credit limit after the card company turns you down.
SPORTS
-- The USC men's basketball team won its sixth game in a row with a 77-59 rout of California.
-- At Torrey Pines South, golfers Jason Day and Alex Noren ran out of time to finish their playoff. The two will battle it out today.
OPINION
-- Why are we still in Syria? Trump has yet to make his case.
-- Promoting the same dietary advice over and over while expecting different results is indeed a kind of insanity.
WHAT OUR EDITORS ARE READING
-- Inside the fake-follower game in social media. (New York Times)
-- Fitness trackers appear to be a security threat when U.S. soldiers wear them at military bases. (Washington Post)
-- That time the U.S. government tested a nuclear weapon on filing cabinets and safes. (Atlas Obscura)
ONLY IN L.A.
Dominique Ansel was born in France and gained fame in New York with his croissant-doughnut hybrid the Cronut. But it wasn't until he opened an L.A. bakery that he was inspired to create an avocado toast ice cream sandwich — and his own version of the California roll, featuring a cubic avocado and vanilla lime mousse with honey gelee and almond biscuits.
If you like this newsletter, please share it with friends.Comments or ideas? Email us at headlines@latimes.com.
---