Newsletter: Today: The Two-Year Deal and Eight-Hour Speech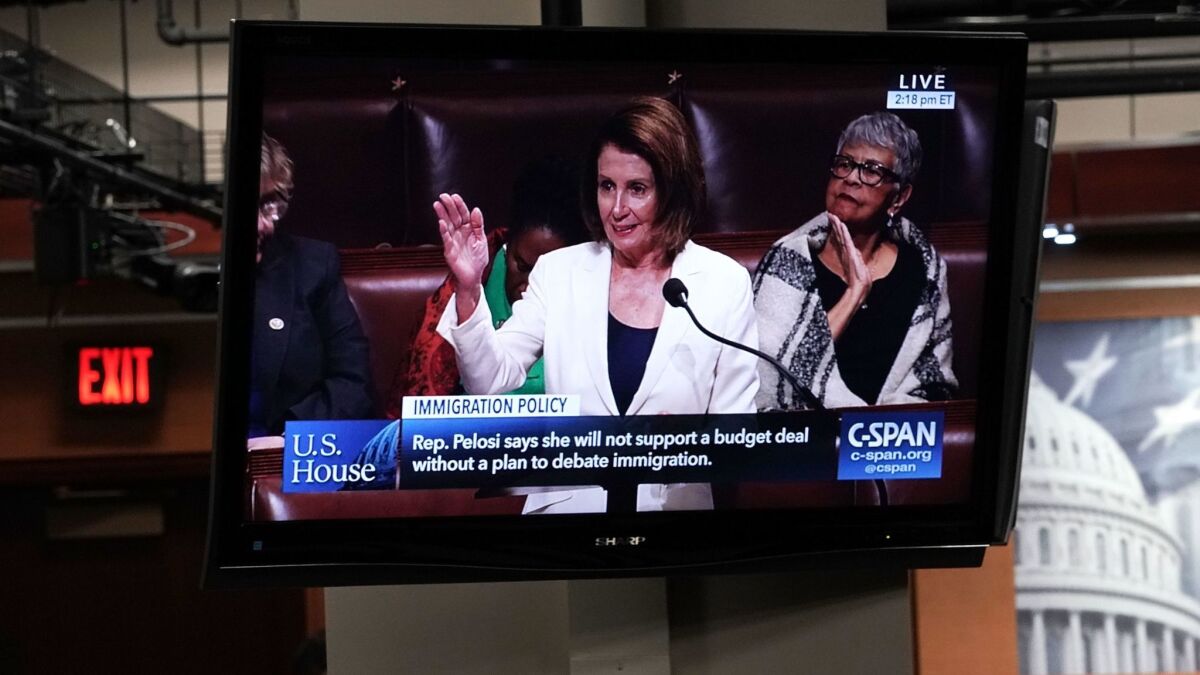 The clock is ticking toward a federal government shutdown at midnight, but …
TOP STORIES
The Two-Year Deal and Eight-Hour Speech
Are you tired of hearing about the countdown to another government shutdown? Congress may have a solution, as the deadline hits tonight. Senate leaders have agreed to a two-year, $300-billion deal that would theoretically get Congress back to focusing on more substantive things like infrastructure and immigration. But the latter issue, along with concerns about bigger deficits, could complicate today's expected votes. House Minority Leader Nancy Pelosi wants a solution for the "Dreamer" immigrants, and to make her point, she spoke for a record-setting eight hours and seven minutes on the House floor. (In four-inch heels, no less.) The GOP probably needs the Democrats' votes here once again, because of conservative opposition to more spending increases.
More Politics
-- Despite President Trump's attacks on Obamacare, almost 12 million Americans signed up for it — virtually unchanged from last year.
-- Trump's White House staff secretary Rob Porter resigned after abuse allegations from two ex-wives, but he won't be leaving until later.
-- Sen. Tammy Duckworth is pushing back against Trump's attempts to portray Democrats as unpatriotic. She's given him the nickname "Cadet Bone Spurs."
Nunes, Schiff and Matters of Intelligence
The two California congressmen leading the House Intelligence Committee couldn't be more different in their politics, but both have seen their profiles rise amid the Russia investigation and the dueling surveillance memos. Chairman Devin Nunes has made some heads spin by going from advocating strongly for the nation's intelligence agencies to railing against the so-called deep state. (Not that his constituents care much about that.) Top Democrat Adam Schiff, meanwhile, told columnist Robin Abcarian that he won't be distracted by Trump calling him names — but he gets a laugh out of it at least.
What Happened in Vegas
The Mirage. Treasure Island. The Bellagio. The Wynn. The Encore. Steve Wynn built them all. Now the billionaire real estate mogul has stepped down as chairman and CEO of Wynn Resorts — and as finance chairman for the Republican National Committee — amid sexual misconduct allegations that he denies. It's a swift fall for a man who reshaped Las Vegas from its mob and gambling roots into a resort destination.
Inside The Times Deal
For all the sturm und drang over many years about the ownership situation of the Los Angeles Times, the deal to sell the media organization to Dr. Patrick Soon-Shiong came together quickly. "Ultimately, this decision is deeply personal for me," said the L.A. biotech billionaire, who will also acquire the San Diego Union-Tribune, Spanish-language Hoy Los Angeles and community newspapers. "As someone who grew up in apartheid South Africa, I understand the role that journalism needs to play in a free society." What do you want him to know? Tell us here.
From Sunken Place to Twilight Zone
When Jordan Peele was filming "Get Out," he figured the "sunken place" hypnosis scene would gain cult classic status in a few years. What he didn't bargain for was how it would help create a box-office hit and Oscar powerhouse. Now the writer-director-producer is working hard on a number of horror projects, including a "Twilight Zone" reboot. In this wide-ranging interview, Peele recently explained it all — as reporter Glenn Whipp sat in the leather armchair used in "Get Out's" much talked-about scene.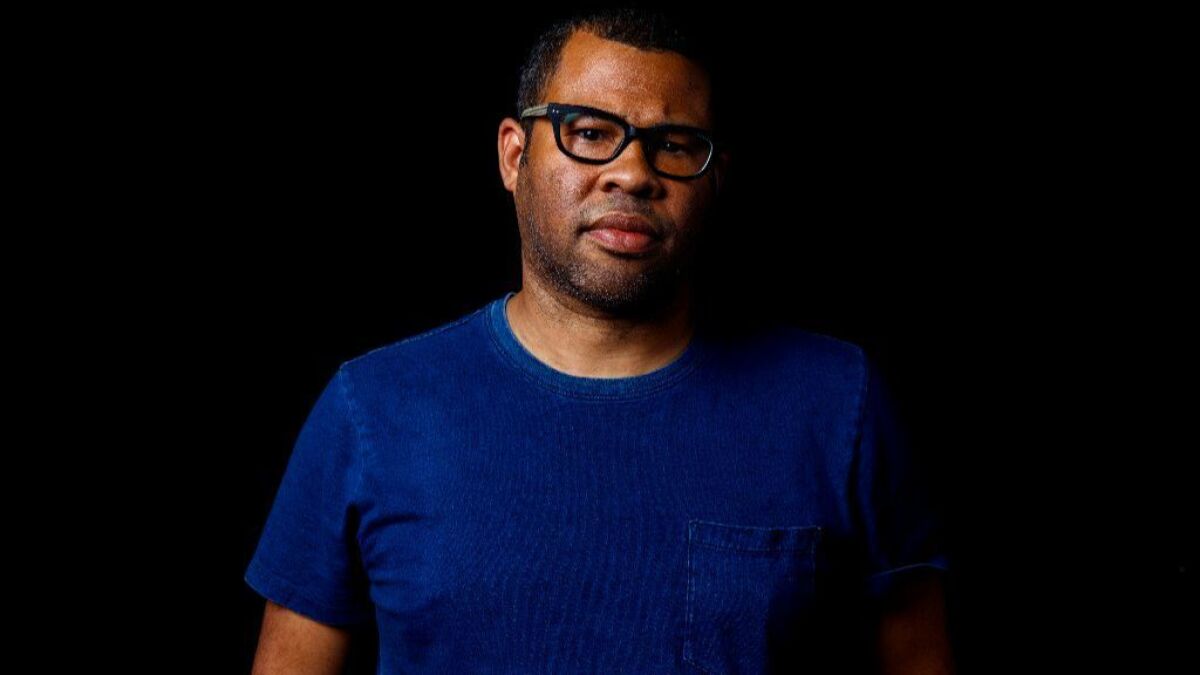 MUST-WATCH VIDEO
-- Beyond Aleppo's bustling market, the cost of Syria's brutal civil war becomes clear amid the mountains of rubble.
-- The Tesla Roadster that launched on the first test flight of SpaceX's powerful Falcon Heavy rocket will be heading farther into space than expected.
CALIFORNIA
-- The delta water blues: State officials will press ahead with a smaller version of a water delivery project under the Sacramento-San Joaquin Delta.
-- A federal judge has temporarily blocked Orange County sheriff's deputies from arresting homeless people who refuse to leave encampments along the Santa Ana River.
-- L.A. crews have started to fix badly broken pavement traveled by cyclists. Last year, the city paid out more than $19 million to cyclists and their families.
-- San Gabriel has become the latest city to rescind its police department agreement with immigration officials.
HOLLYWOOD AND THE ARTS
-- The L.A. Phil's 100th season plans: No orchestra has been this ambitious, ever, writes classical music critic Mark Swed.
-- The Pan African Film Festival is aiming to correct misconceptions about African and Caribbean countries.
-- Camila Cabello, a former member of Fifth Harmony, has something deeper to say in her songs.
-- Mickey Jones, the rock drummer and actor on "Justified" and "Home Improvement," has died at age 76.
CLASSIC HOLLYWOOD
Lana Turner may have been dubbed the "Sweater Girl," but she was a versatile and hardworking actress who made several films each year and was Oscar-nominated for 1957's "Peyton Place." But was Turner, born on this date in 1920, really discovered at Schwab's drugstore?
NATION-WORLD
-- The autopsy report on a Border Patrol agent fatally injured in west Texas last fall has only deepened the mystery surrounding his death.
-- After the "Trump effect" slowed illegal immigration to the U.S., the numbers rose again because of strife in Central America.
-- Will the Supreme Court strike down mandatory union fees for public employees?
-- Parts of eastern Taiwan are digging out after the magnitude 6.4 earthquake that killed nine people.
-- A new study finds that a dinosaur-killing asteroid also triggered massive magma releases beneath the ocean.
BUSINESS
-- Ross Levinsohn, who served as the L.A. Times' publisher for five months, has been cleared in an investigation of his conduct and will lead a new unit in parent company Tronc.
-- There may be a Tesla in space, but the company reported a record loss in the fourth quarter and Model 3 production is still lagging.
SPORTS
-- At the season-opening National Hot Rod Assn. Winternationals in Pomona, women have traction in the race against men.
-- Two sisters will be playing Olympic hockey; one for the United States, the other for the united North/South Korea team.
OPINION
-- For 30 years, California Republicans in D.C. worked to protect the coast. "Where are they now?" asks Leon Panetta, the former CIA director and secretary of Defense.
-- Can L.A.'s garbage-hauling monopoly RecycLA be saved? Better start working on Plan B.
WHAT OUR EDITORS ARE READING
-- In 35 states, there are no specific laws banning armed law enforcement officers from having sex with someone in their custody. (BuzzFeed News)
-- What happened to all the jobs Trump promised? This graphic breaks it down. (ProPublica)
-- Quincy Jones has a lot to say about Michael Jackson, the Beatles, JFK's assassination, the Trumps, and so on. But, oh, that mouth on him. (Vulture)
ONLY IN L.A.
At the Little Knittery, owner Kat Coyle built a local following devoted to her colorful yarn, looms, needles and fiber craft classes. Then international fame came calling with the hot-pink "pussyhat." Though Coyle was one of the founders of a globally recognized movement, that didn't help her keep the lease on her store in Atwater Village. Now in Silver Lake, she's stitching everything back together.
If you like this newsletter, please share it with friends. Comments or ideas? Email us at headlines@latimes.com.
---