Newsletter: Today: How the Austin Bomber Was Caught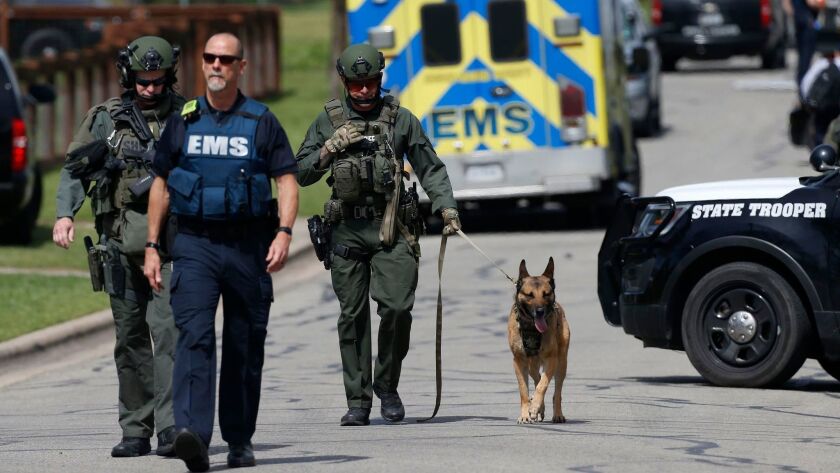 A look at the clues and the bomber's missteps that led authorities to him.
TOP STORIES
How the Austin Bomber Was Caught
It took authorities 17 years to find the Unabomber. It took 19 days to find the bomber in Austin, Texas. A key difference: technology. Investigators combined high-tech surveillance with old-fashioned shoe-leather to find the 23-year-old man who blew himself up as law enforcement officers closed in on his SUV. Officials, who say they found a bomb-making room in his home in the Austin suburb of Pflugerville, a list of future targets and a 25-minute "confession" on his phone, still haven't offered any theories for why the man began a series of bombings that killed two people and injured four this month. Meanwhile, the crime has revived a debate over what constitutes "terrorism."
Caution: More Tariffs Ahead
President Trump has long talked tough about China's trade practices. Soon, that could turn to direct action with the expected announcement of tens of billions of dollars in tariffs on Chinese exports to the United States. The duties and other steps Trump plans to take are aimed at ending China's well-worn practice of pressuring American firms to turn over technology and production secrets, and in some cases stealing them. China is likely to retaliate, and with U.S. tariffs on steel and aluminum starting Friday, fears of a trade war are growing.
More Politics
-- House and Senate negotiators reached a tentative agreement on a $1.3-trillion spending bill that puts off solutions to other issues, such as the fate of the "Dreamer" immigrants.
-- Following Trump's lead, Atty. Gen. Jeff Sessions instructed federal prosecutors to seek the death penalty against major drug dealers.
-- U.S. elections are still vulnerable to digital interference from Russia and other countries, the secretary of Homeland Security warned.
-- Trump is said to be fuming over a leak about his congratulatory call to Russian President Vladimir Putin, and word from one source is that "there's going to be a scalp over this."
Watching and Waiting
The heaviest rainfall from Southern California's wettest storm of the season is expected this morning, with flash-flood warnings and evacuation orders still in effect for many recent-burn areas. Residents in fire-ravaged neighborhoods in Santa Barbara, Ventura and L.A. counties are keeping their fingers crossed after the storm left little damage on Wednesday. (As a service to readers, the L.A. Times has lifted its online paywall and is providing unlimited access to stories about the storm.)
Where Is the Weedalyzer?
When California legalized recreational pot, the warnings came: Don't toke and drive. But policing marijuana-induced DUIs isn't as easy as arresting and prosecuting drunk drivers. Because they don't have a breathalyzer equivalent, authorities use an array of field tests and other training methods. Unlike Washington state, California has not set a legal limit for THC in the bloodstream. Even so, the science behind THC levels has been debated.
The Angels' $34-Million Kid
In spring, many a sports fan's fancy turns to thoughts of baseball's opening day. For Angels center fielder Mike Trout, next Thursday will mark the start of his seventh full season after having been an All-Star in each of the previous six. Yet the highest-paid player in baseball, at more than $34 million this year, likes to keep things simple. "He's an 8-year-old, an 8-year-old having fun," teammate Andrelton Simmons says. "I honestly don't know if he knows how good he is."
MUST-WATCH VIDEO
-- The King Tut exhibition has come to L.A., but it's not the same show you might remember.
-- It looks like a fish. It swims like a fish. But it's a robot built to spy on ocean life.
CALIFORNIA
-- A new poll finds Republican candidate John Cox has inched ahead of Antonio Villaraigosa for second place in the governor's race.
-- The Times has sued L.A. County, alleging that it has repeatedly and routinely flouted laws designed to ensure government transparency.
-- An Orange County supervisor withdrew her support for placing a homeless shelter in Huntington Beach, just two days after voting to direct county staff to develop a plan for it.
-- A Pico Rivera teacher whose anti-military rant was caught on video and drew widespread condemnation has been fired.
HOLLYWOOD AND THE ARTS
-- Wes Anderson's film "Isle of Dogs" is often captivating, film critic Justin Chang says, but cultural sensitivity gets lost in translation.
-- With his new thriller "Unsane" shot largely on an iPhone, filmmaker Steven Soderbergh continues his relentless questioning of process and genre.
-- "Black Panther" has broken another record, becoming the most tweeted-about film of all-time.
-- How Oscar Acosta, best known as Hunter Thompson's Dr. Gonzo, inspired his own TV documentary.
CLASSIC HOLLYWOOD
On the TV series "Mork & Mindy," Robin Williams became famous for his zany comedy, but his off-screen antics apparently included some workplace behavior that now would be considered far from appropriate. "I had the grossest things done to me — by him. And I never took offense," costar Pam Dawber says in an excerpt from a biography of the late comedian obtained by the Daily Mail.
NATION-WORLD
-- North Korean leader Kim Jong Un could face scrutiny he's never experienced in summits with South Korea and the U.S. in the coming months.
-- Peru's president has resigned after political opponents released recordings that they say implicate the 79-year-old leader in a vote-buying scheme to avoid impeachment.
-- Witnesses say Boko Haram extremists have returned an unknown number of the 110 girls abducted from a Nigerian boarding school a month ago.
-- A Palestinian teenager was sentenced to eight months in prison for slapping and kicking a pair of Israeli soldiers outside her West Bank home.
BUSINESS
-- Zuck speaks! Chief Executive Mark Zuckerberg acknowledged Facebook failed to protect user data in the Cambridge Analytica scandal, but said steps have already been taken to prevent future issues.
-- Video of Uber's deadly self-driving car crash shows the moment a pedestrian is hit and is sure to raise more questions over who is to blame.
SPORTS
-- At USC's pro day, there was absolutely no drop in Sam Darnold's game as the quarterback threw in the rain.
-- What to do with a day off in New Orleans? The Lakers let the good times roll … at a bowling alley.
OPINION
-- If the Trump administration won't step up to stop the carnage in Yemen, Congress needs to.
-- A parent's perspective: "My daughter's disabled. Please don't look away from her."
WHAT OUR EDITORS ARE READING
-- Do we really know anything about China based on statistics? Does Beijing even know? (Foreign Policy)
-- The "last whalers," from the Shetland Islands, worked on expeditions to the Antarctic. Until the whales were gone. (Aeon)
-- Loneliness at work can have health and economic consequences. (Harvard Business Review)
ONLY IN L.A.
Two thousand pounds of onions. Five thousand pounds of ground beef. Thirty-six hundred pounds of rice. That's how much the Persian restaurant Raffi's Place in Glendale goes through in one week. To mark the restaurant's 25th anniversary, we took a behind-the-kebab tour.
If you like this newsletter, please share it with friends. Comments or ideas? Email us at headlines@latimes.com.
---