Newsletter: Today: Hurry Up and Wait at the Border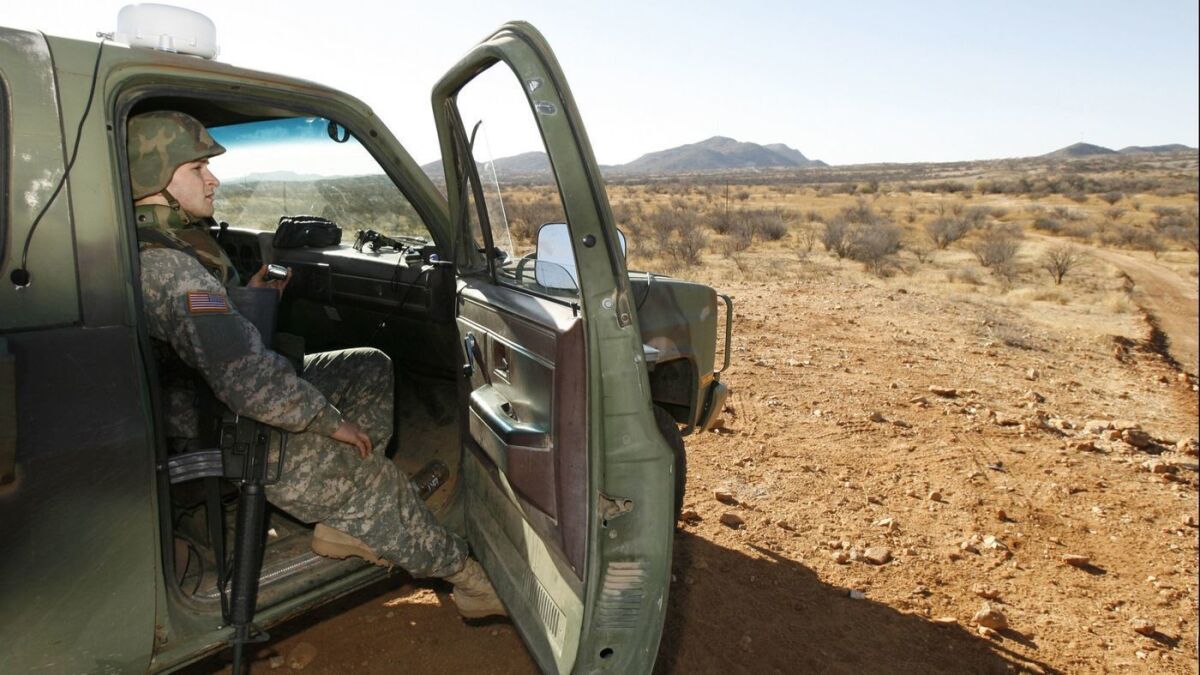 President Trump calls for National Guard troops to go to the border right away, but a lack of details is slowing things down.
TOP STORIES
Hurry Up and Wait at the Border
A presidential proclamation. A hastily assembled plan. Scrambling all around. President Trump's call to deploy National Guard troops along the border with Mexico has followed a familiar pattern. Homeland Security Secretary Kirstjen Nielsen said she had spoken to the governors of California, Arizona, New Mexico and Texas about them deploying troops "immediately," but by Wednesday's end, none had publicly committed to a specific plan. Without key details, including the number of troops, the duration and the cost, Gov. Jerry Brown, the lone Democrat of the four, would not act. (Of note: The California National Guard already has about 250 people working on missions to stop illegal drugs from getting into the state, including 55 along the border.) As for that caravan of Central American immigrants in Mexico: Here's their take on being the subject of Trump's ire.
More Politics
-- In what is likely one of his last public comments as national security advisor, H.R. McMaster sharply criticized U.S. inaction in the face of cyber, political and even military threats from Russia.
-- Facebook CEO Mark Zuckerberg will testify before a House oversight panel on April 11 amid a privacy scandal that has roiled the social media giant.
Trump's 'Can't Lose' Trade War?
Dollar for dollar, China has matched the Trump administration's plan to place tariffs on $50 billion of imported Chinese goods with a list aimed at hitting America where it hurts politically the most, particularly Trump country. (It won't help Tesla's sales of electric vehicles or the aerospace industry, either.) "When you're already $500 Billion DOWN, you can't lose!" Trump tweeted. But two White House officials tried to tamp down fears of a trade war, saying it's possible the threatened tariffs will never take effect if negotiations produce a compromise. The stock market's reaction: seesawing.
Exit Syria: Not So Fast
One place Trump doesn't want to see U.S. troops anymore is Syria. Earlier this week, he publicly called a for a rapid withdrawal of the roughly 2,000 U.S. troops there, and now he's ordered the Pentagon to draw up plans to do so, albeit without setting a date. That compromise came after his foreign policy advisors warned that pulling out from Syria too quickly could create a repeat of what went wrong in Iraq, as well as hand more power over to Russia and Iran.
A Creator Who Came to Destroy
The woman who opened fire at YouTube's headquarters had tried to build an identity and a business as a "creator," one of tens of thousands around the world who seek fame and fortune distributing their videos. Eventually, she would claim the platform paid her too little and suppressed traffic to her quirky collection of dance, recipe and exercise clips — common complaints amid a YouTube policy change that became known as the "adpocalypse." Investigators are still looking into why she resorted to violence, as questions remain about whether authorities could have intervened before the shooting began.
'I Wouldn't Wish It Upon Anyone'
You may not remember his name, but you know Romulo Avelica Gonzalez's story. Or at least part of it. Just over a year ago, he was driving his children to school when federal immigration agents took him into custody while one daughter took video. The agents told him he'd be on a bus to Tijuana that afternoon. In the third installment of our in-depth look at Lincoln Heights, you'll learn much more about Gonzalez and how his story put a neighborhood on edge.
Sign up to get Today's Headlines delivered to your inbox. »
MUST-WATCH VIDEO
-- A look inside "King Tut: Treasures of the Golden Pharaoh," which celebrates the 100-year anniversary of the discovery of his tomb.
-- How to divide perennial plants? An expert explains.
CALIFORNIA
-- Southern California regulators have a chance to rein in air pollution related to warehouses, rail yards and large development projects, but if history is any judge, they won't.
-- Officials say more than 1 million immigrants in the country illegally have obtained special driver's licenses since the state began issuing them more than three years ago. The idea is to make the roads safer.
-- Los Angeles school board member Ref Rodriguez was arrested recently on suspicion of being drunk in public at a Pasadena restaurant. He's already facing political money-laundering charges.
-- In a civil case, a Superior Court jury determined that Rebecca Zahau didn't commit suicide at a San Diego mansion in 2011 and that her boyfriend's brother is legally responsible for her death.
HOLLYWOOD AND THE ARTS
-- Al Pacino stars as Joe Paterno in HBO's "Paterno," about the Penn State football coach's fall from grace after his assistant coach Jerry Sandusky was charged with and convicted of sexually assaulting young boys.
-- "Stranger Things" creators the Duffer brothers have denied accusations that they stole the idea for their hit Netflix series from a short film by director Charlie Kessler, who has filed suit against them.
-- Toby Keith is into the red, white and blue, but he sees a lot of gray in the world too.
-- The Guggenheim Fellowships have been announced, and 17 Southern California thinkers and artists are among them.
CLASSIC HOLLYWOOD
The Beatles didn't have much to do with the making of the 1968 animated film "Yellow Submarine," other than signing off on the project, approving the use of songs and participating in a filmed segment. But the film did reinforce their reputation for thinking psychedelically outside the box. A restored version of movie is heading for theaters in July.
NATION-WORLD
-- At events across the U.S., thousands assembled to mark the 50th anniversary of the Rev. Martin Luther King Jr.'s death, celebrate his life and rekindle his struggle for economic and social justice.
-- A pilot was killed when a military jet crashed at Nellis Air Force Base near Las Vegas during routine training maneuvers, a day after a Marine Corps helicopter crashed near El Centro, Calif.
-- As big cities go, London is safe, but a recent surge in killings, many of them by stabbing, has sparked growing fears of violence.
-- This retinal implant may one day cure blindness caused by macular degeneration.
BUSINESS
-- AMC Theatres, the world's largest cinema operator, says it plans to open up to 100 theaters in Saudi Arabia by 2030. The country recently lifted its 35-year ban on movie theaters, and its first, an AMC Cinema in Riyadh, is set to open April 18.
-- A report says worldwide box office revenue topped $40 billion for the first time last year, but moviegoing continued to drop in the U.S. and Canada.
-- Facebook says up to 87 million users had personal information improperly shared with political consulting firm Cambridge Analytica, a significant jump from what had previously been reported.
SPORTS
-- He's for real: Shohei Ohtani fever is heating up in Angel Stadium.
-- Augusta National Golf Club, which did not even allow female members until 2012, will host a women's amateur championship next April.
OPINION
-- Trump is a "subject" but not a "target" of the Mueller probe? The White House shouldn't celebrate yet.
-- State lawmakers looking to raise the standard for police use of deadly force in California should proceed with caution.
WHAT OUR EDITORS ARE READING
-- A look at cities around the world where the streets have MLK's name, including Kolkata, India, and Bonn, Germany. (National Geographic)
-- A different kind of housing crisis: In this Iowa town, they'll give you free land, if you build a house on it. (Des Moines Register)
-- Why the L.A. Times and others don't use a hyphen for terms such as Asian American. (Conscious Style Guide)
ONLY IN L.A.
Smartphones, smart TVs and smart houses are a thing. Up next: the smart bathroom at LAX. Los Angeles International Airport officials are launching a — um — pilot program using technology to track how often restrooms are cleaned and to let travelers know when a stall is in use or vacant. Here's what you need to know before you go.
If you like this newsletter, please share it with friends. Comments or ideas? Email us at headlines@latimes.com.
---