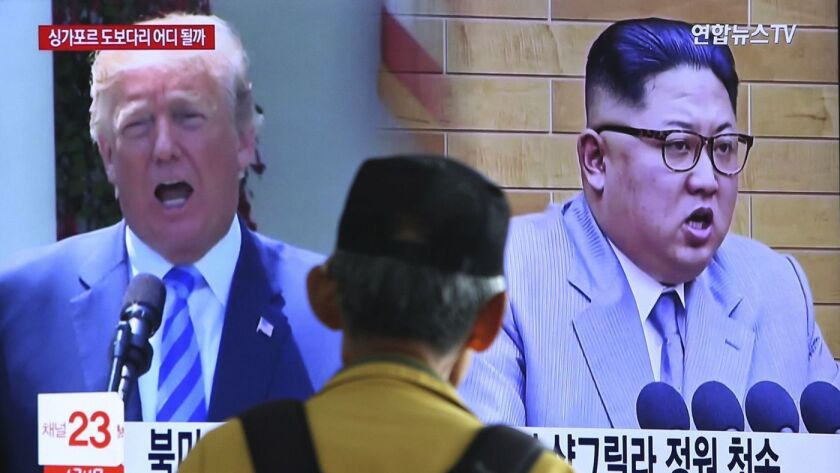 North Korea threatened to cancel its summit with the U.S., but it may just be posturing.
TOP STORIES
What's North Korea Up To?
After weeks of seemingly good will, North Korea abruptly postponed talks with South Korea to protest U.S.-South Korean military exercises and threatened to scrap a summit next month between President Trump and North Korean leader Kim Jong Un if there is "a one-sided demand for us to give up our nukes." Trump administration officials have downplayed such remarks, saying that Pyongyang had not made any direct comment to Secretary of State Mike Pompeo when he traveled to North Korea this month.
More Politics
-- "Dreamers" update: A three-judge panel of the U.S. 9th Circuit Court of Appeals heard arguments on the Trump administration's bid to end protections for them.
-- Gina Haspel, Trump's nominee to run the CIA, is on track to be confirmed by the U.S. Senate after key Democrats announced their support.
Death in the Haze of Gaza
Deadly new clashes erupted Tuesday in the Gaza Strip, as thousands of Palestinians staged angry funeral processions for the dozens killed a day earlier by Israeli troops, who say they acted in self-defense. At last count, the toll stood at 64. The youngest included in that number, a 10-month-old girl named Layla, has become a tragic symbol — and the source of more dispute. A doctor at the hospital where Layla was treated said she had a preexisting heart condition that caused her death, but her family and the Gaza Health Ministry say exposure to tear gas was a contributing factor.
USC and the Gynecologist
A Times inquiry has found that Dr. George Tyndall, a gynecologist at USC for nearly 30 years, had been accused repeatedly of misconduct toward young patients but was allowed to continue practicing. An internal USC investigation determined that Tyndall's behavior during pelvic exams was outside the scope of current medical practice and amounted to sexual harassment of students. But in a secret deal last summer, The Times found, top administrators allowed the doctor to resign quietly with a financial payout. Tyndall denies wrongdoing.
The End of California's 'End of Life' Law?
When California's law allowing physician-assisted suicide took effect about two years ago, opponents immediately filed suit in an effort to overturn it. Now, a Riverside County judge has done so — and given the state attorney general five days to file an appeal to keep the law in place. California Atty. Gen. Xavier Becerra says "the state is seeking expedited review in the Court of Appeal."
The Man in the White Suit
Tom Wolfe employed literary techniques in his magazine articles, pioneering the New Journalism of the 1960s and '70s. He wrote books such as "The Electric Kool-Aid Acid Test" and "The Right Stuff"; his first novel, "The Bonfire of the Vanities," was a bestseller. Even to nonreaders, Wolfe, who died Monday at age 88, was instantly recognizable by his white suits. Why did he wear them? "If people see that you are an outsider," he said, "they will come up and tell you things."
Sign up to get Today's Headlines delivered to your inbox. »
MUST-WATCH VIDEO
-- How California's primary could stop Democrats from retaking the U.S. House.
-- Film critic Justin Chang says "Solo: A Star Wars Story" never gets off the ground, but star Alden Ehrenreich is a treat.
CALIFORNIA
-- The human catastrophe of homelessness has hit the shores of Malibu, and some are trying to offer a helping hand. Columnist Steve Lopez checks in.
-- Emergency shelters are getting a boost as L.A. County moves to increase its homelessness spending by $143 million.
-- Authorities have charged a Glendale narcotics officer after they say he lied about his ties to the Mexican Mafia and Armenian organized crime in Southern California.
-- New L.A. schools chief Austin Beutner started his first day of work at 5:15 a.m. Tuesday at a school bus depot, then went on a choreographed tour of the district.
HOLLYWOOD AND THE ARTS
-- Movie review: In "Deadpool 2," the manic antics fly fast, but the franchise has lost its edge, according to Jen Yamato.
-- Cannes report: Lars von Trier's "The House That Jack Built" and Spike Lee's "BlacKkKlansman" made for much provocation.
-- Pauley Perrette, who recently left CBS' long-running drama "NCIS" after 15 seasons, is saying she departed because of "multiple physical assaults" that made it unsafe for her to hang around.
-- The "Roseanne" revival is helping to make ABC's ratings great again.
CLASSIC HOLLYWOOD
The grand pianos. The candelabra. The costumes. Liberace's flamboyant excess onstage and off earned him the nickname "Mr. Showmanship." But the performer, born Wladziu Valentino Liberace on this date in 1919, had a true musical talent that made him one of America's biggest stars. He died on Feb. 4, 1987.
NATION-WORLD
-- The U.S. government has identified a suspect in the leak last year of a large portion of the CIA's computer hacking arsenal, according to interviews and public documents.
-- Former Taiwan president Ma Ying-jeou was sentenced to four months in prison on charges he leaked classified information, making him the island's second consecutive leader to face prison time.
-- Peruvian soccer fans are up in arms after the national team's star was banned from the World Cup because he drank tea made from coca leaves.
-- Long before American hipsters discovered it, kombucha was a staple in Russia. Now it's making a comeback there.
-- Researchers using 21-year-old data from NASA's Galileo spacecraft have found evidence of a plume of material coming from the surface of Jupiter's icy moon Europa.
BUSINESS
-- Amazon isn't too happy after the Seattle City Council voted to tax high-grossing corporations to help the poor and the homeless, albeit at about half the amount originally proposed.
-- Higher gas prices won't deter a record number of Californians from traveling for Memorial Day.
SPORTS
-- Like it or not, legal sports betting is about to change the way games are covered in the media.
-- The unexpected success of the first-year Golden Knights has had ripple effects that reach well beyond the hockey oasis known as Las Vegas.
OPINION
-- Now is not the time to expand Medi-Cal to cover low-income residents who are living in the country illegally, writes The Times Editorial Board.
-- Can "chipsters" and barrio activists find common ground? Columnist Gustavo Arellano explores.
WHAT OUR EDITORS ARE READING
-- Wikileaks' Julian Assange has become an unwelcome guest in the Ecuadorean Embassy in London. (The Guardian)
-- An excerpt from the book "Robin" recounts Robin Williams' last night with fellow comic John Belushi. (Vulture)
-- An oral history of Action Park, a New Jersey amusement park that emphasized a ride-at-your-own-risk philosophy with sometimes deadly consequences. (Mental Floss)
ONLY IN L.A.
The horse they call Justify is ready to take his second step toward a Triple Crown in Saturday's Preakness Stakes, after having won the Kentucky Derby earlier this month. But the 3-year-old got his start at Santa Anita Park, and trainer Bob Baffert went to some extraordinary lengths.
If you like this newsletter, please share it with friends. Comments or ideas? Email us at headlines@latimes.com.
---