Newsletter: Today: Inside the Mexican Mafia
How does a notorious gang operate inside the L.A. County jails and other detention facilities?
TOP STORIES
Inside the Mexican Mafia
Federal prosecutors call it "a gang of gangs." With only 140 full members, the Mexican Mafia is said to control Latino street gangs around the U.S. and crime within California's prison and jail facilities — while operating from their cells in state and federal prisons. After a years-long investigation, hundreds of police and federal agents carried out coordinated raids aimed at disrupting the gang's control inside L.A. County's jails. Officials took 32 people into custody, while about three dozen others who are charged in the cases are already serving time. Here's how they are alleged to have operated.
To the Left, to the Left
Dianne Feinstein has been a U.S. senator since 1992, building a career that has focused more on the center while taking up liberal causes such as gun control and gay marriage. Over that time, California has moved to the left. Feinstein has too, though not enough for some, as state Sen. Kevin de León's challenge to her — and the fact about 40% of voters are undecided — in the June 5 primary shows. Perhaps no other issue demonstrates Feinstein's evolution more than the death penalty: In 1990, she was booed for her support of it. Recently, she quietly announced her opposition to capital punishment.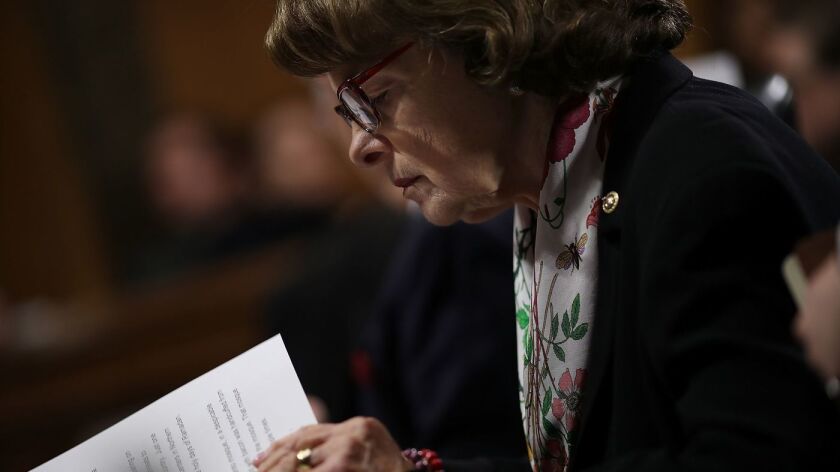 More Politics
-- North Korea carried out what it said was a demolition of its nuclear test site on Thursday, setting off a series of explosions over several hours in the presence of journalists.
-- In an effort to prevent or expose conflicts of interest, Democrats are pushing legislation that would force senior Trump administration officials to reveal more about their business interests.
-- Trump reaffirmed his condemnation of immigrant gang members as "animals" as he pressed his call for tougher border security.
-- A federal judge ruled that Trump's blocking of Twitter users is unconstitutional because the platform amounts to a "public forum."
-- Jared Kushner has received his full security clearance after more than a year of delay and controversy.
Hidden Help for Some D.A. Candidates
Whom do you want as your district attorney? One who talks about cracking down on crime or ending police misconduct and bail injustices? In California, wealthy donors are spending millions of dollars to back the latter kind in a handful of contests, part of a long-running campaign by liberal groups to reshape the nation's criminal justice system. And just who are they? New York billionaire George Soros headlines the consortium of private funders, the ACLU and other social justice groups.
Decades of Complaints Against a USC Doctor
As more women come forward with complaints against longtime USC campus gynecologist George Tyndall, there is growing evidence that USC employees received serious warnings about Tyndall beginning early in his career. In interviews with The Times and court filings this week, former patients and colleagues described attempts to alert clinic administrators and others at the university — and expressed frustration that nothing appears to have been done.
The NFL's Standing Order
O say, can you see … more debate about NFL players and the national anthem? NFL owners have decided that team personnel can choose: Go on the field, stand "and show respect for the flag and the anthem," or just stay in the locker room. At least one team, the San Francisco 49ers, abstained from voting, and the NFL Players Assn. is reviewing the new policy. But Vice President Mike Pence, who famously flew to an NFL game only to walk out in a protest of the players kneeling in protest, tweeted: "#Winning."
Sign up to get Today's Headlines delivered to your inbox. »
MUST-WATCH VIDEO
-- Film critic Justin Chang says "Solo: A Star Wars Story," which hits theaters tonight, never gets off the ground, but don't blame star Alden Ehrenreich.
-- If you didn't already know Brian Tyree Henry, who plays a rapper in FX's "Atlanta," this is the year that changes.
CALIFORNIA
-- The new tax law and the failed attempt to repeal Obamacare may be flashpoints against Republicans in congressional races, according to a new USC Dornsife/Los Angeles Times poll.
-- Republican billionaire Meg Whitman, who once ran for governor, is backing Democrat Antonio Villaraigosa's gubernatorial campaign.
-- The University of California and California State University systems are poised to get major funding boosts from the state.
-- After three people were found dead in Leimert Park, authorities said they were looking for a "material witness," concerned for her safety.
HOLLYWOOD AND THE ARTS
-- Paul Simon is hitting the Hollywood Bowl for a farewell tour, and music critic Mikael Wood says he's not playing like a man about to hang it up.
-- Moses Farrow is speaking out in defense of father Woody Allen and accusing his mother, Mia Farrow, of physical and mental abuse.
-- Winona Ryder and David Harbour share deep bonds on and off the set of "Stranger Things."
-- A new U.S.-Mexico border? At the Venice Biennale, these artists are imagining a binational region called MEXUS.
CLASSIC HOLLYWOOD
If Marilyn Monroe were still alive, she'd be turning 92 next Friday. To mark the occasion, two of her best films, "Gentlemen Prefer Blondes" and "How to Marry a Millionaire," will get 65th anniversary screenings on June 5 in L.A.
NATION-WORLD
-- A Border Patrol agent fatally shot and killed a female migrant in Texas after, he says, a group beat him with two-by-fours.
-- The Pentagon withdrew an invitation to China to participate in a major Pacific naval exercise, citing Beijing's "continued militarization" of the South China Sea.
-- Secretary of State Mike Pompeo says a U.S. government employee in Guangzhou, China, has suffered health problems similar to those that hit several American and Canadian envoys in Cuba.
-- A labor union representing thousands of culinary workers in Las Vegas has voted to authorize a strike next month if casinos don't agree to a proposed five-year contract.
-- The Top 10 New Species list for 2018 is out. A rare great ape, a 130-foot-tall tree and an extinct marsupial lion are among those that made the cut.
BUSINESS
-- Southern California home prices in April surged 7.2% from a year earlier to reach an all-time high. The median sale price: $520,000.
-- Comcast confirmed it is in the advanced stages of preparing an all-cash bid for 21st Century Fox intended to trump Disney's offer.
-- Social experiment: Bird scooters have flooded the streets of major cities. But can the start-up control misbehaving riders?
SPORTS
-- The Clippers and coach Doc Rivers have agreed to a contract extension. Now the challenge is to build a sustainable future.
-- Mauro Ranallo is one of the most prolific and distinctive announcers in combat sports. His fight is against the stigma of mental illness.
OPINION
-- The complete list of L.A. Times endorsements in the June 2018 California primary.
-- When Trump meets Kim Jong Un, a whole lot could go wrong.
WHAT OUR EDITORS ARE READING
-- CBS "60 Minutes" correspondent Lesley Stahl says Trump told her he attacks the media "to discredit you all and demean you all so when you write negative stories about me, no one will believe you." (CBS News)
-- Elon Musk ripped the news media for what he described as irresponsible reporting and suggested he would launch a website to assess the legitimacy of individual journalists and news organizations. (USA Today)
-- How the structure of social media exploits our sense of right and wrong. (Nautilus)
ONLY IN L.A.
How did you celebrate Stormy Daniels Day? OK, on second thought, don't answer, please. But in West Hollywood, where officials named Wednesday in the porn actress' honor, they gave her a key to the city for being "a profile in courage by speaking truth to power even under threats to her safety and extreme intimidation." Next stop, the White House? Probably not.
If you like this newsletter, please share it with friends. Comments or ideas? Email us at headlines@latimes.com.
---