Newsletter: Today: The Billionaire and the Beach
The Supreme Court delivers a victory for California's landmark coastal access law.
TOP STORIES
The Billionaire and the Beach
The U.S. Supreme Court began a new term Monday and made its biggest news by opting to not hear a case: It rejected a Silicon Valley billionaire's appeal to keep a California beach to himself. The small stretch of sand known as Martins Beach, south of Half Moon Bay, has been in dispute for a decade, after property owner Vinod Khosla locked the gate on the beach's access road. His case could have threatened a state law that says beach access is a fundamental right guaranteed to everyone. Instead, Khosla will have to go through the established permit process.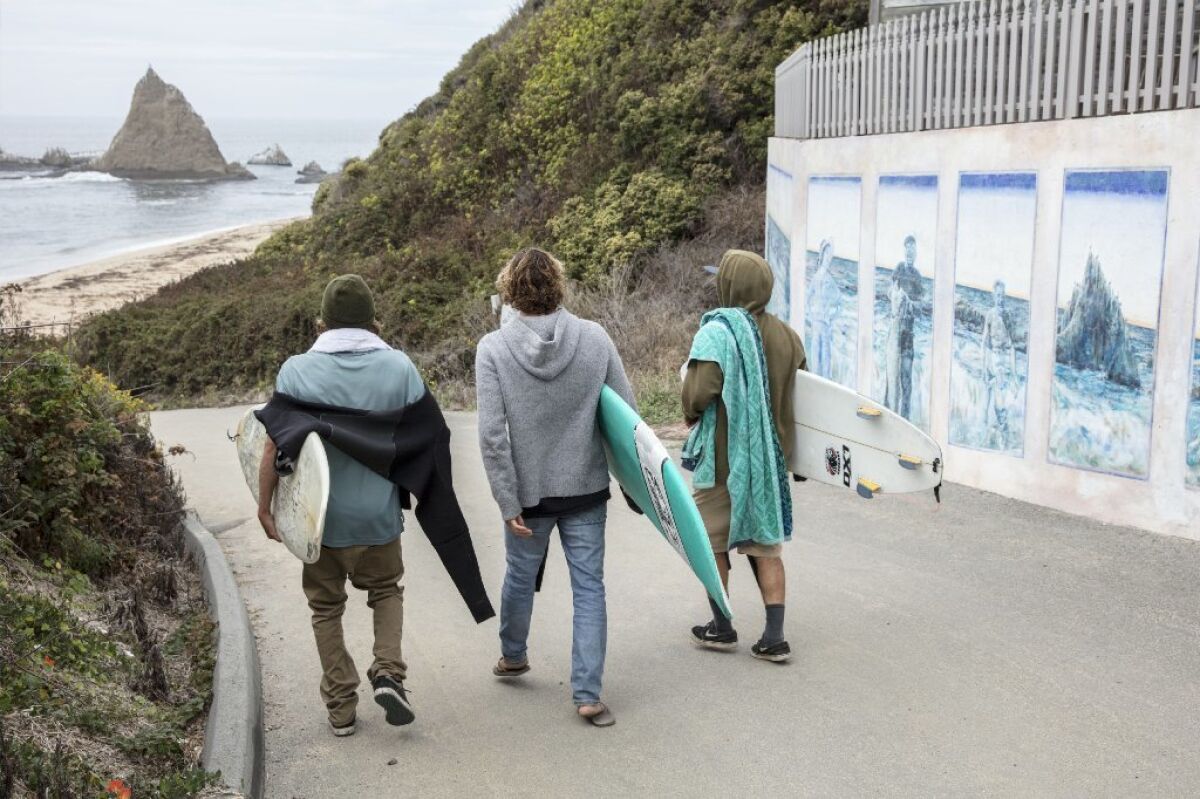 Trading Up
President Trump has hailed the new trade accord with Canada and Mexico as "a historic win" for American farmers, manufacturers and autoworkers. So how different is the U.S.-Mexico-Canada Agreement from the North American Free Trade Agreement? The overhaul has some substantial updates and potentially significant improvements, especially for American dairy farmers in a particular niche. But overall, according to many trade experts who are still poring over the details, it's not fundamentally different.
The GOP's Immigration Bind
In California, Republicans trying to hold onto control of the House of Representatives are grappling with an issue as old as the state itself: immigration. For Rep. Dana Rohrabacher in Orange County, it's cut and dried. He's talked about a "massive flow of illegal immigrants" changing "our quality of life." But for Rep. Jeff Denham in the Central Valley, it's more complicated, especially when many of his constituents are farmers who rely on foreign-born workers.
More Politics
-- Trump said that any limits placed on the FBI inquiry into allegations of sexual misconduct against Supreme Court nominee Brett Kavanaugh are at the behest of Republicans in the Senate. Meanwhile, more stories about Kavanaugh's past have emerged, including one saying he allegedly once got into a bar fight with a man he thought might be the lead singer of UB40.
-- A survey of global attitudes released by the Pew Research Center paints a picture of an increasingly isolated United States with Trump as president.
California's Tsunami Threat
As the Indonesian island of Sulawesi continues to reel from a magnitude 7.5 earthquake and tsunami, scientists say a similar scenario could play out in Southern California. If a big quake strikes too close to shore, it could generate a tsunami without warning in low-lying areas. In such a scenario, the deep-sea sensors that detect tsunamis would be useless. That's why experts say that if you're in a coastal area and you feel a strong quake, it's best to move to higher ground, just in case.
Buehler? Buehler? Buehler!
Rookie pitcher Walker Buehler led the Dodgers to their sixth consecutive National League West title in a 5-2 victory over the Colorado Rockies. "I'm so proud of you," Hall of Famer Tom Lasorda said, as he and Buehler embraced in the clubhouse after the tie-breaking game. Up next: the Atlanta Braves on Thursday. But in the meantime, after what seemed like a lost season in April, the Dodgers are celebrating their rightful place in the postseason.
Sign up to get Today's Headlines delivered to your inbox. »
MUST-WATCH VIDEO
-- One year after the mass shooting at a concert in Las Vegas, the city paused to reflect on its darkest hour.
CALIFORNIA
-- Dr. Patrick Sutton has been accused of making inappropriate comments about a patient's appearance and sex life. Records show it's the fifth time the Pasadena obstetrician has been accused of sexual misconduct.
-- A woman says L.A. County Sheriff Jim McDonnell falsely named her as a suspect in a Rolling Hills Estates slaying as part of what she says was a racially charged homicide investigation.
-- A San Fernando Valley resident has contracted a mosquito-borne illness that officials say hasn't been recorded in L.A. County since 1997.
-- As a storm moves in to Southern California, surfers in Orange County decided to make the most of it by tackling massive waves.
HOLLYWOOD AND THE ARTS
-- Actress Mary Elizabeth Winstead explores the soul of a Los Angeles stand-up comedian in a new indie film.
-- Nina Jacobson, a former Disney studio boss, and her producing partner Brad Simpson make up one of the most successful filmmaking teams today.
-- Stephen Colbert will host a live edition of "The Late Show" during next month's midterms, again bringing his comedy to election day coverage.
CLASSIC HOLLYWOOD
One year ago today, Tom Petty died at age 66 in what was ruled an accidental overdose of prescription medications. In what would be his final interview, he spoke of his music as a higher calling: "It was about moving people, and changing the world, and I really believed in rock 'n' roll — I still do."
NATION-WORLD
-- James P. Allison and Tasuku Honjo, two scientists who first harnessed the power of the immune system to fight incurable cancers, have won the Nobel Prize in medicine or physiology.
-- Voters in Macedonia have elected to change the name of their country, but the vote may not count because of low turnout.
-- In Kuwait, nearly 4,400 books have been banned in the last five years, a surprising level of censorship in a nation once known for its open-mindedness.
BUSINESS
-- Tesla will be getting a new chairman after Elon Musk settled the Securities and Exchange Commission's lawsuit against him. But can anyone stand up to Musk?
-- Truck drivers and warehouse workers who serve the ports of Los Angeles and Long Beach are striking to protest the classification of drivers as independent contractors.
SPORTS
-- Soccer star Cristiano Ronaldo is being sued by a Nevada woman who said he raped her in 2009 and used "fixers" to obstruct a criminal investigation.
-- The Angels have three questions for next season: Pitching, pitching and who's going to manage.
OPINION
-- Boohoo hoo. Kavanaugh is not a victim, writes columnist Robin Abcarian.
-- Assessing Jeff Flake's elevator moment: Speaking truth to power works, doesn't it?
WHAT OUR EDITORS ARE READING
-- The Trump administration has begun denying visas to same-sex domestic partners of foreign diplomats and United Nations employees — unless they are married. (Foreign Policy)
-- Oklahoma City, here we come? Mid-sized cities in the U.S. are making a comeback. (City Lab)
-- Hand tattoos used to be taboo when it comes to getting a job. These days, they might not be. (Wall Street Journal)
ONLY IN L.A.
If you went for a stroll on the streets of L.A. on Sunday, you would not have been hallucinating if you saw a pianist playing on the back of a pedicab and Wynton Marsalis and his Jazz at Lincoln Center Orchestra in a parking lot. They and about 1,800 other performers were all part of "Celebrate LA!" — the L.A. Phil's 100th birthday celebration. To top it off: a concert featuring John Williams, Katy Perry (with fireworks, of course) and Gustavo Dudamel at the Hollywood Bowl.
If you like this newsletter, please share it with friends. Comments or ideas? Email us at headlines@latimes.com.
---