Newsletter: Today: Born in the USA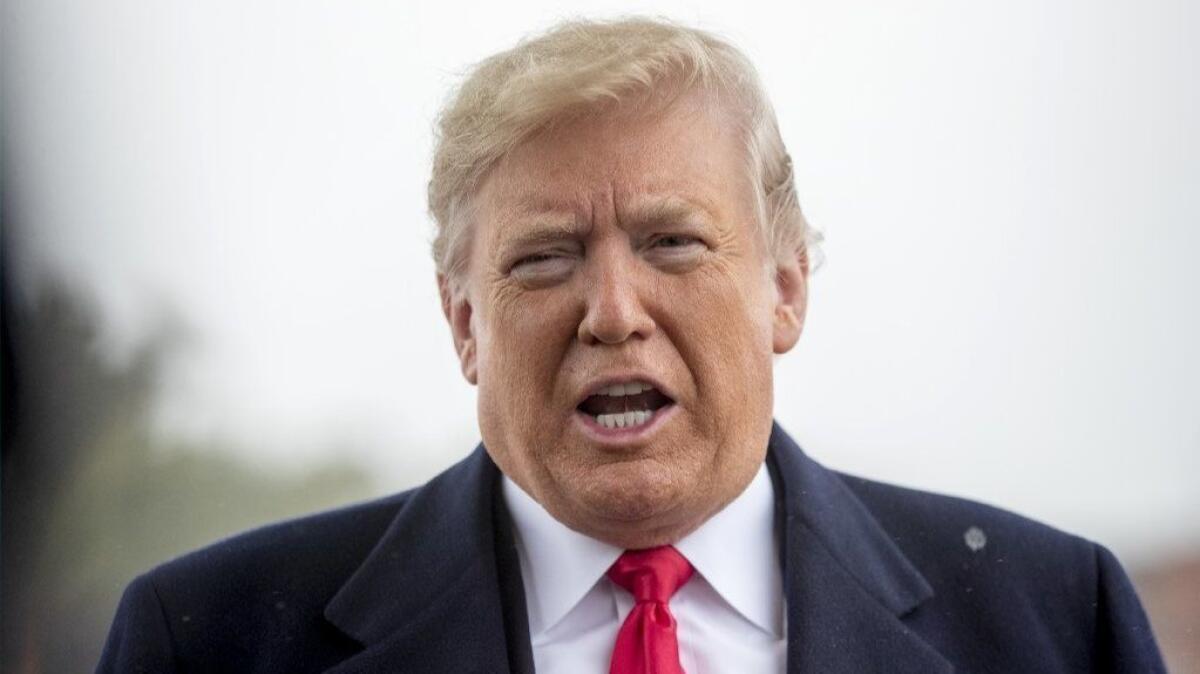 President Trump floats the idea of doing away with birthright citizenship by executive order. Most experts say the 14th Amendment and legal precedent stand in his way.
TOP STORIES
Born in the USA
The U.S. Constitution, the Supreme Court and federal law all say that children born within this country are citizens at birth, regardless of the citizenship status of their parents. President Trump, who's been campaigning intensely against immigration, says he's "in the process" of preparing an executive order to end that birthright. Is it a political stunt, like saying Congress will pass a tax cut before the midterm election Tuesday, even though it's not in session? That's what legal scholars tend to think. As for Trump claiming the U.S. is the "only country in the world where a person comes in and has a baby, and the baby is essentially a citizen"? That's far from true, as more than 30 countries grant birthright citizenship and others have variations on the concept.
More Politics
-- Trump has said he plans to close the southern border, but asylum seekers are already being turned away from border bridges with tactics that some have questioned.
-- In races for House of Representatives seats across the country, Republicans find themselves in an unusual position this year: They're unable to match Democratic spending on ads.
-- Robert S. Mueller III's office has referred to the FBI allegations that women were "offered money to make false claims" about the special counsel, according to Mueller's spokesman.
Two 'Gentle Souls,' Laid to Rest
David and Cecil Rosenthal were brothers — described by those who knew them as "gentle souls." David was orderly, neat and prone to banter. Cecil was a "consummate politician" who knew everyone's business and showed he cared about them. Both were killed when a gunman fatally wounded 11 people at the Tree of Life Synagogue in Pittsburgh. They were among those laid to rest on a day of remembrance (and for some, protest, as Trump and the first lady visited).
Not-So-Hot Property
The housing market in Southern California has gone up, up, up for more than six years. But there are signs it's slowing down beyond the usual autumnal snooze: more listings of homes for sale, fewer closings and something that once seemed unheard of — price reductions. Many experts don't expect a dramatic drop in home prices. Instead, they see it more as a cooling period brought on by rising interest rates.
Law of the Landlords
Another class of real estate investors — the big, institutional kind — are involved in the fight over Proposition 10, which would open the door for local governments in California to impose any form of rent control as they see fit. Eight of the state's top owners of apartment buildings and their related business entities have donated nearly half of the $74 million raised to defeat Proposition 10, according to a Times analysis. Their goal is not just winning in California but also preventing a wave of rent control measures that could follow nationwide.
Sign up to get Today's Headlines delivered to your inbox. »
FROM THE ARCHIVES
As Halloween neared in 1960, the presidential campaign season was in full swing, with John F. Kennedy and Richard M. Nixon locked in a tight race. How better to get out the vote than … Nixon Now costumes?
MUST-WATCH VIDEO
-- Will the real Sherlock Holmes please stand up?
CALIFORNIA
-- Southern California Edison said its electrical equipment probably sparked at least one starting point in the massive Thomas fire that ravaged Ventura and Santa Barbara counties late last year.
-- L.A. County leaders have declared a shelter crisis. The move will give the L.A. Homeless Services Authority more flexibility in how it may spend $81 million in newly available state money for the homeless.
-- An audit has found the state spent $4 billion on Medi-Cal coverage between 2014 and 2017 for people who may not have been eligible for the government-funded health plan.
-- Emely Ramirez, 6, was shot when her mom stopped at a gas station and she got caught in the crossfire of people shooting from two cars. She has been through so much since.
HOLLYWOOD AND THE ARTS
-- Records show Los Angeles County prosecutors have decided not to charge actor Sylvester Stallone in connection with decades-old sexual assault allegations.
-- Barbara Crampton, Jessica Harper and Heather Langenkamp brought some of horror's most memorable heroines to life. Now, they reflect on the scary movies that changed their careers.
-- In the dark CBS All Access series "Tell Me a Story," fairy tales such as "The Three Little Pigs," "Little Red Riding Hood" and "Hansel and Gretel" are re-imagined in present-day Manhattan.
-- A chat with Kathleen Zellner, the attorney who has "Making a Murderer" devotees talking.
NATION-WORLD
-- Prison officials say James J. "Whitey" Bulger Jr., a Boston mobster who topped the FBI's most-wanted list and was found quietly living as a fugitive in Santa Monica in 2011, has died in prison at age 89.
-- The Pittsburgh shooting has exposed a rift in Israel, which doesn't recognize all Jewish denominations.
-- Mexican President-elect Andres Manuel Lopez Obrador is hoping to reassure edgy investors and business leaders alarmed about his decision to cancel the capital's $13-billion airport project.
-- After discovering more than 2,600 planets, NASA's Kepler space telescope is headed for retirement.
BUSINESS
-- China has a big weapon that it hasn't used in the trade war yet: tourists. Meanwhile, the next round of tariffs means that American consumers could pay a lot more for popular goods such as Apple iPhones and Nike shoes.
-- Jack in the Box franchisees have grown increasingly troubled about the financial health of the San Diego chain and are demanding input on corporate decisions.
SPORTS
-- USC football coach Clay Helton says he felt "no pressure" from above to shake up the coaching staff after the team struggled.
-- Agree or disagree? Making baseball better doesn't necessarily mean making the game shorter.
Check out our "Arrive Early, Leave Late" podcast. This week's topics: the World Series, the state of the Dodgers and the hazards of working in a locker room.
OPINION
-- Trump's shameful attack on birthright citizenship is probably a political ploy. But what if it's not?
-- Columnist Gustavo Arellano's preelection message: Democrats, don't assume Latinos will turn out to vote, and don't count on them supporting you if they do.
WHAT OUR EDITORS ARE READING
-- Vice President Mike Pence held a rally, asking for a prayer from Rabbi Loren Jacobs, "a leading figure in the denomination colloquially known as Jews for Jesus." (New York Times)
-- The poetry of Ursula K. Le Guin, a writer who refused to be pigeonholed. (Poetry Foundation)
-- It's been 80 years since Orson Welles' broadcast of "War of the Worlds," but don't believe the "mass panic" stories. (Gizmodo)
ONLY IN CALIFORNIA
A Simi Valley adult-film producer says a politician from New Hampshire assaulted him after having trouble, uh, performing scenes in an apocalyptic-themed porn film. The lawmaker says he's the victim of an extortion attempt. Sound like the plot of a movie? It's not.
If you like this newsletter, please share it with friends. Comments or ideas? Email us at headlines@latimes.com.
Sign up for Essential California for the L.A. Times biggest news, features and recommendations in your inbox six days a week.
You may occasionally receive promotional content from the Los Angeles Times.