Newsletter: Today: Voting Early and More Often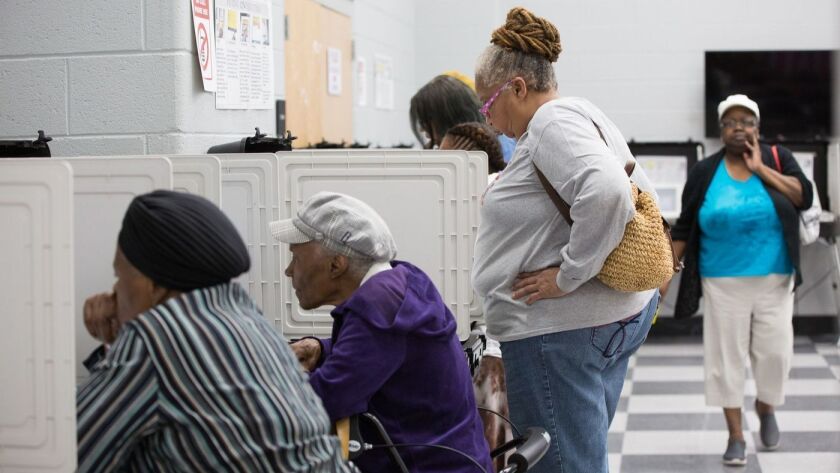 The ballots for the midterm election are already rolling in. But what does it mean?
TOP STORIES
Voting Early and More Often
Election day is Tuesday, but nearly 25 million Americans have already decided to — in infomercial speak — act now, before it's too late. They've cast early ballots in the midterm election, which is usually a snoozefest compared with a presidential election. Eighteen states have surpassed their early-vote totals from 2014, the last midterm; Arizona, Colorado, Nevada and Texas could surpass the total votes cast in 2014 before the big day even gets here. Politics writer Mark Z. Barabak delves into what the numbers mean.
With Supporters Like These …
David Brayton of Santa Clarita has posted dozens of racist, anti-Semitic and anti-Muslim comments on Facebook. He's promoted violence against journalists he sees as hostile to President Trump and called on citizen militias to turn their weapons on left-wing protesters. He's also featured in a TV ad for Rep. Steve Knight, praising the Republican congressman from Palmdale for helping him get a lung transplant. The disclosure could complicate Knight's attempt to fend off Democratic challenger Katie Hill in their close election battle next week.
Island of Despair
Less than four years ago, Sri Lanka was a bright spot among Asian democracies. Today, it is embroiled in a political crisis that many fear could spell the end of democratic rule. When Sri Lanka's president fired Ranil Wickremesinghe as prime minister last week and replaced him with its former strongman, Wickremesinghe simply refused to leave the official residence, initiating a standoff over who's in charge.
The Creeping Terror
In the area around the Salton Sea, scientists have long been concerned about the Big One along the San Andreas fault. These days, they're trying to figure out the Slow One — a muddy spring that's creeping toward railroad tracks, a highway and other infrastructure. Though it's moving literally at a snail's pace, the muddy spring has been picking up speed, and scientists aren't sure why.
Drip, Drip, DROP
For some L.A. city firefighters and police officers who hit retirement age at 50, it's a no-brainer: collecting a paycheck and a pension, even if they're out on disability or sick. After The Times wrote about the Deferred Retirement Option Plan this year, city leaders have been reassessing it step by step. The latest: A city report has found that a proposal to limit the amount of paid time off in the DROP program could save nearly $13 million in the first year.
Sign up to get Today's Headlines delivered to your inbox. »
FROM THE ARCHIVES
Today, you can get The Times delivered by email. Sixty-two years ago, it was by horseback — at least in Carbon Canyon. A story in the Nov. 1, 1956, Los Angeles Times reported: "The age of internal combustion hasn't caught up yet with 14-year-old Jim Fitzgerald of Sleepy Hollow."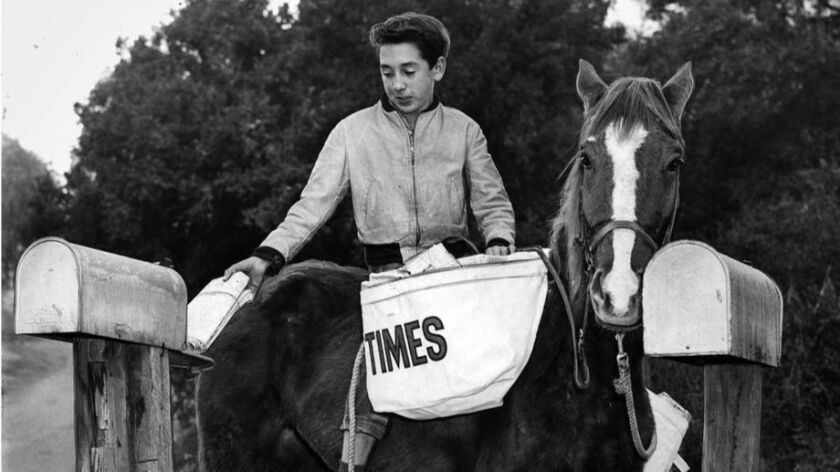 CALIFORNIA
-- LAPD Assistant Chief Jorge Villegas was accused of having improper sexual relationships with officers under his command shortly before his sudden retirement last week, sources have told The Times.
-- State officials have abolished a long-criticized Compton water district and appointed the L.A. County Department of Public Works to take over.
-- In East L.A., more than 200 students gathered at a cemetery to build altars for the Day of the Dead while exploring the importance of family and ancestors.
-- San Diego will pay nearly $1.5 million to settle two lawsuits involving exotic dancers who say their constitutional rights were violated during strip club raids.
HOLLYWOOD AND THE ARTS
-- The L.A. Film Festival won't be back. Its organizer, Film Independent, plans to shift its resources into more year-round events.
-- Netflix will put three of its big upcoming releases in theaters for exclusive periods, breaking from its streaming-centric strategy.
-- Oscar-winning actress Cate Blanchett plays 13 characters, each spouting a manifesto, in a multi-channel film installation opening in L.A. this weekend.
-- Composer Steve Reich reflects on 30 years of Minimalism and his new L.A. Phil world premiere.
NATION-WORLD
-- Under pressure from Congress, the Trump administration called for a cease-fire in Yemen's bitter civil war for the first time.
-- Officials have identified a Mafia hit man as a suspect in the killing of James "Whitey" Bulger, the 89-year-old former Boston mobster who was beaten to death in a West Virginia prison.
-- The Supreme Court of Pakistan has acquitted a Christian woman who had been sentenced to death in 2010 for insulting the Prophet Muhammad. The ruling has set off protests and threats of violence.
-- India just unveiled the world's tallest statue, and you might be surprised whom it depicts.
BUSINESS
-- Brian Williams' late-night show, "The 11th Hour," has given him a voice in the national conversation again, something that 3½ years ago would've been hard to believe.
-- Tesla delivered an awesome earnings surprise. How come no one saw it coming? Perhaps that will be revealed in its 10-Q report.
SPORTS
-- The Dodgers say the team and pitcher Clayton Kershaw have agreed to extend the deadline on his decision whether to opt out of his contract to 1 p.m. Friday.
-- The Lakers narrowly escaped with a victory against the Mavericks, winning 114 to 113, in a game they led by 18 points in the first half.
OPINION
-- Get up and vote. Don't sit there and let the country fall into chaos.
-- Research shows that when local law enforcement agencies partner with Immigration and Customs Enforcement, it produces significant harm to children, schools and communities.
WHAT OUR EDITORS ARE READING
-- The debate over how to cover migrants and Trump's preelection pronouncements. (CNN)
-- What's Rudy Giuliani been up to in Russia, Armenia and Ukraine? (ProPublica)
-- How did the Victorian mansion end up becoming the quintessential haunted house? (JSTOR Daily)
ONLY IN L.A.
They have names like Guerrilla Tacos, Porridge + Puffs, Banh Oui, Burgers Never Say Die and Trudy's Underground Barbecue. For the last few years, they've been among the crème de la crème of L.A.'s food truck and pop-up scene. But operating out of a clunky truck or a backyard can only take you so far, which is why these nonconformists are opening up their own bricks-and-mortar establishments.
If you like this newsletter, please share it with friends. Comments or ideas? Email us at headlines@latimes.com.
---