Newsletter: Today: Like Talking to a Wall?
President Trump went prime time to make his case for a wall. The Democrats gave their rebuttal. Did it change anyone's mind?
TOP STORIES
Like Talking to a Wall?
President Trump delivered his first Oval Office address in prime time to try to get the public behind his push for $5.7 billion for a wall along the border with Mexico. Speaker of the House Nancy Pelosi and Senate Minority Leader Charles E. Schumer made their rebuttal, saying it was time to end a partial government shutdown first and discuss border security later. As political theater, neither side delivered a breakout performance; in fact, all three looked downright stiff on camera. With Trump's speech, the president aimed to put pressure on Democrats, but his more immediate problem is the need to shore up support among Republicans. Several GOP senators have begun calling for an end to the shutdown, which is threatening to become the nation's longest and is putting the pinch on workers across the country. So did last night's speeches change anyone's mind? Probably not. Here's why, along with four more key takeaways.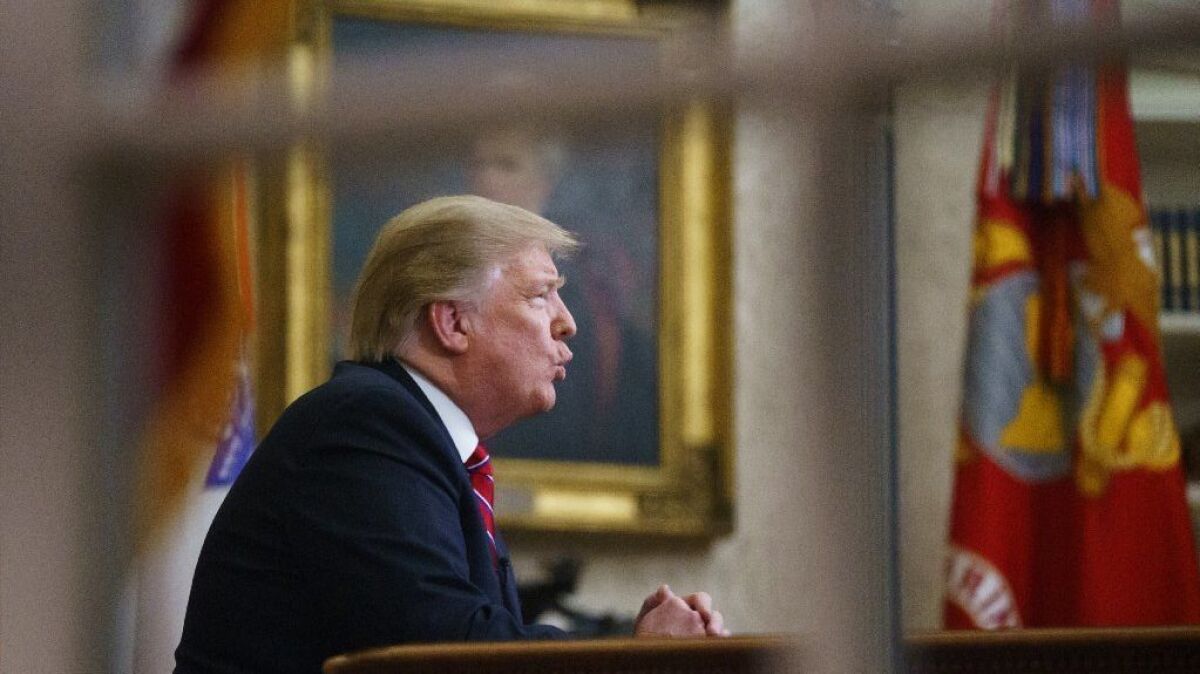 Mission (Impossible?) in the Middle East
Top Trump administration officials have embarked on a mission in the Middle East that's difficult at best: to explain the president's inconsistencies on plans to withdraw U.S. troops from Syria and to reassure allies. Secretary of State Michael R. Pompeo is traveling to eight countries. On his first stop in Jordan, he reaffirmed America's commitment to countering Iran, after Trump recently said that Iran "can do what they want" in Syria. Meanwhile, in Turkey, national security advisor John Bolton was rebuffed by President Recep Tayyip Erdogan, who said Bolton had made a "very serious mistake" by demanding protection for U.S.-backed Kurdish fighters in Syria.
More Politics
-- Trump raised hopes for an end to the trade war with China, tweeting that talks between U.S. and Chinese officials were "going very well." Perhaps a more reliable indicator was that the two-day talks were extended to a third day.
-- Paul Manafort, Trump's former campaign chairman, apparently shared polling data during the 2016 presidential campaign with Konstantin Kilimnik, a business partner in Ukraine who allegedly has ties to Russian intelligence, according to a court filing.
-- Russian lawyer Natalia Veselnitskaya, whose role at a 2016 meeting at Trump Tower has come under scrutiny from special counsel Robert S. Mueller III, has been charged in a separate case with obstructing justice in a money-laundering investigation.
-- The Supreme Court refused to shield a mystery foreign company from Mueller's investigation into Russian election meddling.
The Ultimate Test
Officials from the L.A. Unified School District and United Teachers Los Angeles union are expected to give negotiations one more try today before Thursday's planned strike — though that date may change because of legal wrangling. Still, both sides are stating their cases, as some families ponder the disruption that a strike would bring to their lives. Supt. Austin Beutner argues that a strike would only hurt the students, while members of the teachers union have gone beyond the standard talking points to explain why they're ready to walk out. Who's right? Columnist Steve Lopez puts it this way: "Both sides, to a point."
The 'Underbelly of Gay Culture and West Hollywood'
In West Hollywood, a city known for its activism and protests, two apparent overdose deaths of black men in the last two years at the apartment of longtime Democratic political donor Ed Buck have prompted uncomfortable conversations and questions about race, class and drug abuse within the LGBTQ community.
Sign up to get Today's Headlines delivered to your inbox. »
CALIFORNIA
-- After the deadliest year of wildfires in state history, Gov. Gavin Newsom proposed spending $305 million to speed up the removal of dry forest and brush, expand emergency crews and modernize 911 systems.
-- Officials said Joshua Tree National Park would close to visitors for the duration of the federal government shutdown, then walked that back later Tuesday to say the park would reopen by week's end.
-- The Mira Loma Women's Detention Center project has been in development for years. Now it's facing serious opposition from key stakeholders who are demanding more therapeutic alternatives.
-- A three-judge panel of the U.S. 9th Circuit Court of Appeals has ruled that a law barring immigrants in the country illegally from owning guns does not violate the 2nd Amendment.
HOLLYWOOD AND THE ARTS
-- What do the Directors Guild Award nominations mean for the Oscars? "Green Book" is up, and "Black Panther" is down.
-- "Schooled" on ABC and "Fam" on CBS show that reports of the death of the sitcom have been greatly exaggerated.
-- Composer Philip Glass' "Symphony No. 12, Lodger, from the music of David Bowie and Brian Eno" will be unveiled by the Los Angeles Philharmonic as a world premiere on Thursday at Walt Disney Concert Hall.
NATION-WORLD
-- U.S. carbon dioxide emissions rose an estimated 3.4% in 2018, according to new research. The increase comes as scientists say the world needs to be aggressively cutting its emissions to avoid the most devastating effects of climate change.
-- North Korean leader Kim Jong Un has issued a veiled warning to Trump with his surprise visit to China this week: He has other options for economic and diplomatic normalization if their rapprochement falters.
-- Officials in Germany say a 20-year-old high school student has admitted stealing private data from nearly 1,000 political leaders, journalists and celebrities and publishing the information online because he was annoyed by their views.
-- An 18-year-old Saudi woman who publicly staved off deportation from Thailand has been declared a refugee by the United Nations and is being referred to Australia.
BUSINESS
-- Google will lease nearly all of the Westside Pavilion. The indoor mall is being transformed into office space.
-- Ailing 95-year-old media mogul Sumner Redstone and his family have reached a settlement to end their lengthy legal dispute with his former live-in companion, Manuela Herzer.
SPORTS
-- That was fast: The Arizona Cardinals have hired USC offensive coordinator and quarterbacks coach Kliff Kingsbury, who was employed at the university for about a month.
-- Murry Bartow, the interim head coach for the UCLA men's basketball team, has a unique perspective on the program. After all, his dad succeeded John Wooden as head coach back in the 1970s.
OPINION
-- An L.A. Unified strike would make a messy situation even worse.
-- Shutdowns reinforce the widely held belief that "government is broken."
WHAT OUR EDITORS ARE READING
-- "It's the president's right to address the nation": How TV networks decided to give Trump his prime-time platform. (Washington Post)
-- The "lost children" in the late Indian spiritual leader Bhagwan Shree Rajneesh's ashram. (Aeon)
-- In African American art, forgeries are becoming an increasingly common problem. (The Art Newspaper)
ONLY IN L.A.
When architect Lloyd Wright, son of Frank Lloyd Wright, designed the Sowden House in Los Feliz, he created a distinctive showplace for Hollywood types who loved to party. More than 90 years later, the Mayan-themed house will serve as the stage for two public performances this weekend — featuring dancers in flapper dresses, a kinetic sculpture in the pool, live music, film and a man in a cape and bright, feathered headdress.
If you like this newsletter, please share it with friends. Comments or ideas? Email us at headlines@latimes.com.
---