Newsletter: Today: Two Fathers: Divided on Guns, United by Pain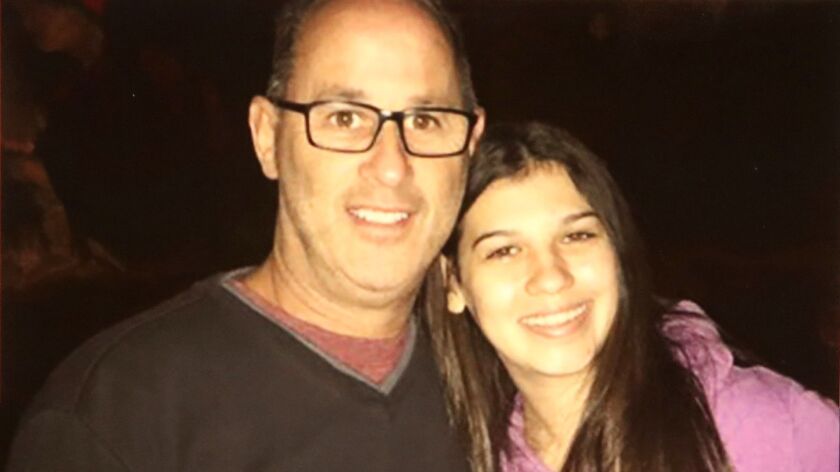 A year after the school shooting in Parkland, Fla., two fathers of the victims show the split over how to prevent similar tragedies.
TOP STORIES
Two Fathers: Divided on Guns, United by Pain
One year ago today, a gunman killed 17 people at Marjory Stoneman Douglas High School in Parkland, Fla. Andrew Pollack lost his 18-year-old daughter, Meadow, in the shooting. Fred Guttenberg also lost a daughter, 14-year-old Jaime, in the massacre. The two fathers are both committed to holding officials accountable for the killings and making schools safer. But how that's done is where they differ sharply. "I don't think about guns too much," said Pollack. "It's too easy to say it's the gun." Guttenberg, however, has made it his mission to destroy the National Rifle Assn. and push for gun reform. "Any other type of weapon, this guy doesn't even get halfway down the first floor," he says. "It's a nonsense argument, the gun lobby argument, and I reject it completely."
Well, That Accelerated Quickly
After Gov. Gavin Newsom announced plans to scale back California's high-speed rail project, President Trump demanded that the state return billions of dollars to the federal government. In a tweet, Trump claimed California had been forced to cancel the project and referred to it as a "green disaster." Newsom fired back on Twitter, decrying what he called "fake news." His plan doesn't call for killing the bullet train, even though the original dream for it is withering. But how did it become the project from hell?
Taking Aim at Huawei
The White House is preparing a sweeping executive order that could bar Chinese companies from selling equipment for use in future U.S. telecommunications networks. Though officials say the order does not mention China or Huawei by name, the main target is the world's largest telecommunications equipment manufacturer. And though Trump administration officials say it has nothing to do with trade negotiations between the U.S. and China, it's sure to inflame tensions between the two.
More Politics
-- A federal judge has ruled that Paul Manafort, Trump's former campaign chairman, lied to special counsel Robert S. Mueller III's prosecutors despite agreeing to cooperate in the Russia investigation. The decision means Manafort will probably be sentenced to prison for the rest of his life.
--The House of Representatives passed a resolution that would force the Trump administration to withdraw U.S. troops from involvement in Yemen. It's a rebuke of Trump's alliance with the Saudi-led coalition behind the military intervention.
-- Can Democrats prevent Trump from using his executive power to build a wall on the border with Mexico? The answer is complicated.
-- Speaking privately, House Minority Leader Kevin McCarthy blamed Republican losses in the midterm election on the GOP push to roll back health insurance protections for people with preexisting conditions.
-- In a combative House hearing, Elliott Abrams, special U.S. envoy for Venezuela, defended the Trump administration's seemingly stalled efforts to oust President Nicolas Maduro.
Policing the Sheriff's Numbers
New L.A. County Sheriff Alex Villanueva says that the jails he now supervises are a dangerous mess and that his predecessor covered up data on jail violence to hide the problem. But many of the numbers Villanueva is using to make his case are known to be unreliable. Several watchdogs who spend time inside the jails say they do not believe the lockups are more turbulent overall, and that the most violent uses of force by deputies have dropped significantly.
Over and Out
The NASA rover named Opportunity was originally designed to last just three months on Mars and travel only 1,100 yards. Instead, it spent 15 years on the red planet and traveled more than 28 miles before Opportunity made its last call to Earth on June 10. Now, engineers have announced with great sadness that the rover has apparently succumbed to a dust storm. But scientists will always have the memories, and the data, from the adventures of Opportunity and its shorter-lived twin, Spirit.
Sign up to get Today's Headlines delivered to your inbox. »
FROM THE ARCHIVES
Today is Valentine's Day, which means plenty of flowers, cards and candy will be exchanged. But as Forrest Gump said, "Life is like a box of chocolates. You never know what you're gonna get." That was certainly true in June 1947, when authorities found 40 sticks of opium "concealed in the lower layer of a two-pound box of chocolates, the upper layer of candy being intact."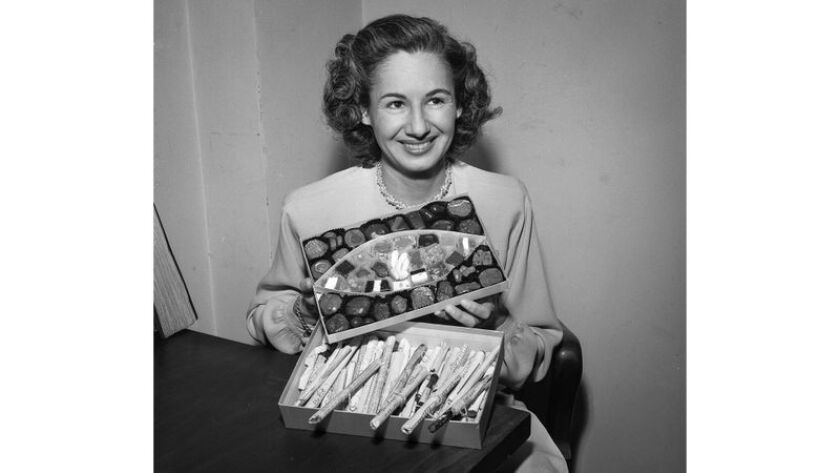 CALIFORNIA
-- Michael Avenatti agreed to relinquish financial control of his longtime law firm hours after a former partner filed papers accusing him of hiding millions of dollars from the court that oversaw its bankruptcy.
-- As federal regulators continue investigating USC's handling of a campus gynecologist accused of sexual abuse, the university is pressing forward with a $215-million class-action settlement with former patients.
-- Three of West Hollywood's five City Council members have called for Mayor John Duran to resign amid allegations that he sexually harassed fellow members of the Gay Men's Chorus of Los Angeles.
-- This week is expected to bring the heaviest rainfall of the season to date. The wet winter has replenished reservoirs and created a strong snowpack after years of drought conditions.
HOLLYWOOD AND THE ARTS
-- The L.A. Phil will perform William Grant Still's "Afro-American Symphony" and "Symphony No. 4" this weekend. Forty years after his death, music from the preeminent African American classical composer of his day is seldom heard.
-- Four Oscar voters shared their super-secret ballots with us. Here's how they're coming to their decisions.
-- Watch the key scenes that helped the lead actors land Oscar nominations this year.
-- Take a virtual tour of the Manhattan Beach studio Lightstorm Entertainment, home of the new film "Alita: Battle Angel" and James Cameron and Jon Landau's upcoming "Avatar" sequels.
NATION-WORLD
-- New Jersey's five Roman Catholic dioceses have listed more than 180 priests who have been credibly accused of sexually abusing minors over a span of several decades.
-- A former Air Force intelligence specialist who defected to Iran has been charged with conspiring to provide U.S. defense information to representatives of that country's government.
-- Iranian state media reported that a suicide bombing killed 27 of the country's elite Islamic Revolutionary Guard members and injured 13 others in the southeast.
-- Lyndon LaRouche Jr., the conspiracy theorist who repeatedly ran for president of the United States, has died at 96.
-- In Poland, the United States opened a highly promoted international conference on peace in the Middle East, but some central players, the Palestinians, were a no-show.
BUSINESS
-- Michael Sanchez, the brother of Jeff Bezos paramour Lauren Sanchez, has emerged as a pivotal figure in a widening scandal involving the world's richest man and the National Enquirer. Here's a closer look at his history and ties to Trumpworld.
-- L.A. financier Thomas J. Barrack Jr., a billionaire with ties to the Mideast and a close Trump ally, has apologized for saying it was a mistake to criticize the murder of Jamal Khashoggi, the journalist killed at a Saudi Arabian consulate last year.
SPORTS
-- Luke Walton's Lakers coaching job is said to be safe after the team's loss this week to the lowly Atlanta Hawks, at least till the end of the season. Plus: In this podcast, NBA writer Brad Turner gives a behind-the-scenes look at the Anthony Davis trade that never happened.
-- With spring training underway, catcher Russell Martin is thrilled to be reunited with the Dodgers.
OPINION
-- People tried to call FDR and the New Deal "socialist" too. Here's how he responded.
-- Columnist George Skelton says Gov. Gavin Newsom is right to apply the brakes to the high-speed rail project.
WHAT OUR EDITORS ARE READING
-- Federal law enforcement officials have reportedly launched an investigation into cases involving students from Saudi Arabia who vanished while facing criminal charges, possibly with the help of their government. (The Oregonian)
-- Several women say musician Ryan Adams offered to help their music careers, then pursued them sexually and in some cases retaliated when they spurned him. He denies the claims. (New York Times)
-- Catching up with Donnie and Joe Emerson, the duo behind a 1979 privately made record that has a cult following. (Longreads)
ONLY IN L.A.
The first Los Angeles edition of the Frieze art fair is opening this weekend to great fanfare. But if you do a Google image search for "Frieze Los Angeles," you will see a lot of pictures of carpet. Is it a Silicon Valley conspiracy? No, that's not how the internet works. It's simply the handiwork of L.A. artist Gretchen Andrew, who used the principles of search engine optimization to get her images to the top of the Google pile.
If you like this newsletter, please share it with friends. Comments or ideas? Email us at headlines@latimes.com.
---