Newsletter: Congress passes bill to avoid government shutdown, but Trump has a surprise in store
As the witching hour approached, Congress reached a bipartisan agreement to fund the federal government, and President Trump offered his own surprise.
TOP STORIES
Barriers but No Wall
The spending bill that Congress approved Thursday night is more than 1,000 pages long and will keep the federal government running through September. It provides $1.375 billion for barriers at the southern border, but no wall. That's less than the $1.6 billion the administration asked for last summer or the $5.7 billion the president demanded in December. The White House said President Trump would sign the legislation, and at the same time declare a national emergency that will allow him to get money for wall construction without congressional approval. Democrats have promised to challenge the move, which is considered a vast expansion of executive power and is certain to be contested in court. Here's what to expect if Trump moves ahead.
More politics: The Supreme Court meets behind closed doors Friday to consider whether the Trump administration will be able to ask American households in the 2020 census whether their occupants are U.S. citizens. State officials and Latino activists believe the question would inhibit responses from immigrant families, leading to a severe undercount. The justices' decision could shape the political power of California for the decade ahead.
— Former acting FBI Director Andrew McCabe confirmed that he authorized an investigation into President Trump's ties to Russia in May 2017, following the firing of FBI Director James B. Comey. "I was speaking to the man who had just run for the presidency, and won the election for the presidency, and who might have done so with the aid of the government of Russia, our most formidable adversary on the world stage, and that was something that troubled me greatly," McCabe said, recalling his first meeting with Trump.
— Officials from the United States, Arab states and Israel met in Warsaw to discuss President Trump's long-promised, secret Israeli-Palestinian peace plan, but ended up focusing on Iran, calling the nation a threat to peace and stability in the Middle East. The strategy — to build on shared enmity toward Iran — is designed to unite major Arab states and Israel and sideline the Palestinians.
The Apostle of the Cacti
In California lore, the story of how John Muir went camping in Yosemite with Teddy Roosevelt is legendary. Their communion in the valley led to the creation of the national park. Decades later, a South Pasadena society matron convinced another president, also named Roosevelt — Franklin Delano — that the desert deserved the same protection. She was Minerva Hamilton Hoyt, and she has been called the Apostle of the Cacti. Her passion arose in the aftermath of losing her infant son and her husband. The peace of the desert was solace from her grief. Reporter Deborah Netburn tells how she discovered the story about "the rich lady from South Pas" who was the driving force behind her beloved Joshua Tree. "Minerva Hamilton Hoyt and I are very different people, separated by time and class," Netburn writes, "but I believe the beauty of the desert spoke to her in the same way it speaks to me."
Community Sheriff-ing
With support from immigrant rights advocates and Latino voters, Alex Villanueva won a narrow victory last fall in the race for L.A. County sheriff. Making good on his election pledges, Villanueva is set to unveil a comprehensive immigration plan that will make it more difficult for federal immigration agents to apprehend immigrants newly released from county jails. "We have to balance the needs of the immigrant community and the community at large," Villanueva told The Times. His decision puts him further at odds with Immigration and Customs Enforcement officials, who under a new policy inaugurated by Villanueva are banned from entering Sheriff's Department facilities.
'Fundamental Fairness'
After a trial court ruling determined that a former USC football player had violated the student code of conduct, a state appellate court reversed the finding, concluding that the player had been denied a fair hearing. When students face "serious discipline," such as suspension or expulsion, the court wrote, a university must permit cross-examination of "adverse witnesses." The decision has prompted many California public and private colleges to halt similar investigations and revise their Title IX procedures, which bans discrimination based on sex at schools that receive federal funding. The move follows an effort at the national level by U.S. Education Secretary Betsy DeVos to strengthen the rights of the accused in sexual misconduct cases.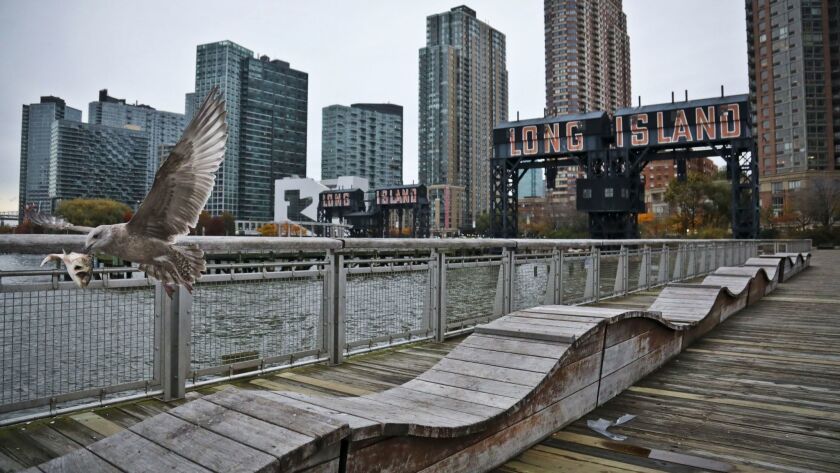 Start Spreading the News
Amazon's decision to scrap plans for building new headquarters in New York City is being cheered by local politicians and advocacy groups, who objected to the subsidies that had been offered to the online retail giant. "Today was the day a group of dedicated, everyday New Yorkers & their neighbors defeated Amazon's corporate greed, its worker exploitation and the power of the richest man in the world," wrote Rep. Alexandria Ocasio-Cortez, a Democrat whose district neighbors the one containing Amazon's proposed New York site. Meanwhile, in Virginia, Gov. Ralph Northam signed a law last week authorizing up to $750 million in state subsidies for the Amazon facilities there. Columnist Michael Hiltzik argues that the reversal in New York "reinforces the giant company's reputation as a grasping bully that cares little for the communities where it operates."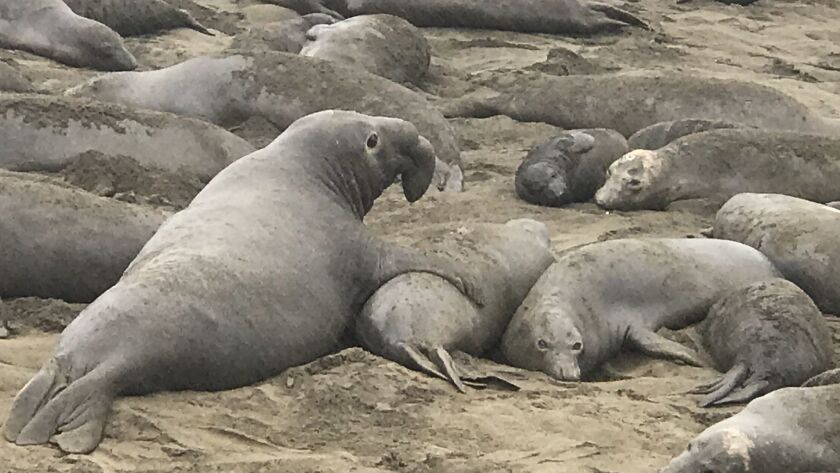 One of California's Great Natural Spectacles
Tired of "politics, partisanship and made-up national emergencies," columnist Robin Abcarian visited the sea elephant colony at Piedras Blancas Beach. These "moving mountains of blubber," akin to "a lurching waterbed with the face of an elephant," didn't disappoint. Males grunted. Females hollered and squealed. Pups screeched. "It was like watching a slo-mo Roman orgy, minus the arms and legs," Abcarian writes.
FROM THE ARCHIVES
On this date in 1898, the battleship Maine exploded in Havana Harbor, killing more than 260 people and leaving an enduring mystery into who was behind it. The incident helped propel the United States into the Spanish-American War.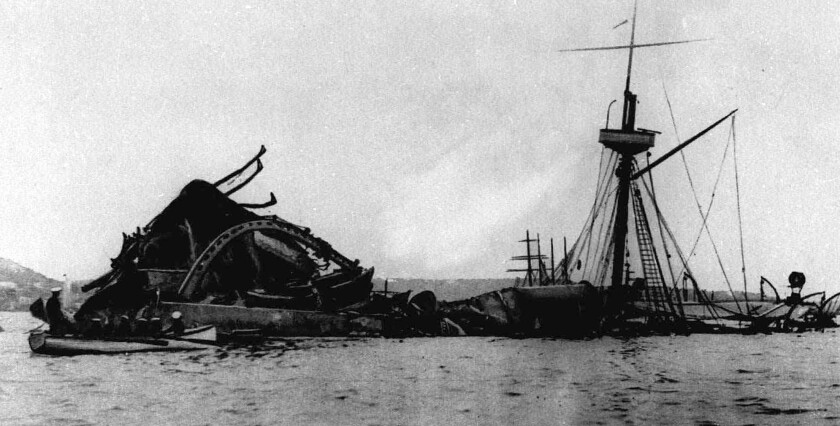 Sign up to get Today's Headlines delivered to your inbox. »
CALIFORNIA
— The atmospheric river pounded Northern California before drenching the Southland. About 3.5 inches of rain fell in Riverside and Orange counties by late Thursday morning, sending rivers of mud down creeks in the Holy fire burn area. Forecasters announced that with the formation of an El Nino pattern in the Pacific, there's a chance more rain and warmer weather will continue through April.
— After being assigned to home duty when his unmarked car was found crashed and abandoned in South L.A., a Los Angeles police commander enrolled in the Deferred Retirement Option Plan, a controversial retirement program that allows city police officers and firefighters to collect twice their usual pay.
— The field is getting crowded for the 2nd District seat on the L.A. County Board of Supervisors being vacated by term-limited Supervisor Mark Ridley-Thomas. State Sen. Holly J. Mitchell announced that she is entering the race, raising the prospect that Los Angeles County could soon be governed by an all-female board.
— A triple murder brought Newport Beach police and Orange County Sheriff's Department investigators to a gated community just south of UC Irvine. Residents spoke about how safe the neighborhood was.
YOUR WEEKEND
— Restaurant reviews: At Teddy's Red Tacos, Tijuana-style birria takes its place in the beef canon, while at Porridge + Puffs, rice is Minh Phan's canvas for sophisticated self-expression.
— Hoping to summit Mt. Whitney? This year's online lottery for a trail permit, delayed by the 35-day partial federal government shutdown, has been rescheduled for Feb. 22.
HOLLYWOOD AND THE ARTS
— The nudity and sex scenes in the play "Linda Vista" — now at the Mark Taper Forum — left the audience gasping, but the actors want everyone to know that they're comfortable with it. "We've come to a place where frank conversations are necessary," said Cora Vander Broek, one of the female leads.
— Faced with a budget shortfall of $200,000 and allegations of sexual misconduct within its ranks, the board of directors of the Gay Men's Chorus of Los Angeles decided not to dissolve the group and try instead to close the gap with donations.
NATION-WORLD
— Striking teachers in Denver decided to end their three-day walkout after Denver Public Schools agreed to raises of 7% to 11% with cost-of-living increases. The teachers union also announced that the key sticking issue — bonuses for educators in high-poverty and high-priority schools — will be studied.
— In a scathing audit of the Education Department's student aid office, the inspector general confirmed long-standing criticism that the agency has failed to keep watch over contractors servicing a portfolio of $1.4 trillion in student loans. The Education Department rejected the findings.
— In February 2015, a slightly built London schoolgirl boarded a flight from Gatwick to Istanbul, a journey that would eventually take her into the heart of Islamic State. Once viewed as a child-victim of a cult-like group, that schoolgirl now lives in a squalid refugee camp in northern Syria, is nine months pregnant and wants to return home to Britain.
— American and Chinese officials met in Beijing for high-level trade talks in an effort to reach a deal to end the bruising trade war. On March 1, U.S. tariffs on $200 million in Chinese goods are due to rise from 10% to 25%. The timing might work in U.S. favor with China's economy slowing.
BUSINESS
— Airbus SE announced that it will stop manufacturing the A380 double-decker jumbo jet by 2021. The prestige project was popular with passengers and politicians but not with airlines that preferred smaller, more fuel-efficient aircraft. Experts argue that these big planes are the dinosaurs of the sky.
— A coalition of Northern California cities and counties is calling on the state to remove Pacific Gas & Electric from the business of buying and selling electricity, a move that would allow the company to do a better job of preventing wildfires.
— Not long after President Trump urged the Tennessee Valley Authority to keep one of two aging coal-fired power plants open, the agency voted overwhelmingly to close both of them. "It is not about coal," said TVA's chief. "This decision is about economics."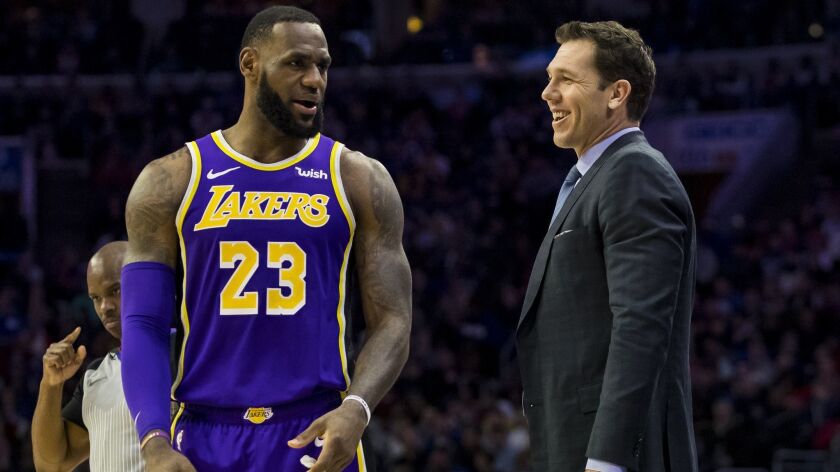 SPORTS
— Bill Plaschke thinks it's a good idea for the Lakers to keep Luke Walton as head coach for the rest of the season. "Whether or not you think Walton is the right coach for this team is secondary to the symbolism found in his retention," Plaschke writes. By retaining Walton, Jeanie Buss showed she was not going to be bullied.
— Ex-Dodgers Yasiel Puig, Matt Kemp and Alex Wood now form the nucleus of the new-look Cincinnati Reds. Puig talked openly about his former team. He bears no ill will toward manager Dave Roberts or the analytically driven front office of Andrew Friedman, and is happy to remind them of the titanic home run he hit off Boston Red Sox pitcher Eduardo Rodriguez in Game 4 of the World Series.
OPINION
— In threatening to declare a national emergency at the border, President Trump is borrowing from the playbook of president-turned-dictator Ferdinand Marcos. The late leader of the Philippines once claimed in his diary to be doing God's bidding in imposing martial law.
— Even as Congress takes up legislation requiring mandatory background checks for all gun purchases, legislators need to realize that it is not enough. They need to enact even more comprehensive limits on gun use.
WHAT OUR EDITORS ARE READING
— Robert A. Caro, Pulitzer Prize-winning biographer of President Johnson, reveals how he got started on a project that has consumed more than 40 years of his life. (New Yorker)
— The story of Todd Marinovich — football prodigy, drug addict, artist — never gets old. At 49, he looks back on his life, his abusive father and all the what-ifs. (Sports Illustrated)
— On Feb. 26, Grand Canyon National Park celebrates its centennial. President Theodore Roosevelt declared it "one of the great sights every American should see," but it wasn't always considered so grand. (The Conversation)
ONLY IN L.A.
"I finally nabbed him," said Miriam Lopez after posing with her new husband in the offices of the Los Angeles County registrar-recorder/county clerk. The couple were among scores of Angelenos who descended on the bureaucratic stronghold in Norwalk for a same-day, no-frills wedding on the most romantic day of the year. Every year on Feb. 14, more than 250 couples tie the knot at registrar-recorder's offices throughout the county, making Valentine's Day four times more popular than any other date. Other contenders? Aug. 8 and Oct. 10 — for numerical symmetry — and New Year's Eve. "Some people might say it's cheesy, but it's special," said Henry Escalera, the object of Lopez's affection.
If you like this newsletter, please share it with friends. Comments or ideas? Email us at headlines@latimes.com.
---