Newsletter: Today: Big Campaign Brother Is Watching You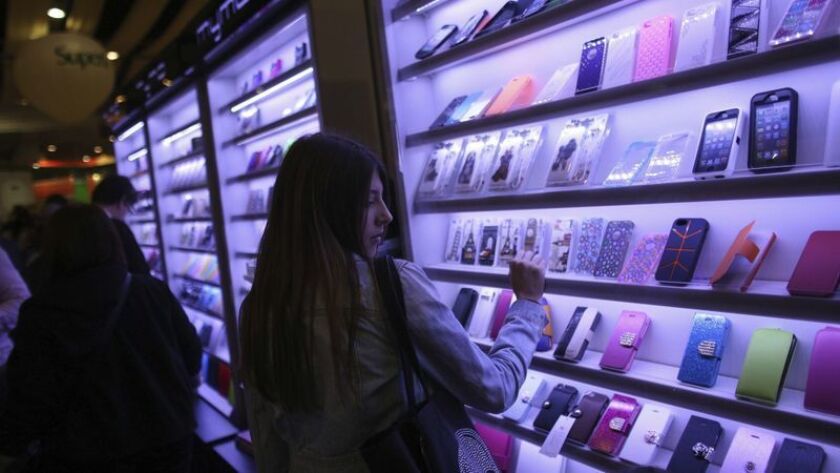 Welcome to the brave new world of campaigning, where your trip to the grocery store or favorite TV show can make its way to a political candidate's war room.
TOP STORIES
Big Campaign Brother Is Watching You
It sounds like a paranoiac's worst nightmare, but the reality today is that smartphones and smart TVs are paying attention to where you go and what you watch. That, in turn, is a data broker's dream. And, as we barrel toward the 2020 campaign season, it represents a new frontier in selling political candidates to voters. These days, if you go to a political rally, a town hall, or just fit a demographic a campaign is after, chances are good your movements are being tracked with unnerving accuracy by data vendors on the payroll of campaigns.
Russian Saber Rattling
Is the U.S. on the verge of another arms race with Russia? After the Trump administration said it was withdrawing from the landmark 1987 Intermediate Nuclear Force Treaty because Moscow is violating it, Russian President Vladimir Putin this week ramped up his rhetoric: If the U.S. bases intermediate-range missiles in Europe, he says he'll respond by deploying new weapons that could directly target Washington. Given that Russia already has a sizable nuclear arsenal theoretically capable of striking the U.S., Putin's comments may be "predictable bluster," as one former Pentagon official put it, and may also be aimed at boosting Putin's sagging approval ratings.
The Train Fight to Nowhere?
Can President Trump take back federal money for California's high-speed rail project? The experts say his administration is in uncharted legal territory with a decision to cancel a $929-million grant and attempt to claw back $2.5 billion in funds already spent. The funds at stake represent about one-fourth of all the funding the project has on hand today.
More Politics
-- Speaker Nancy Pelosi says the House will vote in the coming days on a resolution disapproving Trump's emergency declaration to build a wall on the U.S.-Mexico border.
-- Deputy Atty. Gen. Rod Rosenstein is expected to step down in mid-March, while special counsel Robert S. Mueller's investigation into Russian election interference is said to be wrapping up.
-- The White House is working to assemble a panel to assess whether climate change poses a national security threat. It's being spearheaded by an emeritus professor of physics at Princeton who's said that carbon emissions should be viewed as an asset rather than a pollutant.
The Real Stars of 'Tehrangeles'
Every Tuesday for 26 years, a group of men has gathered at a restaurant in "Tehrangeles," the Persian community in Westwood, to relive their glory days before the Islamic Revolution of 1979. Back in Iran, they were actors, comedians, film editors and theater owners. But politics drove them far from home — and from showbiz. This week's Column One drops in on one of their meetings.
Sign up to get Today's Headlines delivered to your inbox. »
FROM THE ARCHIVES
On this date in 1972, Richard M. Nixon became the first American president to visit China, on a trip that would be widely regarded as his greatest triumph. It was a political image maker's dream: the hard-line anti-communist visiting the world's largest communist country and pronouncing it fit for relations with the United States. Four months later, a break-in at Democratic headquarters at the Watergate would set into motion the events that would eventually lead to Nixon's resignation.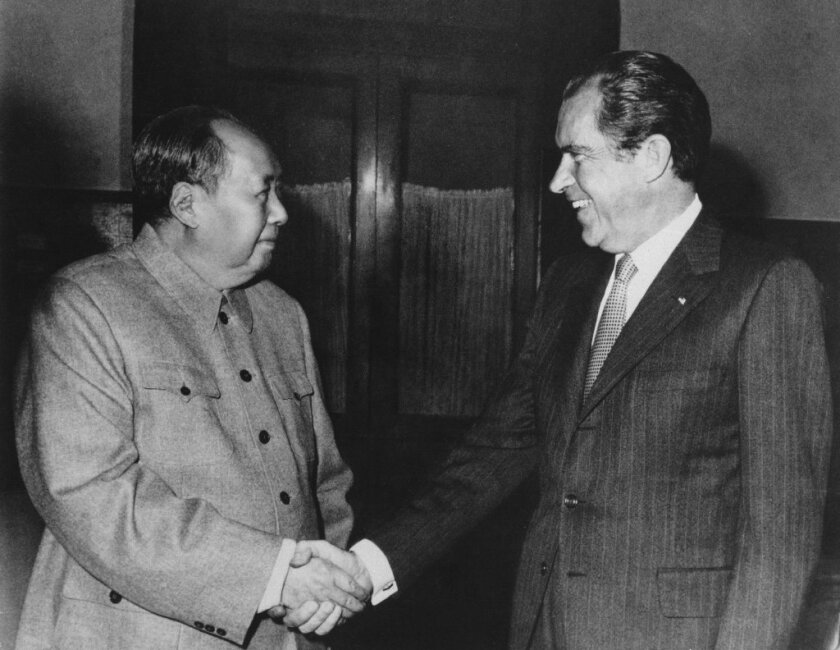 CALIFORNIA
-- A top Democratic lawmaker says negotiations between the Trump administration and the state aimed at resolving a dispute over fuel-economy standards have broken down completely.
-- Oakland teachers are poised to strike this morning. They're the latest group of educators to demand better wages, smaller class sizes and stronger support staff by walking out of schools.
-- A Colorado man suspected in the 1973 slaying of 11-year-old Linda Ann O'Keefe in Newport Beach has been arrested. DNA and social media helped lead police to the suspect.
-- In a claim seeking $20 million from South Pasadena, the mother of Vanessa Marquez says poor tactics, negligence and overreaction on the part of police led to the actress' fatal shooting last year.
HOLLYWOOD AND THE ARTS
-- When "Leaving Neverland" premiered at the Sundance Film Festival, it sparked outrage from Michael Jackson fans who refuse to believe he molested Wade Robson and James Safechuck when they were boys. Here, the men discuss what it's been like going public.
-- Countdown to Sunday's Oscars: "Roma" has called attention to the plight of Mexico's domestic workers.
-- "Empire" actor Jussie Smollett has been charged with disorderly conduct for allegedly filing a false police report in Chicago.
-- "I believe in white supremacy": John Wayne's notorious 1971 Playboy interview went viral on Twitter and inspired some heated debate.
NATION-WORLD
-- A U.S. Coast Guard lieutenant and self-identified white nationalist has been arrested after federal investigators uncovered a cache of weapons and ammunition in his Maryland home. Authorities say he was planning to launch a massive domestic terrorist attack targeting politicians and journalists.
-- The Supreme Court strengthened the rights of Americans to fight police seizures of vehicles and other property, ruling the 8th Amendment's ban on "excessive fines" applies to states and localities, not just the federal government.
-- Mexican officials have stopped a caravan of Central American migrants at the Texas border and sent them to other cities.
-- In an effort to stop the left, Israeli Prime Minister Benjamin Netanyahu has persuaded three fringe parties of the extreme right to form an alliance by promising them two prime seats in a future Cabinet.
-- Archaeologists in the United Kingdom say they have traced dozens of Stonehenge's massive rocks to two quarries in west Wales, 180 miles away.
BUSINESS
-- Amid growing worries about a slowing economy, Federal Reserve officials indicated at their meeting last month that they plan to stop paring back "quantitative easing," a key stimulus program put in place amid the Great Recession.
-- Samsung Electronics has premiered its most extensive lineup of smartphones, taking on Apple Inc. with new low-end and premium models, including a $1,980 phone that opens up into a tablet.
SPORTS
-- "I love being uncomfortable": LeBron James knows the Lakers' playoff push won't be easy.
-- The Dodgers' Max Muncy is coming into spring training this season with a different feel.
OPINION
-- The Trump administration wants to raise the height of Shasta Dam. It'd do more good putting that money toward watershed and forest restoration.
-- Asian Americans may graduate from college at higher rates than white Americans, but they face a "bamboo ceiling" at work.
WHAT OUR EDITORS ARE READING
-- The Australian government has recognized the extinction of a tiny island rodent, the Bramble Cay melomys, as the first known demise of a mammal because of human-induced climate change. (Sydney Morning Herald)
-- CNN is defending its hiring of a former Department of Justice spokesperson and GOP political operative with no journalistic experience to help lead its 2020 political coverage. (Vox)
-- Meet Hippocamp, the newest known moon of Neptune. (National Geographic)
ONLY IN CALIFORNIA
It may not be a national treasure, but a 105-year-old Gothic Tudor estate in San Francisco that was once owned by Nicolas Cage is back on the market. The actor bought the four-story home in 2006 as part of a multi-year spending spree that saw him purchase an island in the Bahamas, a manor in Rhode Island and castles in England and Germany. He sold it two years later as the Internal Revenue alleged that he failed to pay millions in income tax. Asking price now: $10.95 million. Chances are it won't be gone in 60 seconds.
If you like this newsletter, please share it with friends. Comments or ideas? Email us at headlines@latimes.com.
---