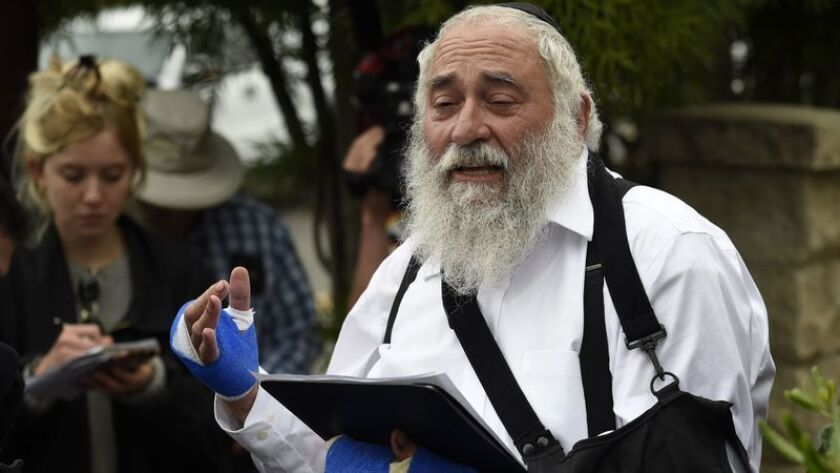 A rabbi recounts this weekend's shooting at a Poway synagogue and his friend who died in gunfire.
TOP STORIES
'Lori Took the Bullet for All of Us'
A deadly shooting at a house of worship. An anti-Semitic manifesto. A community shaken. In an all-too-familiar scenario, a 19-year-old man entered Chabad of Poway on Saturday and opened fire, killing congregant Lori Gilbert-Kaye and wounding Rabbi Yisroel Goldstein, an 8-year-old girl and her uncle. "Miraculously, the gun jammed," said Goldstein, his hands in bandages, the day after. He described how an Army veteran chased after the gunman and an off-duty Border Patrol agent, who was also in the synagogue and was armed, fired at the gunman's car as he drove away. Not long after he was shot, Goldstein saw his longtime friend Gilbert-Kaye lying unconscious on the lobby floor. "Lori took the bullet for all of us," he said. The brutal act on the last day of Passover came exactly six months after a gunman killed 11 people and wounded seven others at the Tree of Life synagogue in Pittsburgh — and amid an increase in anti-Semitic incidents nationwide, according to the Anti-Defamation League.
For more from Poway, read today's edition of the Essential California newsletter. Reporter Julia Wick interviews people of various faiths there who are grappling with what happened and why. Sign up to receive Essential California every Monday through Saturday.
The State of the Secretary of State
When he took over a troubled State Department a year ago, Secretary of State Michael R. Pompeo promised to restore its "swagger." He also vowed to raise morale, fill vacant posts, oversee more transparent diplomacy and allow greater access to his decision-making. Today, scores of key ambassadorships and other senior posts remain unfilled. Pompeo has named political appointees to positions normally held by foreign service officers. And at times, he has injected his Christian evangelical faith into policy, overshadowing other human rights concerns. Amid the shift to "America first" priorities have come few policy victories.
More Politics
-- Sen. Lindsey Graham, the Republican chairman of the Senate Judiciary Committee, is pushing back at Democrats who want the House to consider impeachment proceedings for Trump, saying the president did "nothing wrong."
-- As he prepares this week to testify to Congress, Atty. Gen. William Barr's reputation as a law-and-order prosecutor is under fire by critics who say he acted more like a partisan advocate for Trump than the nation's top law enforcement official.
-- Former Indiana Sen. Richard Lugar, a Republican foreign policy sage whose reputation for working with Democrats cost him his final campaign, has died at 87.
Making the Census Count
When it comes to the U.S. census, residents of Los Angeles County are notoriously difficult to track down. County officials say that's because of the large number of renters, homeless people and immigrants. For the last group, language barriers can play a part, along with fear of reprisal from the federal government — especially if a citizenship question is added next year. But with tax dollars and representation at stake, officials are trying to get the word out that it's not only safe to participate in the census, but it's also vital to do so.
The People on the Bus
When Frank Shyong was a freshman at UCLA, he rode Metro bus Line 2 to Chinatown for dim sum, to Echo Park for elote and past the then-home of his future employer, the L.A. Times. As a columnist, he recently revisited the route that "connects some of L.A.'s richest ZIP Codes to some of its poorest" and rode it for one week. These are the people he met.
Sign up to get Today's Headlines delivered to your inbox. »
OUR MUST-READS FROM THE WEEKEND
-- Columnist Steve Lopez checks in with a group of students at Palisades Charter High School who are chronicling "an epidemic level" of young people dying from gun violence.
-- Nicole Haynes, a USC champion heptathlete in the 1990s, is suing her beloved university in an effort to uncover the truth in a doctor scandal.
-- Once a Mediterranean playground, Lebanon is saddled with debt. Here's how the party stops.
-- Why Chongqing, China, is the best food city you might not know about.
FROM THE ARCHIVES
On this date in 1986, a fire set by an arsonist tore through the Central Library in downtown Los Angeles, causing $22 million in damage, destroying more than 375,000 volumes and causing three-quarters of a million to be damaged by water or smoke and threatened by rot. As this article one year later explored, millions of dollars were donated to "save the books" but the wounds from the fire were slow to heal. Decades later, the mystery of the fire would be explored in a book by Susan Orlean.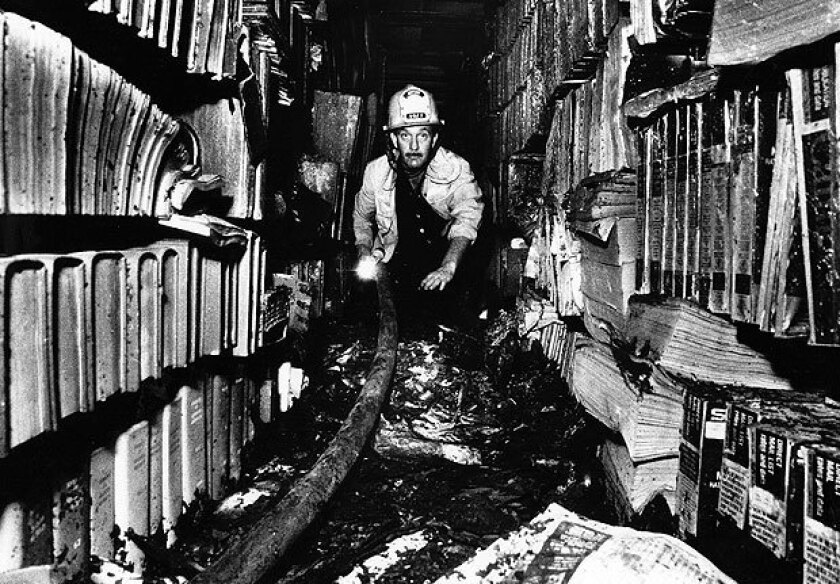 CALIFORNIA
-- Los Angeles City Councilman Curren Price has repeatedly cast votes that affected housing developers and other firms listed as clients of his wife's consulting company, a Times review has found. A Price spokeswoman said that neither the councilman nor his wife had benefited financially from the votes.
-- A Times investigation found that Lynwood Councilwoman Aide Castro was helping approve the city's cannabis regulations while also quietly making money from the industry.
-- Chile's government has pledged to crack down on Chilean crews suspected of committing hundreds of burglaries in Southern California and elsewhere in the U.S.
-- A Los Angeles elementary school that briefly counted pop star Michael Jackson as a student before he skyrocketed to fame has voted to keep his name on the auditorium.
HOLLYWOOD AND THE ARTS
-- Marvel's "Avengers: Endgame" opened with an estimated $1.2 billion in global receipts, making it the first film in history to surpass $1 billion in its opening weekend.
-- From "Toy Story 4" to "Ask Dr. Ruth," here's a look at virtually every movie coming out this summer.
-- At the Stagecoach country music festival in Indio this week, the Las Vegas and Borderline shootings were remembered.
-- Now in its 20th year, the Silkroad Ensemble brings Elektra and MLK under the same multicultural music tent.
NATION-WORLD
-- Officials say a construction crane that came crashing down during a storm onto one of Seattle's busiest streets, killing four people, was working on a building at a new Google campus.
-- Spain's governing Socialist Workers Party claimed victory in the country's third general election in four years but failed to achieve a majority in parliament. It sets the stage for weeks of negotiations over Spain's leadership.
-- Nearly three years after the Brexit vote, we went to the East London suburb of Hornchurch, which overwhelmingly supported leaving the European Union, to see what people there think now.
BUSINESS
-- What's going on here? A number of self-styled patient-advocacy groups with murky origins or hidden funders have cropped up since 2017 pursuing various policy aims that include effectively aiding pharmaceutical companies' efforts to defeat drug-price proposals.
-- After layoffs, BuzzFeed Chief Executive Jonah Peretti is trying to grow revenue and diversify. "The big thing is focusing on the things we're uniquely good at doing," he says.
SPORTS
-- Columnist Dylan Hernandez looks at how Dodgers slugger Cody Bellinger put together an epic April.
-- James Harden and the Houston Rockets feel robbed by the refs in the Golden State Warriors' victory in Game 1 of the NBA's Western Conference Finals.
OPINION
-- To rein in charter schools, the California Legislature is considering bills — some helpful, others vicious.
-- The terms "women of color" and "people of color" are meant to be inclusive. But, from writer Nadra Widatalla's perspective, they only help to leave black people behind — specifically black women.
WHAT OUR EDITORS ARE READING
-- 5G holds the promise of total connectivity, but it will also be especially susceptible to cyberattacks and surveillance. (The New Yorker)
-- "My search for a boyhood friend led to a dark discovery." (Wired)
ONLY IN L.A.
When Mia Turel's sixth-grade teacher assigned the class to color a map of Mesopotamia, Mia wasn't exactly thrilled. "I'm sorry, I'm not interested in coloring a map," she told her mother. "Coloring is pointless." With that, Mia left Crescent Elementary in Anaheim. She studied at home for the rest of the year — and then, at 12, jumped six grade levels to enter Cal State Los Angeles as a freshman. And she is not alone. Cal State L.A. is the only university in California — and one of only a handful across the country — with a program to admit students as young as 11. Still, some of her fellow college students do double takes.
If you like this newsletter, please share it with friends. Comments or ideas? Email us at headlines@latimes.com.
---