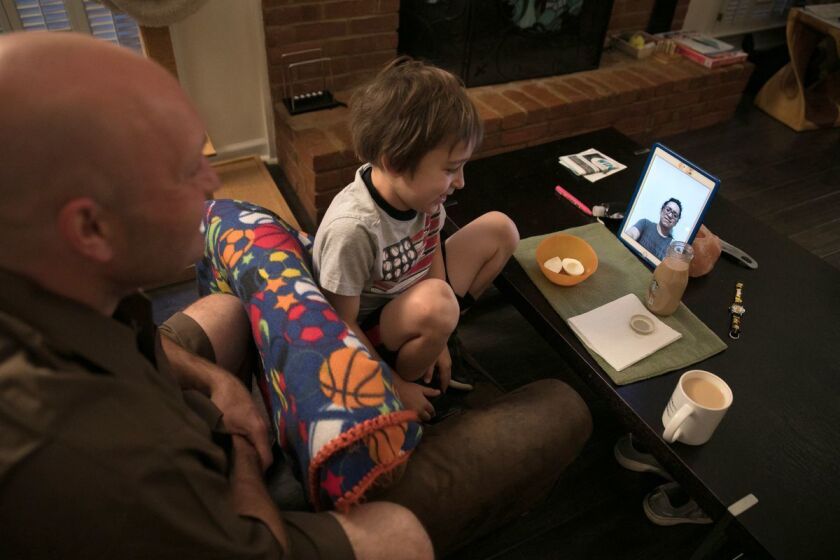 The story of one man who voted for President Trump because of his stance against abortion, never thinking his own wife would end up barred from the United States.
TOP STORIES
A Trump Voter's Family Separation
Jason Rochester of Roswell, Ga., says he voted for Donald Trump in 2016, hoping his election would lead to a Supreme Court that would overturn Roe vs. Wade. His wife, Cecilia, who had lived in the U.S. for nearly two decades after being caught twice illegally crossing the border, urged him to pay attention to Trump's tough immigration talk. Jason said not to worry; "in my mind, bad hombres were people who did bad things." But Cecilia would soon find herself back in Mexico and barred from reentering the U.S. — even after their son developed cancer. Now they're raising a 6-year-old from opposite sides of the border. But would he have voted differently?
More Politics
-- Trump blasted Rep. Justin Amash, the lone congressional Republican who has suggested the president has committed impeachable offenses, as party members closed ranks around the White House. Trump also struck a combative stance toward Iran, at least on Twitter, where he sometimes makes threats against foreign adversaries that are not followed through.
-- Republican leaders have begun distancing themselves from new, far-reaching state abortion restrictions that don't allow exceptions in the cases of rape or incest.
-- Voting by phone? Some Silicon Valley investors are nudging election officials toward an innovation that prominent coders and cryptographers warn is downright dangerous for democracy.
Will the Party Faithful Lose the Faith?
The California Democratic Party has staked its brand and platform on principles of diversity, equality and inclusion. Now, it is grappling with a credibility crisis after being hit with multiple lawsuits alleging sexual harassment and workplace retaliation by former Chairman Eric Bauman. And with a crucial election year approaching, some within the party worry that the legal troubles could hurt efforts to raise money and inspire volunteers.
Airport Angst
Years-long construction delays. Ballooning costs borne by taxpayers. Doubts about whether it will ever operate. To Californians, that sounds a lot like the bullet train project. To Germans, it sounds like the brand-new Berlin airport that was supposed to open seven years ago. Project officials now say the $8-billion airport is on track to open in October 2020. But some think that is being wildly optimistic.
A Weighty Moment
For 130 years, a golf-ball-sized hunk of 90% platinum and 10% iridium has served as the international prototype kilogram — the physical object by which all other kilograms are measured. But starting today, the kilo will be redefined by a fundamental property of nature known as Planck's constant. The idea is to bring greater precision and stability. Unlike a physical object, a fundamental constant doesn't change.
Sign up to get Today's Headlines delivered to your inbox. »
OUR MUST-READS FROM THE WEEKEND
-- Internal reports and photographs obtained by The Times show just how dangerous and dysfunctional Los Angeles County's youth detention operation has become, to the point where some officers are afraid to come to work.
-- Seven things we've learned about Ultima Thule, the farthest place visited by humans.
-- India's lower-caste Dalits, who helped elect Narendra Modi as prime minister in 2014, now threaten to oust him.
-- Dodgers in the San Fernando Valley? How a ballpark might have replaced a mall in Woodland Hills but didn't.
-- It's jacaranda season: When purple reigns.
Your support helps us deliver the news that matters most. Subscribe to the Los Angeles Times.
FROM THE ARCHIVES
While the Twitterverse is still talking about the end of "Game of Thrones" last night, it was on this date in 1993 that another beloved show had its swan song. Set in a bar "where everybody knows your name," "Cheers" raked in a huge number of Emmy nominations and awards in its 11 seasons on the air. But it didn't find ratings success until its third season, and by the end of its run, many of the cast members felt it was time to move on.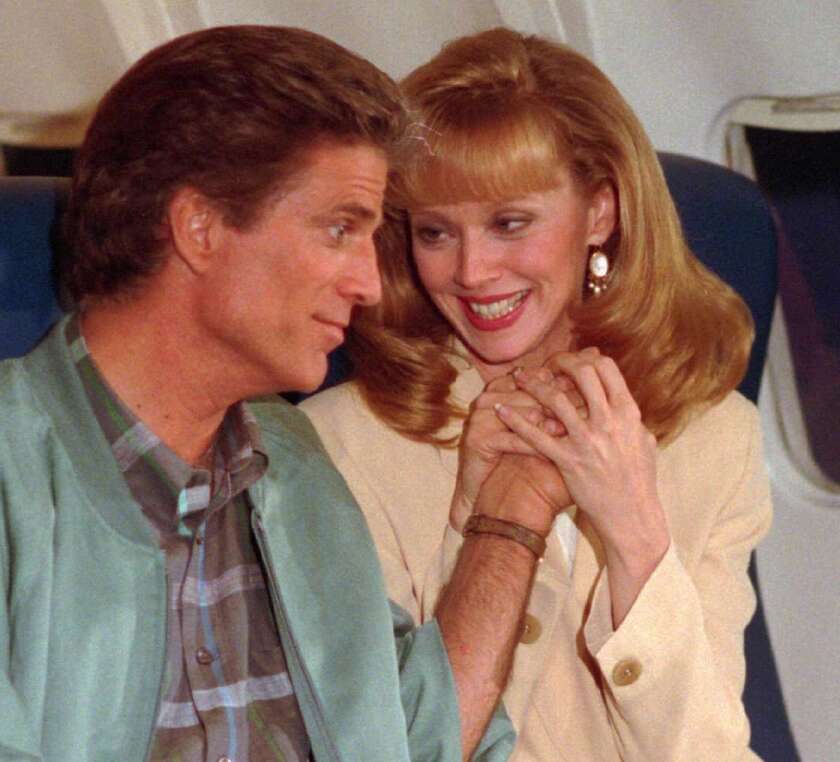 CALIFORNIA
-- The University of Southern California paid Dr. Carmen Puliafito, its former medical school dean, nearly $1 million in severance along with a bonus, according to tax filings disclosed last week.
-- Lawyers for a woman who has accused Rep. Tony Cardenas of sexually assaulting her when she was a teen say they plan to stop representing her in her lawsuit.
-- Shepard Fairey and 30 other artists turned the Dr. Maya Angelou Community High School in South L.A. into an outdoor gallery.
-- More rain is on the way Tuesday. Much of the state is seeing two to five times more precipitation than is normal for this point in May, according to the National Weather Service.
HOLLYWOOD AND THE ARTS
-- TV critic Lorraine Ali thinks "Game of Thrones" ended more with an exhale than a bang. (Spoilers ahead.)
-- Director Pedro Almodóvar's deeply personal film "Pain and Glory" could bring him his first Palme d'Or award at the Cannes Film Festival.
-- Sleeping Beauty Castle, the centerpiece of the Disneyland park in Anaheim, has been undergoing a makeover for the last four months and will reopen to the public Friday.
-- The Museum of Contemporary Art in downtown L.A. says it will make admission free, thanks to a $10-million gift from MOCA board of trustees president Carolyn Powers.
NATION-WORLD
-- Billionaire technology investor Robert F. Smith stunned the graduating class at Morehouse College when he announced at its commencement that he would pay off the graduates' student loans, estimated at up to $40 million.
-- The Turkish government's enemy No. 1 has spent the last two decades in physical isolation on a prison island off the coast of Istanbul. Now, there are signs Ankara may be turning to him to broker peace with Kurdish separatists.
-- Officials in Egypt say a tourist bus struck a roadside bomb near the Giza pyramids, wounding at least 17 people.
-- Voters in Switzerland have approved a measure to tighten the nation's gun laws, bringing the country in line with many of its European partners despite the objections of gun owners.
BUSINESS
-- Major retailers are sounding the alarm: The U.S.-China trade battle could be coming to a mall near you in the form of higher prices in time for the back-to-school and holiday shopping seasons.
-- Here's a case in which taking retirement funds early might make sense.
SPORTS
-- Brooks Koepka held off a late charge from Dustin Johnson to win the PGA Championship for the second straight year.
-- Rafer Johnson, who won an Olympic gold medal in the decathlon in 1960, hopes his legacy inspires others to be their best
OPINION
-- Because of immigrants, California is changing for the better before our eyes, writes columnist George Skelton.
-- A palliative care physician explains why it can be helpful to stop seeing cancer as merely a battle to "win" or "lose."
WHAT OUR EDITORS ARE READING
-- Anti-money laundering specialists at Deutsche Bank recommended in 2016 and 2017 that multiple transactions involving legal entities controlled by Donald Trump and his son-in-law, Jared Kushner, be reported to a federal financial-crimes watchdog. But executives rejected their employees' advice. (New York Times)
-- Remembering Ruth Beckford, a pioneering African American dancer and choreographer from Oakland, who has died at 93. (San Francisco Chronicle)
-- Why horse racing is so dangerous. (National Geographic)
ONLY IN CALIFORNIA
Many a court case is bland, but this one is spicy: Huy Fong Foods Inc., the Irwindale manufacturer of Sriracha chili sauce, and Underwood Ranches, the former exclusive supplier of the jalapeño peppers that are a core sauce ingredient, are scheduled to appear in Ventura County Superior Court today. The two sides will grapple over millions of dollars in damages they each say they have suffered because of the bitter collapse of their partnership. A bad case of heartburn, indeed.
If you like this newsletter, please share it with friends. Comments or ideas? Email us at headlines@latimes.com.
---