Editorial: L.A.'s supervisors should keep moving beyond bail reform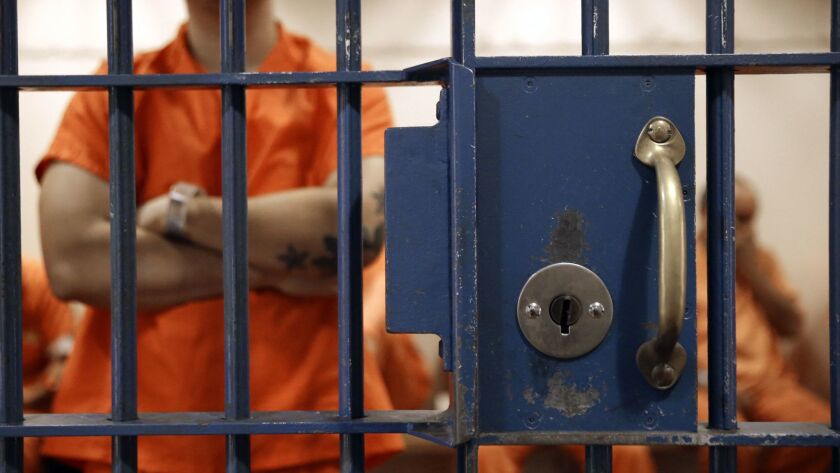 With California's historic law to do away with money bail on hold pending a 2020 voter referendum, the Los Angeles County Board of Supervisors is focusing on its own bail reform efforts. That's as it should be. The county encompasses about a third of the state's population, a third of its arrests, a third of its accused — and more than a third of its residents who are living in poverty. It also has thousands of people, including many who are un-sentenced and un-convicted, sitting in jail only because they can't afford to put down money for bail bonds. It would be totally appropriate for L.A. County to have its own no-bail pretrial release program, as Santa Clara County does.
So what's the holdup? The county has been studying the issue for what seems like ages and has commissioned studies, produced reports and created committees to figure out how to proceed. It has had too little to show for it.
On Tuesday, Supervisors Hilda Solis and Sheila Kuehl want the county to get the various courts, lawyers, departments and other key players to pull everything together and prepare recommendations; they also want it to hire a consultant to develop a bail reform plan. That leads to two responses, and the first is one of exasperation. A plan? Seriously? Hasn't the county done this already? Many times?
This is a complex issue with many moving parts. It would be good for the county to give itself a kick in the pants.
But let's put that aside and move to the second response: OK. This is a complex issue with many moving parts. It would be good for the county to give itself a kick in the pants. And then get it done.
It has become increasingly evident that pretrial fairness is intimately interlinked with poverty, race, mental health, jail capacity and a host of other issues on which the county has responsibility. The county has responded with diversion — directing people away from the criminal justice system and into services that address the conditions that may have led them into crisis. Stepping up diversion for the mentally ill, the addicted and many others reduces the number of people in jail merely because they can't afford bail.
So it's encouraging that in addition to the bail motion, the supervisors are also taking up Mark Ridley-Thomas' call to use an expected $25 million in state hospital money to step up the county's diversion program, and Janice Hahn's motion to help community organizations develop their capacity to provide mental health support and services, so that there is a place other than jail where people can go without threatening public safety.
Enter the Fray: First takes on the news of the minute »
The supervisors can do more. They have no jurisdiction over District Attorney Jackie Lacey, who launched the diversion initiative in 2015 and followed up late last month by creating a mental health unit in her office, to help separate mentally ill defendants who need to be jailed from those who don't. But they can offer her funding to help screen cases at the earliest possible moment in order to get non-dangerous defendants out; and they can encourage her to follow the example of several other chief prosecutors — like State's Attorney Kim Foxx of Cook County, Illinois — of not objecting to the pre-trial release of defendants who are being held on nonviolent charges.
They can ensure that the public defender and alternate public defender have resources they need to vigorously challenge bail requests. They can set a more aggressive timetable for the Probation Department to improve its pretrial services. They can sign on as "friends of the court" in the San Francisco case of Kenneth Humphrey on behalf of a challenge to money bail in California. They can endorse SB 36, a bill by Sen. Bob Hertzberg (D-Van Nuys) to require data collection in order to set standards for and evaluate the justice and effectiveness of risk assessment tools. They can do their best to get a chunk of money that Gov. Gavin Newsom has budgeted for post-bail California. They can redirect money from planned construction of a new "mental health" jail and direct it instead — as called for by the ACLU of Southern California, other activist groups and The Times editorial page — to needed community-based mental health treatment.
Californians will have an opportunity in just under two years to eliminate money bail and enable courts to release defendants or keep them in jail depending on their risk to public safety, not on the size of their wallets. L.A. County is studying its moves, and that's fine. But the supervisors should see that there is more to be done, right now, than just studying.
Follow the Opinion section on Twitter @latimesopinion and Facebook
---
A cure for the common opinion
Get thought-provoking perspectives with our weekly newsletter.
You may occasionally receive promotional content from the Los Angeles Times.