Opinion: Google wants to build 20,000 homes in Silicon Valley. Will NIMBYs let it happen?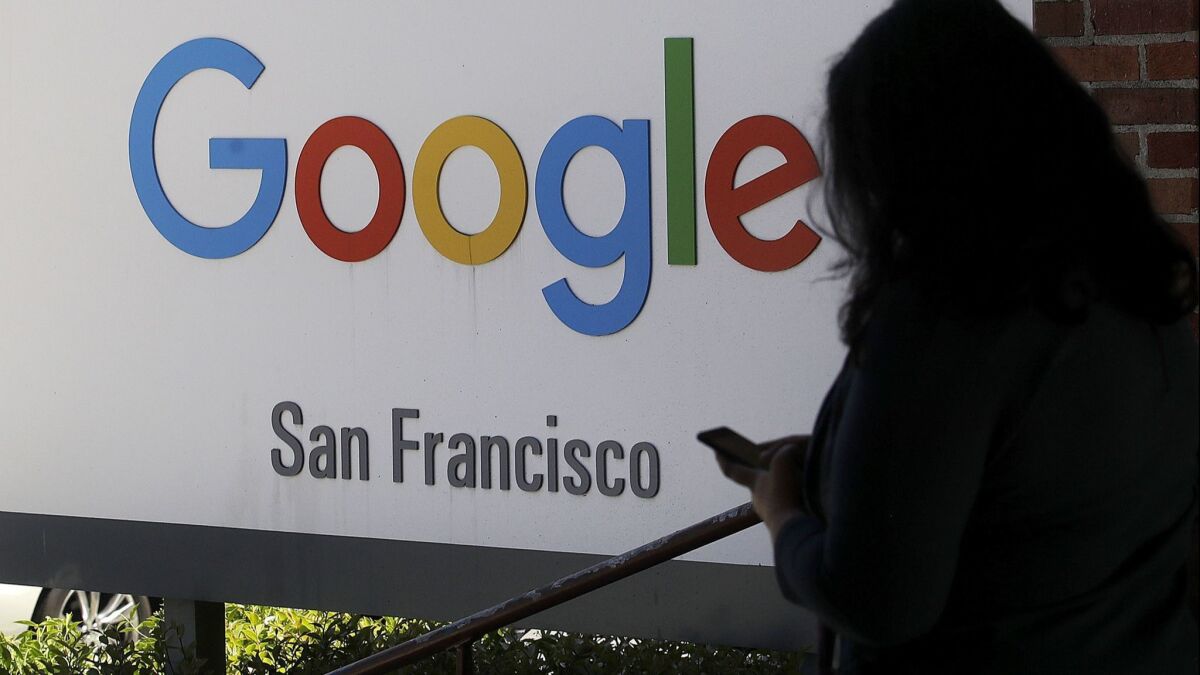 Faced with a housing shortage and affordability crisis that they exacerbated, Silicon Valley companies are increasingly under pressure to do something to fix the region's housing woes.
On Tuesday, Google stepped up in a big way, with a pledge to make a $1 billion investment in housing across the Bay Area over the next 10 years. Chief Executive Sundar Pichai said that as one of the region's largest employers, the company has a responsibility to be a good neighbor and help address the housing shortage.
While other companies have put up money — Facebook and its founders are part of an effort to raise $540 million for affordable housing — Google is offering something particularly valuable in built-out Silicon Valley: land.
The company said it owns properties around Silicon Valley worth about $750 million that could be repurposed for housing. The land is zoned for commercial and office space, so cities will have to rezone the properties to allow residential construction, including homes for middle- and low-income families — meaning apartments, condos and townhouses. The company estimates 15,000 units could be built this way.
Click here for the full Livable City archive »
Also, Google wants to break ground immediately in order to make homes available in the next few years. That means getting cites to sign off on plans to let residential developers "build quickly and economically."
Good luck with that.
Google's plans are admirable, and the company is tapping into a real need for more housing, especially affordable housing, for both its employees and the larger community. The company also announced a $250-million investment fund to help developers build at least 5,000 affordable units.
But it's hard not to be skeptical that city governments in a region notoriously averse to taller, denser development will immediately change their laws to allow tens of thousands of new apartments, some of which — gasp — could be set aside for low-income families.
Silicon Valley cities were among the most vocal opponents of Senate Bill 50, which would have overridden local zoning to allow multi-unit buildings on single-family lots and bigger buildings near mass transit and job centers. And there's been a never-ending fight in Cupertino over plans to convert a moribund mall into housing.
Time after time, proposals to build more housing are met with NIMBY opposition and complaints that building more homes, particularly apartments, will generate more traffic and whittle away at "community character." To fulfill its plans, Google would need to overcome that opposition and convince city councils to rezone the land to accommodate more homes.
Pichai seemed to grasp the challenge ahead in his announcement of the 20,000-home goal, noting that just 3,000 homes were built in the entire South Bay in 2018.
Yet it's clear that Google can't sit on the sidelines of the housing fight anymore. The company has been under fire from its neighbors and its employees for failing to address the housing crisis it helped create. The median rent in Mountain View, which is where the company is headquartered, has almost doubled since late 2010, to $4,151 a month, Bloomberg reported last month. That's nearly triple the national average, according to Trulia. The median home value is $1.8 million, up from $750,000 10 years ago.
The company has plans to build a new campus in downtown San Jose but is facing pushback from community groups that the plan will further fuel gentrification and displacement of longtime renters. A recent study said Google would need to build 5,000 new affordable homes in and more than 12,000 market-rate homes to offset the rent hikes the development would likely trigger.
Google has an interest in becoming proactive on housing. If the company wants to continue to expand in the Silicon Valley, it has to be. The question is whether cities will go along.
Follow the Opinion section on Twitter @latimesopinion or Facebook
---
Life is stressful. Our weekly mental wellness newsletter can help.
You may occasionally receive promotional content from the Los Angeles Times.