Column: Even the Harris-Biden showdown was balm for our Trump-battered psyches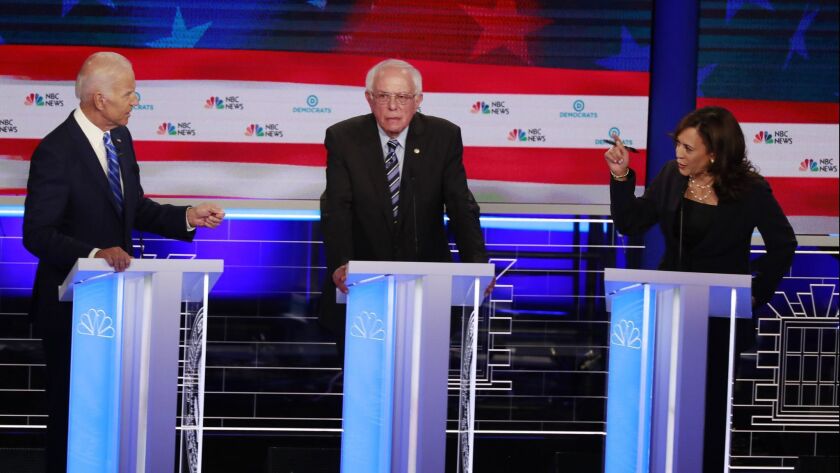 Something spooky happened at the debates this week in Miami.
It was palpable on Wednesday and Thursday night, as the 20 most plausible candidates for the Democratic presidential nomination, in two batches, matched wits on the most vexing matters of modern times.
The spookiness was like a wind whistling through the podiums. It was uncanny, and until I could put my finger on it, it was easier to concentrate on a much more familiar debate byproduct: showdowns.
On Wednesday, Julián Castro, former mayor of San Antonio, elegantly schooled former Rep. Beto O'Rourke (D-Texas) on immigration law. Castro made a case for getting rid of Section 1325 of the Immigration Nationality Act, which criminalizes border crossing and is used to justify family separation. (O'Rourke argues that the section is key to preventing human trafficking; Castro says other laws already have human trafficking covered.)
We'd been transported back through the looking glass. In prime time, our political conversation was rational, civil, normal, sane and enlightening.
And then, on Thursday, Sen. Kamala Harris (D-Calif.) delivered a virtuoso admonishment of former Vice President Joe Biden for his record on civil rights. In a devastating aria about her own experience of racism and being bused to school as part of desegregation — a practice Biden voted against — Harris described "a little girl in California who was part of the second class to integrate her public schools."
"That little girl was me," said Harris. "So I will tell you that on this subject, it cannot be an intellectual debate among Democrats."
Her words threw into relief the lofty detachment of the party's aged grandees, front-runners Biden and Sen. Bernie Sanders (I-Vt.). These men like to position themselves as gung-ho for civil rights, but their records are mixed, and they have not lived the struggle as Harris has.
The Castro-O'Rourke exchange was illuminating. Harris and Biden's was historic. But neither undid the spookiness of the night.
Hours after the second debate, why it was unsettling still eluded me. But then it came into focus: We'd been transported back through the looking glass. In prime time, our political conversation was rational, civil, normal, sane and enlightening.
After three years of political gibberish and hysteria, I'd almost forgotten that a disciplined, informed and authentic way of discussing ideas existed. No one attacked FISA judges, Peter Strzok, the corrupt FBI, crisis actors, the satanic media, Sasquatch or the women President Trump doesn't consider attractive enough to rape.
No one called the climate crisis a hoax. No one dismissed the Fourth Estate as fakery. No one used daft playground nicknames that wouldn't pass muster with Nelson from "The Simpsons."
Instead, we heard insight and resolve about the humanitarian crisis in Trump's border camps, about Roe vs. Wade as the law of the land, about gun violence and income inequality as clear and present dangers.
The candidates understood NATO as a crucial alliance for the U.S. And get this: They considered Russia an adversary? What do you know? Kim Jong Un of North Korea: another adversary. Not a sweetheart to call on your princess phone.
Everyone talked the way, you know, normal people do. Who don't live on Pluto, or channel internet bots, Alex Jones, "The Turner Diaries" and "Fox & Friends."
I'm telling you, it was weird. It was also deeply moving.
Americans' shared moral framework, so long in splinters, was suddenly intact again. It was hard to trust at first. But there they were, back on display for four whole hours: the social pacts we'd had for centuries, the common sense, the moral commitment, the faith in liberal democracy.
Biden and Harris see civil rights differently, but they inhabit the same reality. Absent that baseline, as Trump times have proved, politicians do little but show off a few wolfpack dominance moves for the cameras and then crow about it on Twitter. We've gotten used to "Real Housewives" leadership.
By contrast, Harris and Biden's heated exchange was informed by a consensus that has coalesced among ordinary Americans based on the 14th Amendment: The U.S. has made an affirmative moral commitment to racial justice and equality. And American racism, justified by either nativist or states' rights rhetoric, poses the greatest threat to the nation's integrity, well-being and existence.
Enter the Fray: First takes on the news of the minute »
From that platform of shared facts and values, Harris and Biden could discuss the finer point of civil rights in the 1970s. She was persuasively critical of Biden for compromising with de facto segregationists. He suggested compromises were good politics and defended his record over time for racial justice. This wasn't an id-driven spat about whose spouse is hotter (see Donald Trump versus Ted Cruz in the Republican primary of 2016).
It was a balm to psyches that have been hammered by Trump's broken-car-alarm wailing and fearmongering. We haven't been able to hear ourselves think, or to see how an issue has evolved, or study a topic, or engage in collegial discussions. Rationality, civility and heated disagreement. Remember?
The promise of the 20 candidates — from author Marianne Williamson to entrepreneur Andrew Yang to all the former and current governors, senators, mayors and representatives — is really one promise. Yes, our country has been commandeered by a reckless autocrat and his blind enablers. But there are far more — as in, hundreds of millions more — sensible, dignified people in this country who remember the United States' first principles, and its possibilities.
Twitter: @page88
Follow the Opinion section on Twitter @latimesopinionand Facebook
---
A cure for the common opinion
Get thought-provoking perspectives with our weekly newsletter.
You may occasionally receive promotional content from the Los Angeles Times.