Op-Ed: One reason for Trump's foreign policy fiascoes — his National Security Council is broken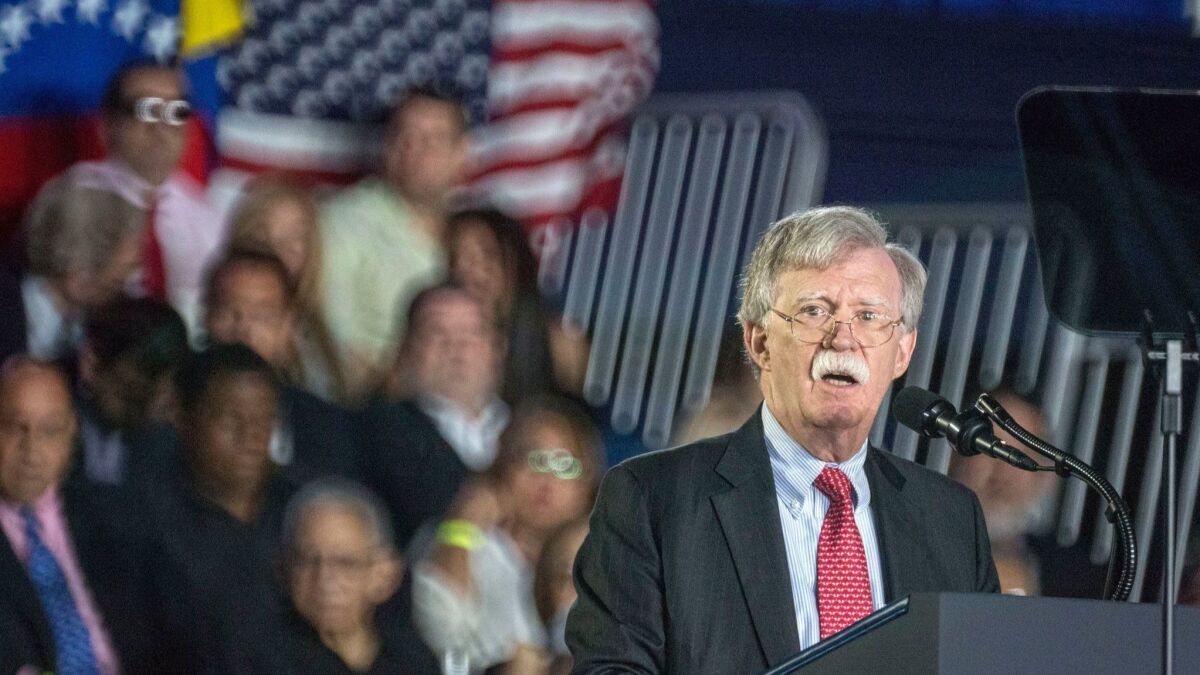 National security fiascoes are piling up around President Trump. His summit with North Korean dictator Kim Jong Un collapsed last week. In December, he announced a withdrawal of U.S. troops from Syria, only to have his national security advisor publicly revise the plan. Last July, he endorsed Vladimir Putin's assertion that Russia didn't interfere in our presidential election — a stunning rebuke to the findings of U.S. intelligence services.
These are all signs that the National Security Council is malfunctioning. The NSC — the nerve center for creating U.S. security policy over the last seven decades — is intended to advise the president on strategies to prevent war, terrorism and economic disruption. The evident weaknesses of Trump's NSC are increasing the risk that security threats or intelligence will fall through the cracks, leaving the nation vulnerable.
Since its earliest years, the NSC's secret meetings in the White House have been the principal forum for presidents to discuss security and policy with military, intelligence and diplomatic officials. Chaired by the president, the council includes the vice president, the secretaries of State, Defense, Energy and Treasury — but the president can add other federal officials as well. The council's staff can rise to as many as 200 employees.
Instead of focusing his energies on leading the NSC, Bolton sometimes acts like a globe-trotting diplomat auditioning for secretary of State.
The NSC is an advisory group, however, and it's up to the president to make good use of it. Trump doesn't seem interested. Instead, he keeps belittling and contradicting the work of U.S. intelligence agencies. On Jan. 30, for instance, he tweeted: "The Intelligence people seem to be extremely passive and naïve when it comes to the dangers of Iran. They are wrong! ... Perhaps Intelligence should go back to school!" This hostility significantly undermines the NSC's ability to serve its historic function.
Created by the National Security Act of 1947, the early NSC was at first neglected by President Truman. But after North Korea invaded South Korea in June 1950 — embroiling the United States in a war with communist forces — Truman quickly began holding regular NSC meetings.
It was under President Eisenhower, who was accustomed to robust debate among military commanders, that the modern NSC was born. Robert Cutler, a retired general and top national security aide, became the first national security advisor in 1953. That new job included running the NSC and briefing the president.
Eisenhower and Cutler established weekly NSC meetings as a venue for the president and his advisors to vigorously debate policy, a process that was aimed at purging risky flaws or biases. Historians and scholars often cite Cutler as a model for the national security advisor; he was an honest broker, ensuring that all views were heard.
Some later national security advisors, however, used the job to advance particular policies, preferring to engage the president in one-on-one meetings. This advocacy approach tends to reduce opportunities for intelligence, military, diplomatic and other officials to air opposing views — potentially to the detriment of good decision-making. President Kennedy met with his NSC only three times in the first three months of his administration, instead talking privately with national security advisor McGeorge Bundy. After Kennedy approved the disastrous Bay of Pigs invasion of Cuba in April 1961, Kennedy ordered more NSC meetings.
Trump has now left his mark on the NSC, badly diminishing its role. His first national security advisor, Michael Flynn — noted for making bitterly partisan attacks on Hillary Clinton, including his leading chants of "Lock her up!" — was forced to resign after just 23 days. In December 2017, Flynn pleaded guilty to making false statements to the FBI about his contacts with Russian and Turkish officials. From the outset, choosing Flynn suggested Trump viewed the national security advisor as a partisan — not a leader of open discussions on intelligence and policy.
Three more national security advisors followed Flynn in rapid succession in two years. (President Obama, in contrast, had three over eight years.) The current appointee, the famously hawkish John Bolton, is reportedly limiting policy discussions within the NSC and embracing an advocacy approach to his post.
Trump issued a tweet Dec. 19 saying he would withdraw troops from Syria within 30 days. Two weeks later, Bolton publicly corrected that policy, saying troops would leave only after the last remnants of the Islamic State were defeated and only if Turkey guaranteed that it would not strike America's Kurdish allies. The administration's internal confusion, which might have been avoided through careful discussions inside the NSC, was laid bare before our allies and enemies.
Bolton also appears to have played a role in convincing Trump to abandon the North Korea summit without an agreement. That's better than signing a bad accord — and yet, a fully functioning NSC should have helped avoid such a foreign policy misfire.
Enter the Fray: First takes on the news of the minute from L.A. Times Opinion »
Instead of focusing his energies on leading the NSC, Bolton sometimes acts like a globe-trotting diplomat auditioning for secretary of State. Since October, he has met with Russia's president, Putin, in Moscow; Brazil's president, Jair Bolsonaro, in Rio de Janeiro; and Israel's president, Benjamin Netanyahu, in Jerusalem.
Before his appointment as national security advisor, Bolton publicly called for removing the government of Iran from power. Those views now appear to be shaping U.S. policies toward Iran: On "Face the Nation" on Feb. 3, Trump said he wants to shift U.S. troops to Iraq to "watch" Iran.
If Bolton is now advocating a coup d'état in Iran, we can only hope that the NSC recovers its traditional role and deeply debates all the ramifications for U.S. national security, our standing in the world and the spread of democracy. Bolton's advocacy combined with Trump's rejection of U.S. intelligence is a potentially disastrous brew. What the nation needs instead is a tonic of full and vigorous discussions by the NSC.
Peter Shinkle is the author of "Ike's Mystery Man: The Secret Lives of Robert Cutler."
Follow the Opinion section on Twitter @latimesopinionand Facebook.
Life is stressful. Our weekly mental wellness newsletter can help.
You may occasionally receive promotional content from the Los Angeles Times.