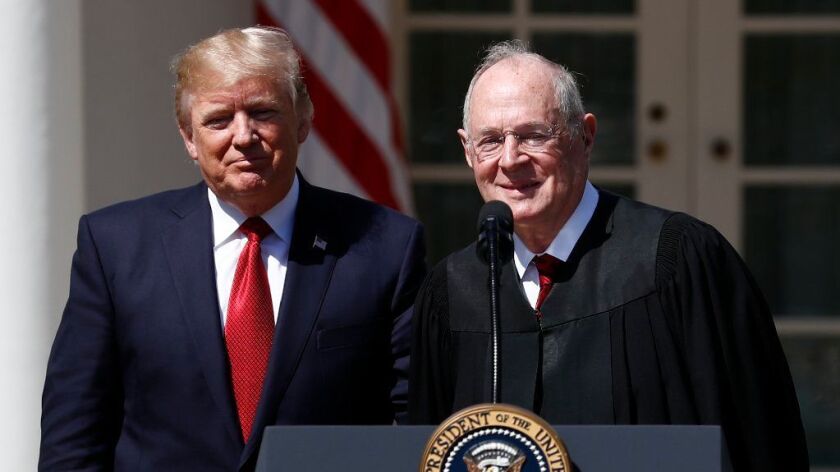 The New York Times is taking a lot of grief for a new feature in its Sunday opinion section in which readers are asked to email the Gray Lady examples of "things the president has said or done that are praiseworthy."
OK, I'll play. But instead of sending my accolade to a competing publication, I'll reveal it here: Donald Trump has done a good job of selecting qualified federal judges, including his first nominee to the U.S. Supreme Court, Neil M. Gorsuch.
Yes, I'm referring to the same Neil M. Gorsuch whose confirmation the editorial board of this newspaper couldn't endorse because he was appointed to a seat that should have been filled by Merrick Garland, President Obama's nominee. But the editorial in which we took that position also described Gorsuch as "conservative but competent, with more than a decade of experience on the appellate bench and a 'well qualified' rating from the American Bar Assn."
Of course, some critics of the Gorsuch nomination insisted that part of the problem was how the judge came to Trump's attention. The president plucked his name from a list of potential nominees put together with advice from (boo, hiss) the Federalist Society and the Heritage Foundation.
Similar concerns were heard this week when Trump turned to the same list for two nominees to seats on federal appeals courts — Michigan Supreme Court Justice Joan Larsen to serve on the U.S. 6th Circuit Court of Appeals and Minnesota Supreme Court Justice David Stras for the U.S. 8th Circuit Court of Appeals. (In March Trump named another jurist on the list, U.S. District Judge Amul Thapar of Kentucky, to the 6th Circuit.)
Other appeals court nominees announced on Monday included Amy Coney Barrett, a Notre Dame law professor and former law clerk to Justice Antonin Scalia named to the U.S. 7th Circuit Court of Appeals. Like Larsen, Stras and Thapar, Barrett could be a potential Trump Supreme Court nominee.
Liberal interest groups were (of course) horrified by the nominations. Nan Aron, the president of the Alliance for Justice, told the New York Times that the Trump administration planned to "pack the federal courts with ultraconservatives given a stamp of approval by the Federalist Society." (In the lexicon of judicial appointment politics, there are no ordinary conservatives or liberals, only "ultraconservatives" and "ultraliberals"; and presidents you disagree with don't fill vacancies on the federal courts, they "pack" them.)
Trump is transgressive in many ways, but in his judicial selections he has been pretty mainstream. His nominees, Gorsuch included, easily could have been appointed by Jeb Bush or Marco Rubio. Yes, they're conservative; but, as Sen. Lindsey Graham said when he announced that he would vote for the confirmation of liberal Justice Sonia Sotomayor, elections have consequences.
Trump, to put it charitably, is capable of thinking outside the box when it comes to making appointments. Imagine if, instead of Gorsuch, he had nominated to the Supreme Court David Friedman, the bankruptcy lawyer he chose as his ambassador to Israel? Or Fox News commentator Andrew Napolitano, a former New Jersey Superior Court judge? Or some lawyer who looked the part that he happened to meet on the golf course?
Liberals might grit their teeth when they say it, but if the Federalist Society is responsible for Trump choosing accomplished jurists for the federal bench, thank God for the Federalist Society.
Follow the Opinion section on Twitter @latimesopinion and Facebook
---