Opinion: Was Trump threatening Mueller when he claimed an 'absolute right' to control the Justice Department?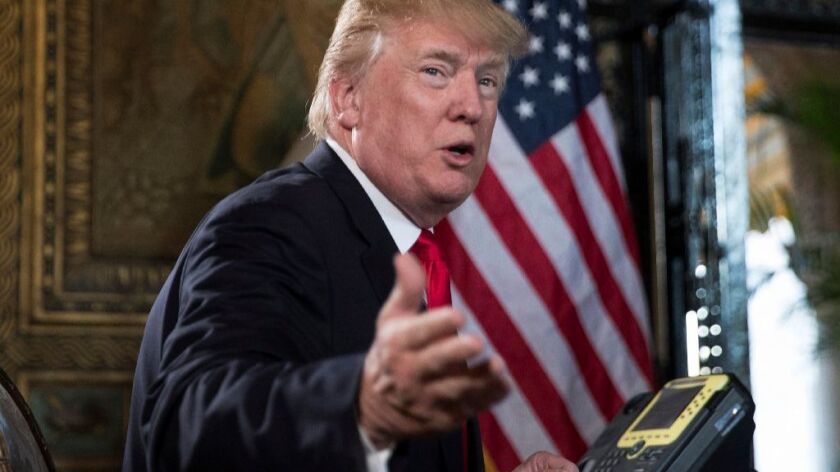 Probably to the dismay of his lawyers, Donald Trump sat down with a New York Times reporter at the president's golf club in Florida on Thursday for what charitably can be called a freewheeling interview.
Trump made several eyebrow-raising comments, including an assertion that "I know more about the big bills [than] any president that's ever been in office, whether it's healthcare [or] taxes."
Then there was the Eric Holder cameo. After the president reiterated his disappointment that Atty. Gen. Jeff Sessions had recused himself from the Russia investigation, reporter Michael S. Schmidt asked Trump if Barack Obama's first attorney general, Eric H. Holder Jr., had been more loyal to his president.
Trump replied: "I don't want to get into loyalty, but I will tell you that, I will say this: Holder protected President Obama. Totally protected him .... And I have great respect for that, I'll be honest, I have great respect for that." This may be the first example of damning someone with fulsome praise.
But the Trump line from the interview that is attracting most attention is this one: "I have [the] absolute right to do what I want to do with the Justice Department."
Given Trump's past expressions of frustration about his inability to micromanage the Justice Department, this seemed ominous to those who have worried that Trump might fire special counsel Robert S. Mueller III — or Deputy Atty. Gen. Rod Rosenstein, who is overseeing Mueller because of Sessions' recusal.
There's certainly ample reason for concern that Trump might try to dismiss or undermine Mueller, as the Los Angeles Times noted in an editorial. And claiming an "absolute right" to control the Justice Department is outrageous if it means interfering with investigations.
But two things about Trump's comments argue for some caution in assuming that the "absolute right" assertion was a threat to Mueller.
First, Trump said in the same interview, "I think that Bob Mueller will be fair." Second, the "absolute right" comment came in response to a question not about the Mueller investigation but about whether the Justice Department should reopen its investigation of Hillary Clinton's use of a private email server for State Department business, a pet cause of some Republicans. (Schmidt prefaced the question by observing: "You control the Justice Department.")
Trump then responded: "I have [the] absolute right to do what I want to do with the Justice Department. But for purposes of hopefully thinking I'm going to be treated fairly, I've stayed uninvolved with this particular matter."
I suppose you can read that as implying that if Mueller treats Trump fairly, Trump won't try to use the Justice Department against Clinton (a fairly bizarre tradeoff). But it's not proof that Trump is about to move against Mueller or politicize prosecutions.
Of course, this parsing of Trump's words, even if it's accurate, could prove irrelevant if Mueller does something to antagonize Trump in the new year. For better or worse, what this president says is not always a reliable guide to what he will do.
Follow the Opinion section on Twitter @latimesopinion and Facebook
---
A cure for the common opinion
Get thought-provoking perspectives with our weekly newsletter.
You may occasionally receive promotional content from the Los Angeles Times.