Opinion: On Mueller, Congress should watch what Trump tweets – and push back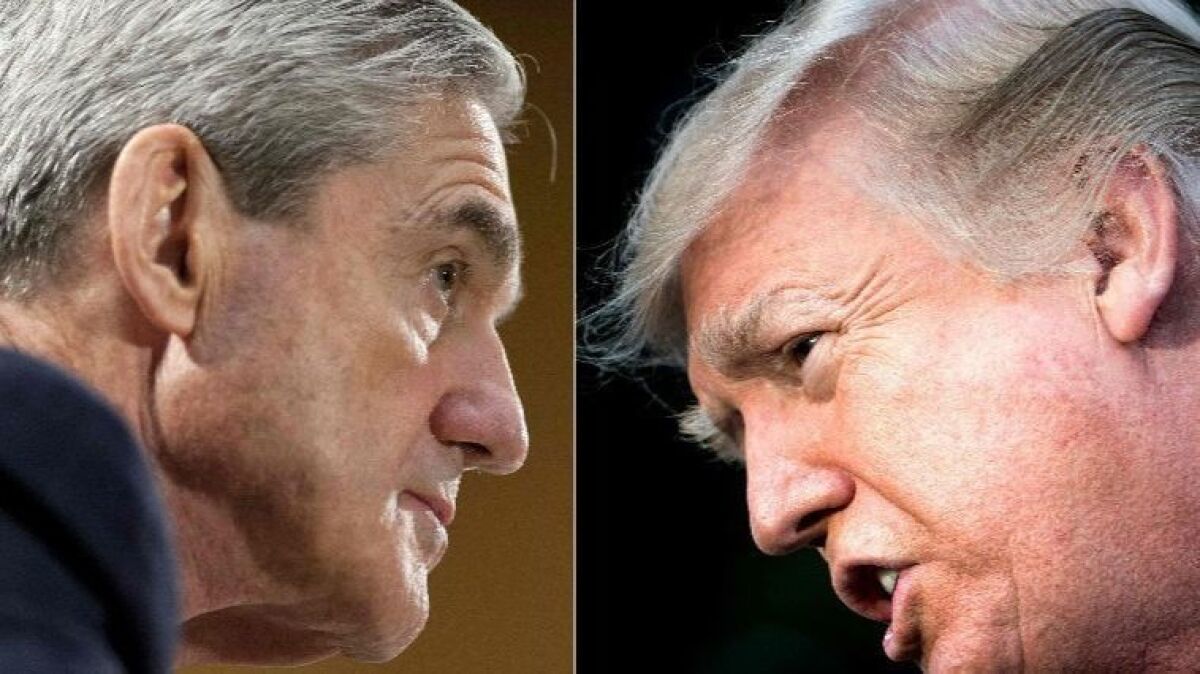 John Mitchell, Richard Nixon's felonious attorney general, reportedly had some advice for civil rights leaders worried about Nixon's campaign rhetoric. "Don't watch what we say," Mitchell said. "Watch what we do."
President Trump's lawyers have offered a variation of that advice in implying that Americans should discount recent tweets in which the president assailed Special Counsel Robert S. Mueller III.
On Saturday Trump tweeted: "The Mueller probe should never have been started in that there was no collusion and there was no crime. It was based on fraudulent activities and a Fake Dossier paid for by Crooked Hillary and the DNC, and improperly used in FISA COURT for surveillance of my campaign. WITCH HUNT!"
Factual errors aside (and there are many of them), that tweet broke ominous new ground in mentioning Mueller by name. Trump did it again Sunday in a tweet asking: "Why does the Mueller team have 13 hardened Democrats, some big Crooked Hillary supporters, and Zero Republicans?" (Trump apparently wasn't counting Mueller himself in his tally.)
Mueller has now joined dismissed deputy FBI Director Andrew McCabe in Trump's Twitter Hall of Shame. Even if McCabe behaved improperly, as the Justice Department's inspector general concluded, his firing by Atty. Gen. Jeff Sessions is being viewed in light of Trump's animus toward McCabe. (In an op-ed column in the Los Angeles Times, Harry Litman describes McCabe's dismissal as a "naked political hit.")
It's hard not to see Trump's Mueller tweets as evidence that he may (again) be thinking of removing the special counsel. But late on Sunday, Trump lawyer Ty Cobb issued a statement saying, "the White House yet again confirms that the president is not considering or discussing the firing of the Special Counsel, Robert Mueller." On Monday, White House spokesman Hogan Gidley chimed in, telling reporters that "there are no conversations or discussions about removing" Mueller.
"Watch what we do, not what he tweets" is not a reassuring message. Nor does it provide cover for those Republicans in Congress who can't bring themselves to warn Trump publicly to leave Mueller alone.
To be fair, a few Republican are speaking up. The ailing Sen. John McCain (R-Ariz.) tweeted: "Special Counsel Mueller has served our country with honesty and integrity. It's critical he be allowed to complete a thorough investigation into Russia's interference in the 2016 election — unimpeded."
Sen. Lindsey Graham (R-S.C.) warned Trump over the weekend that firing Mueller "would be the beginning of the end of his presidency." Speaker of the House Paul Ryan authorized a much less muscular statement saying that "Mr. Mueller and his team should be able to do their job."
But other influential Republicans – including Senate Majority Leader Mitch McConnell and House Majority Leader Kevin McCarthy – kept their counsel. And McConnell seems to be clinging to his view that there is no urgent need for Congress to pass legislation providing for judicial review of any decision to dismiss the special counsel.
Such passivity only encourages Trump to malign and menace Mueller and his investigation – and at some point words might lead to action. The New York Times reported on Sunday that Trump's decision to name-check Mueller was the act of "a president who ultimately trusts only his own instincts, and now believes he has settled into the job enough to rely on them rather than the people who advise him."
That may include the lawyers who are telling him that it would be folly to try to engineer Mueller's dismissal. That's why the entire Republican leadership in Congress needs to make it clear to the newly emboldened Trump that he will pay a price if tweets turn into deeds.
Follow the Opinion section on Twitter @latimesopinion and Facebook
---
Life is stressful. Our weekly mental wellness newsletter can help.
You may occasionally receive promotional content from the Los Angeles Times.