Readers React: Bird has some nerve suing Beverly Hills for trying to make its sidewalks safer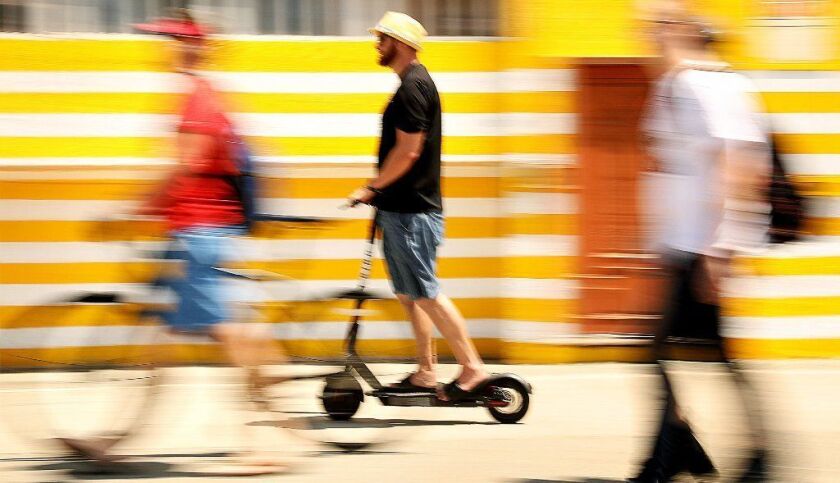 To the editor: I am all for alternative transportation, but even I see the complete chutzpah of Bird suing Beverly Hills over the city's ban on motorized scooters.
The public right of way is just that — intended for the public. Let's not even discuss the safety and irresponsibility of the majority of the people who ride these scooters, but when you colonize a city thoroughfare, you are violating the law. These laws are clear and not debatable.
Bird's lawsuit will ultimately be its downfall. The issues of violating existing city laws, including access for disabled users along these thoroughfares (when scooters are all over the place blocking the sidewalks), are going to set a precedent for every future challenge.
Bernard Lax, Gardena
..
To the editor: Bird has some brass stating that a California law contains a clause that gives motorized scooter riders the same rights on the road as drivers, bicyclists and motorcycle riders.
From my observation in San Diego, the vast majority of Bird riders use the sidewalk, not the street. I would venture to say this observation runs true in Beverly Hills and other cities as well. That is most likely why the accompanying picture to this article was of a helmetless person riding a Bird scooter on the sidewalk.
Therein lies the problem. Injuries to pedestrians and riders are so frequent that San Diego County's trauma centers have announced they are tracking patients who are treated because of scooter accidents.
Lawsuits, anyone?
Gary Valdez, San Diego
..
To the editor: If electric scooter companies want to claim their customers have the same rights as drivers, bicyclists and motorcycle riders, they need to start by having users follow the same laws. The photo accompanying the article says it all: It shows a helmetless user riding on the sidewalk.
Can you blame Beverly Hills for banning these scooters? They are a menace.
Kathleen Battersby, Los Angeles
Follow the Opinion section on Twitter @latimesopinion and Facebook.
---
A cure for the common opinion
Get thought-provoking perspectives with our weekly newsletter.
You may occasionally receive promotional content from the Los Angeles Times.