Opinion: He ran as a ratepayer advocate. Now Mayor Garcetti wants to give DWP workers big raises.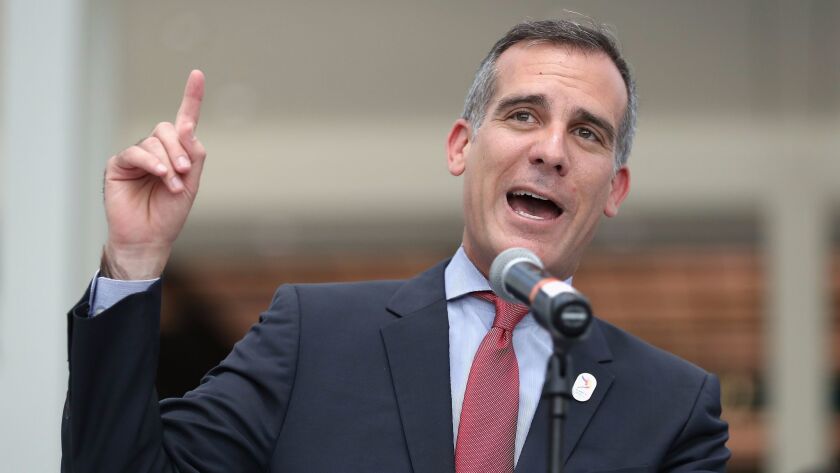 To the editor: After campaigning as a defender of ratepayers, Mayor Eric Garcetti is now supporting a contract that gives 9,000 workers in the Los Angeles Department of Water and Power pay increases of up to 22.3% by 2021. The agreement sets the stage for similar raises for other municipal employees' unions. ("The DWP's biggest union is in line to get six raises by 2021," June 20)
Garcetti previously advocated contributions to healthcare costs by DWP workers, but the contract includes not one penny of such contributions. DWP Commission President Mel Levine is quoted in this article as saying, "Hopefully we'll do better next time."
Now it comes down to the City Council, whose members get substantial campaign contributions from the unions. If they cannot show they have the spines and the sense to stop this madness, ratepayers and voters must throw the bums out.
Shelley Wagers, Los Angeles
..
To the editor: It's official: Garcetti, the guy everyone thought would be the savior for this city, has joined the the illustrious club of leaders who cave in to unions. What's next, additional DWP rate increases to pay for these raises?
Garcetti should stop trying to please the unions and stop focusing on luring the Summer Olympics to Los Angeles. Instead, he ought to put his future political aspirations on the back burner and serve the residents who elected him.
Richard Whorton, Studio City
..
To the editor: I remember not long ago reading an article or two in The Times about the high pay at the DWP. The story about Garcetti backing raises for DWP workers forced me to check my memory.
Sure enough, I found a quote from an op-ed article by Robert Fellner on March 30, 2015:
"As detailed in a recent paper by TransparentCalifornia.com, DWP employee pay is up to three times greater than that of its private-sector counterparts. The average full-time, year-round DWP employee made $114,941 in 2013. This is despite providing a level of service that in 2011 had it ranked the 13th most hated company in the nation in one survey."
My only question: When will Garcetti announce his candidacy for higher office?
Kathleen Flanagan, Los Angeles
Follow the Opinion section on Twitter @latimesopinion and Facebook
---
A cure for the common opinion
Get thought-provoking perspectives with our weekly newsletter.
You may occasionally receive promotional content from the Los Angeles Times.