Readers React: What are the protests in Gaza — nonviolent demonstrations, or Hamas-coordinated acts of terrorism?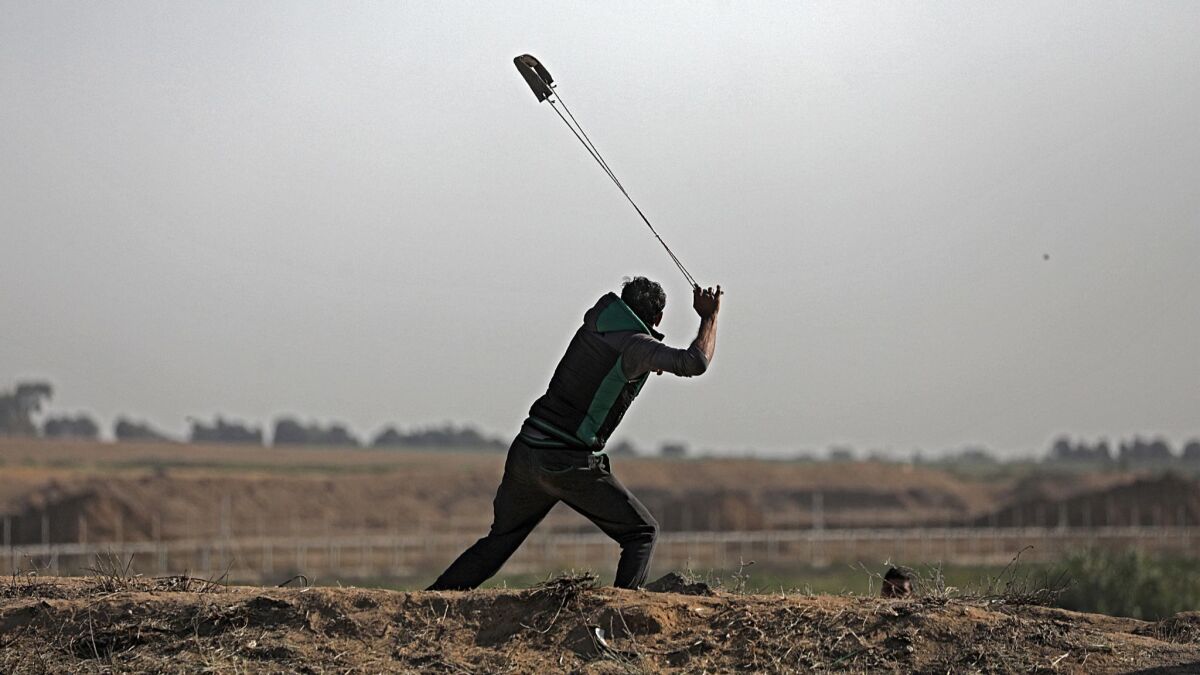 To the editor: The statement from Israeli Brig. Gen. Ronen Manelis is a type of propaganda that we will see deployed more frequently by those who commit state violence. ("Israel says it will expand response if Gaza clashes go on, brands those killed in protests terrorists," March 31)
He wrongly frames a protest that was organized by Palestinians as an "act of terror," thereby upholding the killing of at least 16 and the injury of more than 500 from groups of men, women and children demonstrators.
We should be wary of official statements when such disproportionate violence is levied by an occupying military or security force, as if simply uttering the phrase "act of terror" justifies these horrendous killings.
Derek Jordan, San Pedro
..
To the editor: Are you really so naive as to accept Hamas' word that it staged a "long-planned campaign of nonviolent protests"? ("15 Palestinians reported killed by Israeli fire as Gaza border protest builds," March 30)
Why were so many innocent Palestinians pushed to the border armed with rocks, burning tires and firebombs? Here are some facts you neglected to print about the Hamas-ruled Gaza Strip:
First, it's run by a terrorist group; second, Hamas' goal is Israel's destruction, pure and simple; third, rather than develop the infrastructure of Gaza, Hamas uses its resources to plan attacks on Israel; fourth, Hamas has no problems using civilians as human shields; and fifth, the Gaza Strip also has a border with Egypt.
By the way, no one has ever asked Arab nations to give their homes back to the hundreds of thousands of Jews expelled from those countries.
Shelley Rivlin, Encino
Follow the Opinion section on Twitter @latimesopinion and Facebook
---
Life is stressful. Our weekly mental wellness newsletter can help.
You may occasionally receive promotional content from the Los Angeles Times.