Readers React: Rep. Ilhan Omar needs to choose her words much more carefully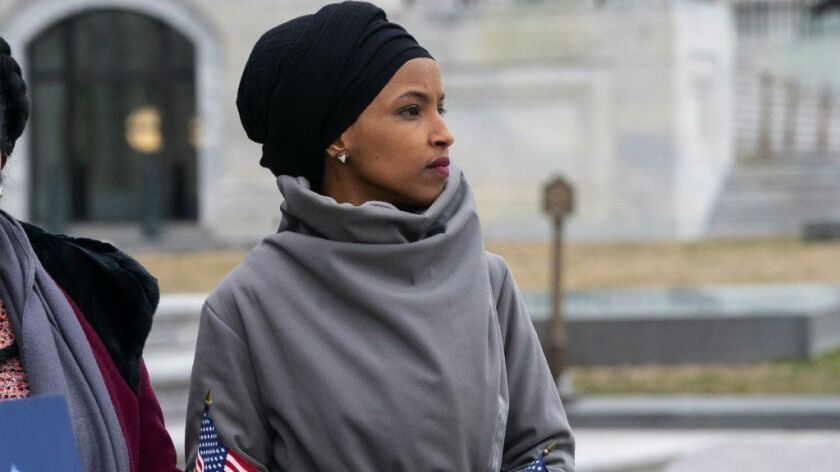 To the editor: I was born in Israel, emigrated to the U.S. in 1957, became a citizen in 1962. My loyalties were and are to the United States, a country that gave me the opportunity to be who I am today.
It pains me to see Rep. Ilhan Omar (D-Minn.) spouting centuries-old anti-Semitic tropes about Jews and money. Expressing doubt about the loyalties of Jewish Americans is over the top.
I see Omar as a young, misinformed politician who should learn about the history of anti-Semitism before making such shameful remarks. As a member of Congress, should she know that she must choose her words with extreme care.
I hope that as Omar matures as a member of Congress, she learns an important lesson: Before you speak, think about the meaning of your words and the effect they have on others.
Adam Mekler, Pasadena
..
To the editor: The L.A. Times reported on "Omar's comments ascribing dual loyalties to pro-Israel Jews."
Omar said no such thing. What she said was, "I want to talk about the political influence in this country that says it is OK for people to push for allegiance to a foreign country."
She was not criticizing Jews, because it is conservative evangelical Christians and the Republican Party who have blind loyalty toward Israel vis-à-vis the Palestinians. Omar is being punished for criticism of Israel, which is exactly what she was complaining about.
Bob Lentz, Sylmar
..
To the editor: There was no justification for Omar, one of the first two Muslim women to be elected to Congress, to say that Israel's influence in Washington is based on money.
This is a dog whistle for anti-Semites and should not be excused as a slip of the tongue. One can only wonder how qualified Omar is to serve in Congress.
Bunny Landis, Oceanside
..
To the editor: On March 10, you published letters to the editor responding to two op-ed articles on Israeli Prime Minister Benjamin Netanyahu. At least one of these perspectives was critical of the Israeli government and was therefore anti-Zionist.
Anti-Zionism and anti-Semitism are often conflated. So, how dare you print anti-Semitic letters and op-ed articles?
"Wait," you say, "these opinions are critical of the Israeli government and are therefore not anti-Semitic."
How are these opinions different than what Omar said? Is it OK for a person of one religion to be critical of Israel and not a person of another religion?
Gregg Ferry, Carlsbad
Follow the Opinion section on Twitter @latimesopinion and Facebook
---
A cure for the common opinion
Get thought-provoking perspectives with our weekly newsletter.
You may occasionally receive promotional content from the Los Angeles Times.