Readers React: Dear L.A.: You're welcome for LeBron James. Love, Cleveland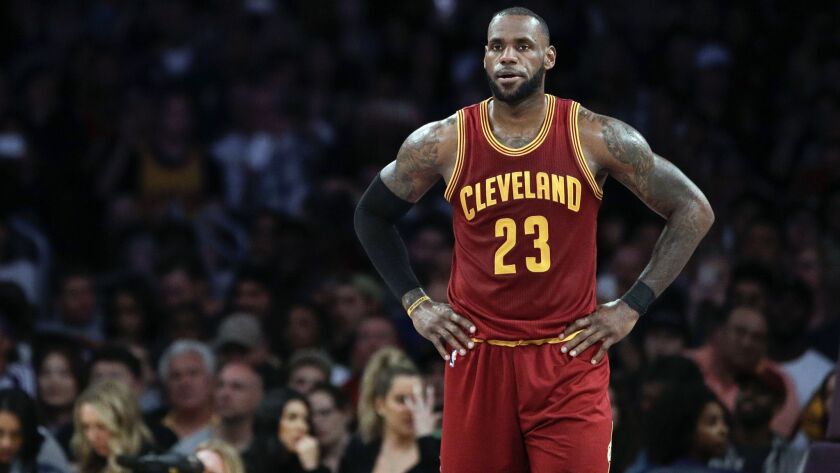 To the editor: I was born in Los Angeles but now live in Cleveland. I have a message to the people of Los Angeles: You are getting an incredible gift with basketball great LeBron James, who has signed on with the Lakers for the next four years.
James, the Akron hometown boy who emerged as a young basketball player with an extraordinary talent and will, leaves Northeast Ohio with all of our love and best wishes. Yes, he broke our hearts when he left the Cleveland Cavaliers in 2010, but then he came back and delivered on his promise to bring us a championship. Even though he will be living in Southern California, the LeBron James Family Foundation will continue helping young kids in Akron who, like him, come from impoverished backgrounds.
Treat him well, Los Angeles. His heart is as big as his talent.
Godspeed, LeBron, and remember to come back home when the time is right. We'll be waiting for you.
Jessica Schreiber, Cleveland
..
To the editor: Here are the numbers on James' contract with the Lakers: $154 million over four years, which comes out to $38.5 million annually, $105,479 per day, or $4,394 per hour.
So he'll earn more than the hourly minimum wage. I hope the fans have the money to pay for Lakers tickets.
Leon Sturman, Sherman Oaks
..
To the editor: Reading about the big wildfire in Yolo County and James' four-year, $154-million contract, I wondered how that compared to the annual cost of $490 million for fighting California wildfires.
The math shows that James could pay for it in just over 12 seasons. The Lakers expect James to be hot on the court.
Roger Newell, San Diego
Follow the Opinion section on Twitter @latimesopinion and Facebook
---
A cure for the common opinion
Get thought-provoking perspectives with our weekly newsletter.
You may occasionally receive promotional content from the Los Angeles Times.