Readers React: Trump stands nearly alone in denying the seriousness of Russian meddling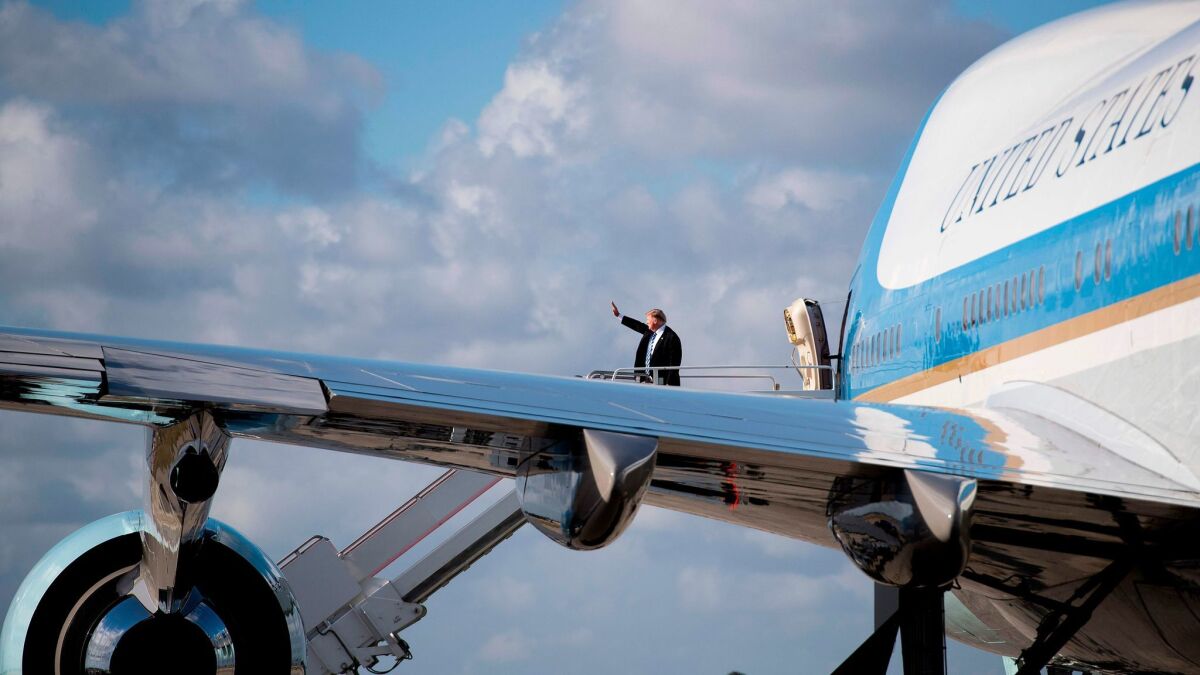 To the editor: As Harry Litman, a former U.S. attorney and deputy assistant attorney general, makes clear, Russia engaged in sustained cyberwarfare against the United States during the 2016 presidential campaign. ("Now we know for sure: The Russia story is not a 'hoax,'" Opinion, Feb. 16)
Director of National Intelligence Dan Coats had made clear that Russia will continue trying to interfere in 2018 and 2020. National security advisor H.R. McMaster has stated that evidence of meddling by Moscow is "incontrovertible."
President Trump has taken no action since the indictments Friday of 13 Russian nationals and three Russian organizations except to tweet his denial of the facts. This raises the serious question of whether he is violating the oath of office he took on Inauguration Day. It also raises the question of whether Congress is meeting its obligation to defend our country amid the most serious national security crisis since the 9/11 attacks.
Sherman N. Mullin, Oxnard
..
To the editor: American democracy was hijacked long ago by money and powerful interests, turning it into what amounts to a system of legalized corruption. Lobbying, super-PACs, myriad forms of campaign contributions and patronage are at the core of this phenomenon.
By comparison, the so-called Russian meddling in the 2016 election seems amateurish at best, and perhaps (more seriously) a way for the political establishment to divert the attention of the American people from the real problems of a corrupt system of public governance, whose patrons and beneficiaries want the rest of the world to think it is democratic.
Luis Suarez-Villa, Irvine
..
To the editor: Friday's indictments sharply illustrate the stark contrast between the congressional "investigations" into Russian interference in the 2016 campaign and the real investigations done by the FBI.
The Republicans in Congress demonstrate their utter indifference to the dangers posed to our country by not doing enough to get to the truth of this attack.
David Helkenn, San Diego
..
To the editor: The recent indictments by special counsel Robert S. Mueller III were impressive and reassuring. They highlight the incredible ability of the U.S. intelligence community to trace, with startling detail, deep into an elaborate, allegedly criminal enterprise operating anywhere in the world.
This sends a strong message to our allies as well as our enemies that we remain a nation of great power.
In response, the president went on a Twitter tirade attacking, among many others, the very U.S. organizations that successfully tracked down a massive network of people trying to destroy our democracy and, at the same time, exposed their complex methods.
Dave Cronkey, El Cajon
Follow the Opinion section on Twitter @latimesopinion and Facebook
---
Life is stressful. Our weekly mental wellness newsletter can help.
You may occasionally receive promotional content from the Los Angeles Times.