Readers React: Not even a hurricane in Florida could prevent Trump from hosting Kanye West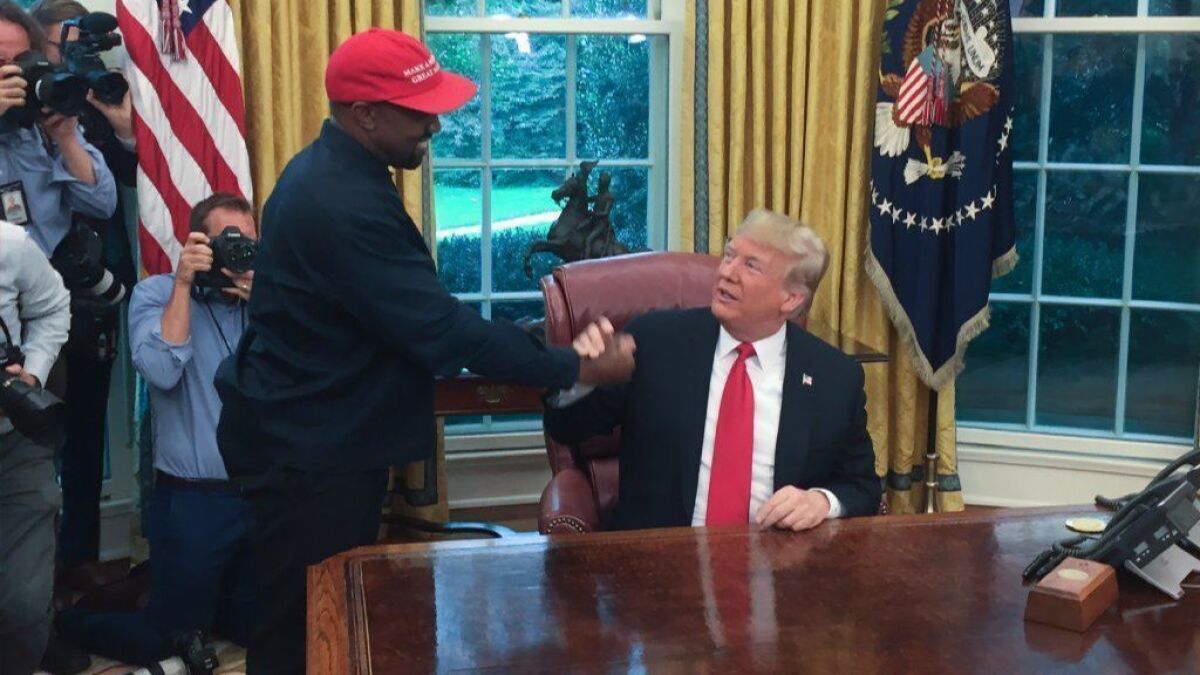 To the editor: If it is possible for this president to reach a new low, he succeeded with his invitation to rapper Kanye West to join him in the Oval Office for a public spectacle.
At a time when countless Florida residents have had their lives turned upside down by Hurricane Michael, Trump set this national calamity on the back burner in order to engage in a sideshow. For a change, it was the president who was listening as someone else rambled incoherently. Because West is a fan of the president, his bizarre behavior at the White House was just fine, apparently.
Although Trump once said he loved the "poorly educated," there are many people of good intellect and education who for reasons of their own support him. I wonder what they were thinking as the Oval Office was sullied once again by a man who brings to the White House the likes of Sarah Palin, Ted Nugent, Kid Rock and now Kanye West.
Oren Spiegler, South Strabane Township, Pa.
..
To the editor: It should come as a surprise to no one that Trump chose to proceed with his rally in Pennsylvania in spite of the fact that Hurricane Michael was raging in Florida.
His explanation was that the timing was unfortunate but thousands of supporters were counting on him. Anyone who has been paying attention to this presidency should know that the real reason he went on with the rally was that Trump was counting on them.
As for West's Oval Office visit, it was cringe-worthy and embarrassing on so many levels.
Ramona Saenz, Alhambra
..
To the editor: As the world comes to grips with the horrific reality of the likely torture and killing of a Saudi journalist inside a consulate in Turkey, Trump sees fit to entertain a blathering Kanye West in the Oval Office.
It is no wonder that America has lost its moral leadership in the world.
Jacqueline Kerr, Los Feliz
Follow the Opinion section on Twitter @latimesopinion and Facebook
Life is stressful. Our weekly mental wellness newsletter can help.
You may occasionally receive promotional content from the Los Angeles Times.